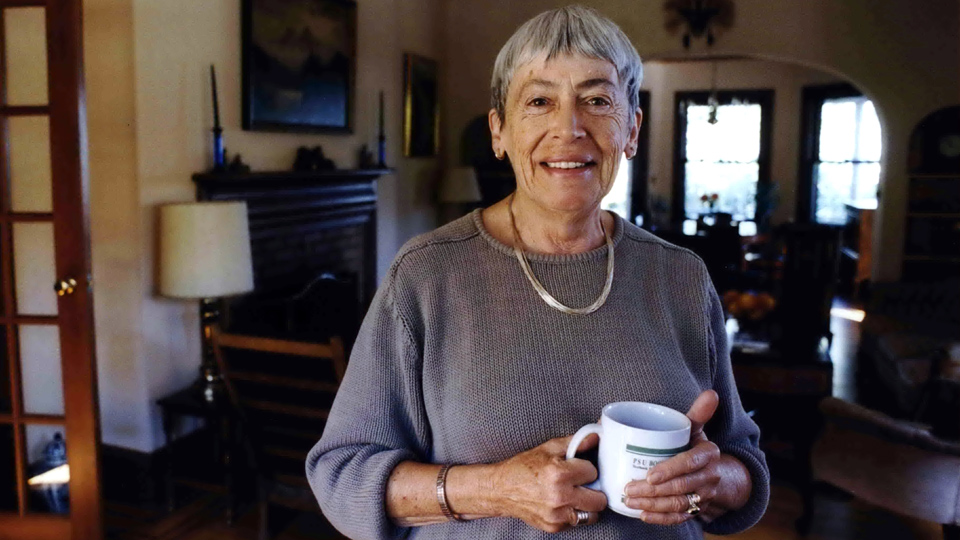 PORTLAND, Ore. — Ursula K. Le Guin, the award-winning and best-selling science fiction writer who explored feminist themes and was best known for her Earthsea books, has died at 88 in Portland, Oregon.
Her verified Twitter account posted a statement on January 23 saying: "The family of Ursula K Le Guin is deeply saddened to announce her peaceful death yesterday afternoon."
Le Guin's first novel was "Roncannon's World" in 1966 but she gained fame three years later with "The Left Hand of Darkness," which won the Hugo and Nebula awards — top science fiction prizes — and conjures a radical change in gender roles well before the rise of the transgender community. The book imagines a future society in which people are equally male and female and also dramatizes the perils of tyranny, violence and conformity.
Her best-known works, the "Earthsea" books, have sold in the millions worldwide in 16 languages. She also produced volumes of short stories, poetry, essays and literature for young adults.
"I know that I am always called 'the sci-fi writer.' Everybody wants to stick me into that one box, while I really live in several boxes," she told reviewer Mark Wilson of Scifi.com.
"It probably hurts the sales of my realistic books like 'Searoad' because it tends to get stuck into science fiction, where browsing readers that didn't read science fiction would never see it."
People's World writer Blake Deppe said of Le Guin's passing, "She was one of the many fantasy novelists who convinced me not only to pursue my goal of writing fantasy fiction, but also to do something different and creative in the genre. Perhaps even more importantly, she believed writing to be an art form, something with which I strongly agree."
Le Guin said something to this effect during a 2001 interview, remarking, "There are dance artists, painting artists, and writing artists. Authors are writing artists. You can practice art in whatever medium you choose, and words are mine."
In addition to her fantasy and science fiction novels — piercing visions of race, gender, ecology and politics — Le Guin wrote short stories, poetry and literature for young adults.
Le Guin received the Newbery Medal, the top honor for U.S. children's literature, and the National Book Foundation Medal for Distinguished Contribution to American letters.
Her feminist-themed 1983 "Left-Handed Commencement Address" at Mills College was ranked one of the top 100 speeches of the 20th century by researchers at the University of Wisconsin and Texas A&M University.
"Why should a free woman with a college education either fight Machoman or serve him?" she told the graduates. "Why should she live her life on his terms? … I hope you live without the need to dominate, and without the need to be dominated."
In December, Le Guin published a collection of essays based on blog posts called No Time to Spare.
Letters of Note reminded readers: In 1987, Le Guin was asked to supply a blurb for Synergy: New Science Fiction, Volume 1, the first in a new four-part series of anthologies edited by George Zebrowski which intended to showcase science fiction stories from authors both established and up-and-coming. For Ursula K. Le Guin, however, the book was notable not for its stories but for its complete absence of women's voices. She reacted by way of this brief letter: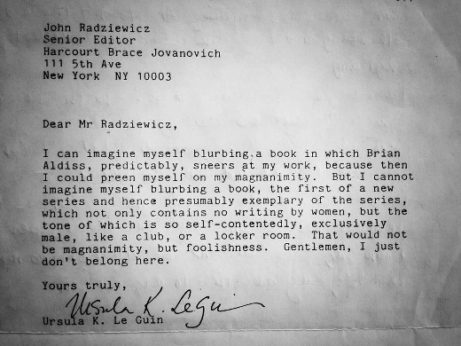 Library of America published three collections of Ursula K Le Guin's fiction: The Complete Orsinia, Hainish Novels and Stories, Volume One, and Hainish Novels and Stories, Volume Two. For Stefanie Peters, Le Guin's editor at Library of America, "The opportunity to work with Ursula, whose wit was as large as her generosity, was an enormous joy and honor. She was incredibly engaged in the process, unearthing material from her attic for us to use, and happily allowing me to quiz her about everything from textual issues to how accents work in the Orsinian language. As a woman and as a titan of American literature she is and will remain a lodestar."
Author Stephen King tweeted: "Ursula K. Le Guin, one of the greats, has passed. Not just a science fiction writer; a literary icon. Godspeed into the galaxy."
The BBC interviewed seven bestselling writers who reflected on the huge impact she made on their work: Margaret Atwood, David Mitchell, Zadie Smith, J.K. Rowling, George R.R. Martin, Terry Pratchett and Neil Gaiman.
Other writers she certainly influenced would include: China Miéville, Octavia Butler, Salman Rushdie, Robin Hobb, Kelly Link, Michael Chabon, Jonathan Lethem and Iain Banks.
Le Guin wrote at some length about how writers influence each other, as great musicians did and do, about the difference between copying a text into your own work, and applying techniques learned from a text to your own work.
"A long time ago now, discussing my book The Lathe of Heaven, I called it 'a homage to Philip K. Dick' (who was then not the culture hero he has become, but a science fiction writer scorned as such by the American literary establishment, and honored mostly within the genre and in France).
"I learned a lot from Phil Dick. I own the debt freely and with some pride. I told him about it, too. We were aware that we were influencing each other in some ways, aware of an area of similarity in what we were trying to do, and exchanged ideas about that, and about writing, in our letters."
"I tend to avoid fiction about dysfunctional urban middle-class people written in the present tense," she once said. "This makes it hard to find a new novel, sometimes."
Video: Ursula K. Le Guin accepts the National Book Foundation's Medal for Distinguished Contribution to American Letters at the 65th National Book Awards on November 19, 2014.
Gillian Flaccus and Hillel Italie of Associated Press and Barbara Russum and Blake Skylar of People's World contributed to this article.