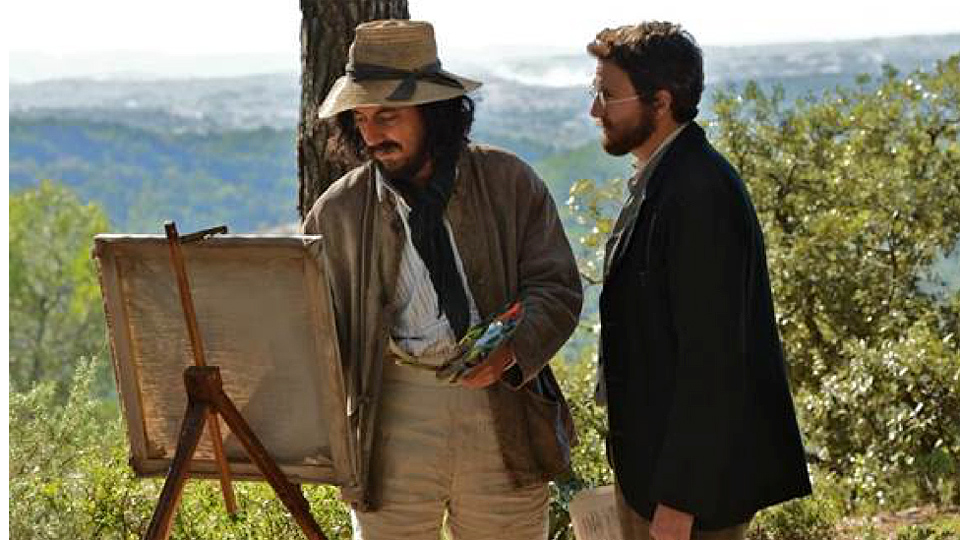 Generations of activists and revolutionaries have been inspired by the intense hyper-realism of French writer Emile Zola's late 19th-century novels such as Thérèse Raquin, about amorous passion gone murderous; Nana, a study of the corrupt aristocracy; Germinal, a literary flashpoint of class warfare; La Débâcle, about the bloody Franco-Prussian War, and many others. Both in his partisan journalism and in his sensationalistic novels, Zola sought to rip away the curtain of respectability from the bourgeoisie (the word is French after all) and give dignity and agency—though not a sanctified holiness—to his working-class protagonists.
What writer and director Danièle Thompson (co-writer of the well known film Cousin, Cousine) focuses on in her new work Cézanne et moi (Cézanne and Me) is the almost lifelong friendship Zola shared with the painter Paul Cézanne, whose early attraction to Impressionism gradually fractured into what would become known as Cubism and later Expressionism and even Abstract art. Both, as it turns out, were schoolboy companions in Aix-en-Provence in the 1850s. And both transferred to Paris to establish their careers, while maintaining family and sentimental ties to the sunny, pastoral South.
As two major cultural figures who lived not all that long ago—Zola 1840-1902, and Cézanne 1839-1906—a tremendous amount of documentary evidence exists for their lives. Less familiar is that they shared one of the greatest "bromances" in cultural history. Yet it was a troubled friendship, and this is the terrain Thompson explores. Zola achieved success early in life: His heyday came between the third and the fifth decades of his life. But Cézanne was consistently rejected by the Salon, the grand arbiter of painting, and only late in life came to be recognized for his particular vision. The film examines how two friends on vastly different social levels were able to maintain their association, and ultimately what came between them.
Their lives crossed paths diagonally. Zola started off fatherless and poor, but through his writing eventually joined the very bourgeoisie he mocked in his early work. By contrast, Cézanne came from a wealthy banking family but rejected his privilege to focus entirely on his work, depending, often unwittingly, on the kindness of his more successful colleagues, such as Zola himself and the painter Edouard Manet.
"I wondered whether I could take enough liberties to make a film," Thompson says in an interview for her producer, Magnolia Pictures. "But it turns out that one of the most plausible explanations of their growing apart is Zola's book The Masterpiece (L'oeuvre). Zola's inspiration was Cézanne, their youth and friendship, their obsessions and discussions. But he also did what novelists do with the truth: he took liberties with their lives, with the art scene, creating situations that weren't entirely true, if at all. If he could take those liberties, so could I. For example, Cézanne introduced Zola to the woman who would become Zola's wife. Rumor had it that she might once have been Paul's mistress. So I said to myself: 'All right, she was!'"
Among the many joys of Cézanne et moi are the luscious interiors, the elegant 19th-century manors with their mannered dinner parties (that often become unmannered), the rowdy cafés where bohemian artiste friends gathered, the period clothes, and, yes, the grimy Parisian garret where Cézanne paints his nude subjects, mostly his mistress Hortense, who eventually becomes Mme. Cézanne. And equally, the warm, maternal landscape of Provence, which has attracted artists, writers, poets, gastronomes, troubadours and tourists for many centuries. The film is a visual feast.
Structurally the film is a—dare I say Cubist?—series of flashbacks from which we piece together the growing mutual love of engagement with esthetic problems that the two artists shared, as well as their fondness for beautiful women and a sense of restoration in nature. We are reminded often of the historical context of their lifetimes, for example, the Paris Commune of 1870 and the Franco-Prussian War, the commercial market for both writers and painters, and the emergence of new ideas, technical advances and media, such as photography. Toward the end there is a nodding reference to Zola's impassioned defense of Capt. Alfred Dreyfus in his famous pamphlet "J'accuse" which took the side of the framed Jew in a disgraceful case of anti-Semitism that rocked French society in the 1890s (and in which, by the way, not all the great names in the pantheon of French cultural titans came out smelling so good).
Is the film really told from the point of view of Zola, as the title Cézanne et moi suggests? It would certainly be true to the period that Zola was the far more widely recognized figure. Everyone knew his name at a time when no one had heard of the struggling and perhaps self-destructive painter. Yet today Cézanne's name is more likely the name audiences will gravitate toward. Art lovers can see hundreds of his paintings in museums around the world and appreciate his seminal role in priming the canvas for the 20th century. Nowadays my guess is that Zola is read primarily in college-level literature courses as a representative of the naturalist school of writing. He is probably better known for his role in the Dreyfus case than for his novels.
Paul Cézanne is portrayed by Guillaume Gallienne, who captures the painter's volatile, turbulent personality, a man obsessed with his work to the profound distraction and disappointment of all those around him. Emile Zola is played by the elegant Guillaume Canet, whose every gesture and glance reveals his growing tedium with Cézanne's company. Other important roles are the writer's mother Emilie played by Isabelle Candelier, wife Alexandrine (Alice Pol), and late-in-life mistress Jeanne (Freya Mavor); and Hortense Cézanne (Déborah François), and the painter's parents played by Gérard Meylan and Sabine Azéma.
Reaching far beyond a documentary installment in the cinematic "Lives of the Great Artists," this film is a sensitive embrace of human problems, of the waxing and waning of a companionship once believed unbreakable, a window open to the question of what makes art.
Cézanne et moi opens March 31 in New York and April 7 in Los Angeles with a national rollout to follow.
Cézanne et moi
Directed by Danièle Thompson
A Magnolia Pictures Release
In French with English subtitles
116 minutes