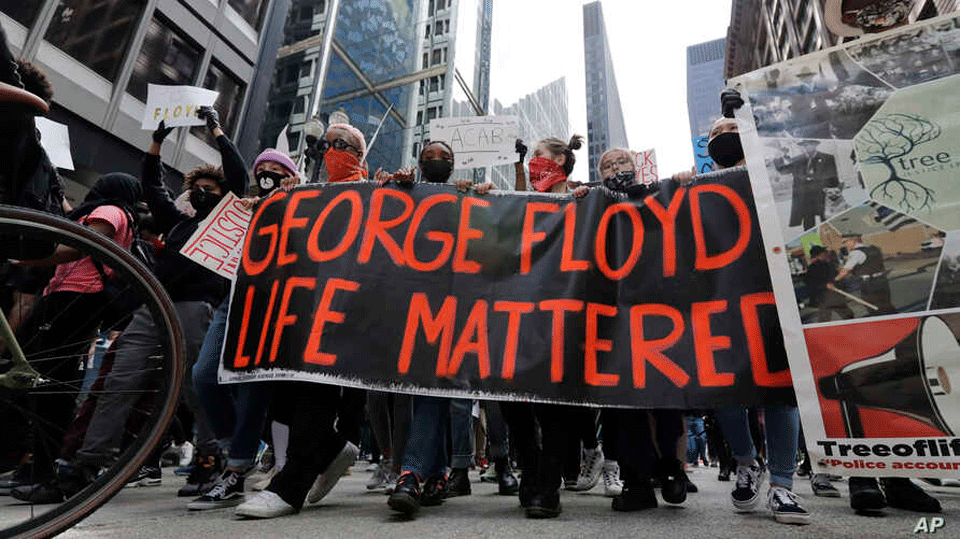 WASHINGTON – From Barack Obama and Joe Biden to the AFL-CIO and progressive allies there have come declarations that the Minneapolis police killing of 46-year-old George Floyd on May 25 once again exposed the systemic racism that undergirds U.S. society.
Former Vice President Joe Biden, the presumptive Democratic nominee for the presidency, added that this has been the case in America for 400 years.
Donald Trump, meanwhile had a closed meeting with governors this morning. Reports out of that meeting said he called the governors "weak" for not "cracking down hard" on the demonstrators.
Unite Here, whose majority is of people of color, best summed it up in two sentences leading President D Taylor's statement: "This is not normal. Except it is."
That systemic racism expressed itself in the murder of Floyd when a heavy white cop, Derek Chauvin, kneed him in the neck for almost 10 minutes while three other police officers looked on and did nothing. Floyd kept gasping "I can't breathe," and spectators, including those videoing the cop's actions, kept demanding Chauvin, stop.
He didn't, for almost 10 minutes. An unconscious Floyd was taken to a nearby hospital and pronounced dead, setting off a week of protests ever since in cities large and small. Chauvin, who had an 18-year record of misuse of force, was charged with third-degree murder – which protesters also demanded be upgraded to first or second-degree murder. Minnesota Attorney General Keith Ellison, it was announced this morning, has been put in charge of the prosecution.
Floyd's killing was the latest in a string of police killings of unarmed African Americans, including four in this century in Minneapolis alone, and another, of union member and school worker Philando Castile, in the Twin Cities suburbs. NBC reported on June 1 that a search of police records showed Minneapolis cops kneed people in the neck 44 times since 2015 alone. Police manuals forbid such tactics nationwide, but some cops – including Chauvin – flout that ban.
Chanted the names of the victims
Nationwide, protesters waved signs and chanted the names of unarmed African-American police victims. Among those remembered: Floyd, Castile, and Breonna Taylor, 26, an EMT whom Louisville, Ky., police shot dead with eight bullets while she was asleep on March 13 after they broke into her apartment, allegedly seeking a drug dealer. Her boyfriend fired back. It was the wrong apartment.
Protesters almost had another victim to add to the list. Video from Seattle on May 31 showed another cop there kneed another unnamed African-American man in the neck. But that officer's colleagues intervened and the man lived.
Most of the protests were peaceful, such as 150 people – all white and many holding "I can't breathe" handwritten signs – in small upstate Keene, N.Y. Some were not. The police reaction was similar: Some was peaceful. In Flint, Mich., and Camden, N.J., police marched with protesters against Floyd's killing. In Spokane, Wash., and several other cities, they kneeled.
Other cops reacted with force, lots of force. Governors and mayors turned to the National Guard. The U.S. armed forces dispatched an unmanned air drone, monitored from a North Dakota base, to spy on the Twin Cities crowds.
In Buffalo, one African-American police officer who tried to stop others from assaulting fellow African-Americans was pulled off the protests and fired, one correspondent e-mailed People's World. In New York City, police vans were driven into crowds of demonstrators.
At least six people were killed in the U.S. – in Detroit, Chicago, Indianapolis, Louisville, Ky., and Omaha, Neb. — with police killing others in Berlin and London, and more than 4,000 were arrested nationwide. Hundreds were injured, including reporters and TV crews whom police deliberately pepper-sprayed or shot with pepper balls and similar projectiles. One TV cameraman lost an eye. Police tear gas was plentiful.
In Minneapolis, epicenter of the protests, a tractor-trailer traveling 70 mph somehow got onto the section of the I-35 freeway closed to allow protesters to demonstrate and plowed ahead on the evening of May 31. Miraculously, no one was hurt, the protesters stopped the truck and the driver was arrested.
By contrast, Amalgamated Transit Union bus drivers in Minneapolis refused to transport police to confront the protesters there, or to transport those arrested to booking sites. So did unionized bus drivers in New York City.
In Washington, protests centered on the White House, where President Trump, unlike his predecessor, Obama, and his presumed 2020 foe, Biden, threw gasoline on the rhetorical fire. In language reminiscent of a racist Miami police chief in 1967 – or of then-Chicago Mayor Richard J. Daley in the April 1968 explosion after Martin Luther King's murder – Trump had tweeted "when looting starts, shooting starts." Daley's order 52 years ago was "shoot to kill."
Trump's latest statement, from his spokeswoman appearing on the pro-Trump talk program, Fox and Friends, on June 1, called him "the law-and-order president," in language also harking back to 1968.
Blasted systemic racism
Obama and Biden reacted very differently from Trump. Both blasted the systematic racism the protests revealed. So did the last Democratic primary foe Biden defeated, Sen. Bernie Sanders, Ind-Vt. Congress plans hearings this month on what happened and why, and Sen. Brian Schatz, D-Hawaii, will introduce legislation to ban military arms transfers to police departments.
"It's natural to wish for life 'to just get back to normal' as a pandemic and economic crisis upend everything around us," Obama said in a statement. "But we have to remember that for millions of Americans, being treated differently on account of race is tragically, painfully, maddeningly 'normal' – whether it's while dealing with the health care system, or interacting with the criminal justice system, or jogging down the street, or just watching birds in a park."
"This shouldn't be 'normal' in 2020 America. It can't be 'normal.' If we want our children to grow up in a nation that lives up to its highest ideals, we can and must be better."
Floyd, Taylor and Ahmaud Arbery – the African-American jogger murdered in suburban Atlanta by an ex-cop and his father, who worked for the county DA – "are the latest additions to the endless list of stolen potential wiped out unnecessarily," Biden said.
"It's a list that dates back more than 400 years—Black men, Black women, Black children. The original sin of this country still stains our nation today. And sometimes we manage to overlook it. We just push forward with a thousand other tasks in our daily life. But it's always there, and weeks like this, we see it plainly, that we're a country with an open wound. None of us can turn away, none of us can be silent. None of us can any longer hear the words 'I can't breathe.'"
"Millions of young people, queer people, people of color are asking what do we do with all this anger, all this disappointment, all this fear, all this frustration?" Sanders asked. "The struggle for justice is not a fad. It's not a fashion. The struggle for justice is something you must do all your life – because these folk in power are serious."
In Washington, protesters confronted police, Secret Service members, and buses blocking the White House.
Some broke off to charge against a camera crew for right-wing Fox News in Lafayette Square and smashed windows in nearby buildings, including the AFL-CIO headquarters. That didn't deter federation President Richard Trumka from citing the systemic racism that brought people out into the streets nationwide.
"We will clean up the glass, sweep away the ashes and keep doing our part to bring a better day out of this hour of darkness and despair," Trumka said in an 8 a.m. statement on June 1.
"I watched the video of George Floyd pleading for his life under the knee of a Minneapolis police officer. No person of conscience can hear Floyd's cries for help and not understand that something is deeply wrong in America."
"What happened to George Floyd, what happened to Ahmaud Arbery, what happened to far too many unarmed people of color has happened for centuries. The difference is now we have cell phones. It's there for all of us to see. And we can't turn our heads and look away because we feel uncomfortable."
Plays an insidious role 
"Racism plays an insidious role in the daily lives of all working people of color. This is a labor issue because it is a workplace issue. It is a community issue, and unions are the community. We must and will continue to fight for reforms in policing and to address issues of racial and economic inequality."
"We categorically reject those on the fringes who are engaging in violence and destroying property. Attacks like the one on the AFL-CIO headquarters are senseless, disgraceful and only play into the hands of those who have oppressed workers of color for generations and detract from the peaceful, passionate protesters who are rightly bringing issues of racism to the forefront." His statement is at www.aflcio.org.
The oppressors, though Trumka did not name them, include Trump and his attorney general, William Barr, who plans to declare so-called "antifa" – anti-fascist – people domestic terrorists. As one unionist from Cleveland pointed out, the oppressors include many police officers, whose departments have been militarized for decades and supplied with surplus armaments. "Many of the police have a military background," he added. "They're trained to kill."
D.C. Mayor Muriel Bowser (D) bluntly blamed Trump. "At the least, he should not incite violence," she said after one fire and the window-smashing there.
Barr blamed the victims. "It appears the violence is planned, organized, and driven by anarchic and left extremist groups, far left extremist groups using Antifa-like tactics… it is a federal crime to cross state lines or to use interstate facilities to incite or participate in violent rioting," he declared at a press conference.
By contrast, neither Trump's Justice Department nor state and local police acted when, in prior weeks, right-wingers armed to the teeth with guns and heavy weapons, invaded state capitols, notably in Michigan, demanding nullification of government anti-coronavirus restrictions. They also hung Gov. Gretchen Whitmer (D) in effigy. She now needs protection against the Trump-incited right.
Vanita Gupta, executive director of the Leadership Conference on Civil Rights, reminded HuffPost that Trump killed funding for the Justice Department division that tackled systematic police racism. She added that Trump, in a 2017 speech, told a police group he didn't mind if they broke a few heads while wrestling protesters into police cars.
"The problem of state violence against communities of color, particularly Black people, has a long history in this country that we have not fully confronted or addressed," Gupta, who headed DOJ's Civil Rights Division under Obama, added in a statement. "Despite his belated attempts to mitigate what he said, Trump's racist incitement of violence is appalling and unacceptable…This country and its leaders have a responsibility to acknowledge the ongoing history of white supremacy and systemic racism, commit to peaceful resolution of conflict in communities, and support increased police accountability. We need to live up to our founding creed – that we are all created equal."
Union leaders from the Steelworkers to the Service Employees to the Teamsters to both teachers unions agreed with Trumka in denouncing the endemic racism that produced Floyd's murder. One exception: The small police union that's an AFL-CIO member, the International Union of Police Associations. It was silent.
Even the Fraternal Order of Police — an association, not a union — condemned Floyd's murder. But it did not address the wider issue of racism or of police culture.
The other plague
The Communications Workers board called systematic racism "the other plague that has been rampaging through our communities since long before the current coronavirus pandemic" that has sickened 1.791 million people in the U.S. as of 8:30 a.m. on June 1, killed 104,139 and pushed joblessness up to 50 million or beyond.
"Compounding the devastation of a global pandemic, which has disproportionately impacted Black communities, Black people in America continue to face threats, brutality, and death for going out jogging. For being poor. For sleeping in their own bed. For watching birds in a park. For being Black," CWA's strong and long statement, summarizing, past, present and continuing racism, said. It's at www.cwa-union.org.
"The murders of Ahmaud Arbery, George Floyd, Breonna Taylor, and the blatant display of racism in the Central Park incident with Christian Cooper demonstrate, again, this grim reality. These names are not the first, and without a profound change in ourselves and this country, they will not be the last." CWA "is committed to moving beyond an endless string of reaction statements and demonstrating our continued commitment to justice for Black people through our organizing, representation, political, and movement-building work."
"There is no in-between. There is no neutral option. The only real way to dismantle racism and build the working-class power we seek is for every worker to take on the struggle for justice for Black people in this country as their own and to embrace the actions that 'an injury to one is an injury to all' demands of us," CWA concluded.
AFT put some blame on Trump. "Hate is rising in the United States with a zeal, emboldened by the White House, among others," said its top leaders. "It is a stain on our humanity, and good people must gather together to resist and repel it. Nearly six years after the death of Eric Garner" – whom a white cop killed by chokehold on Staten Island – "How many more black men will die at the hands of authorities after saying 'I can't breathe?'"
"George Floyd had a right to live. The haunting question we must ask is: If Floyd had been white, would that police officer have continued to put his knee on Floyd's neck after hearing him say he couldn't breathe? Black families deserve to raise their children in a world that does not traffic in this gross inhumanity, and that does not also force them to bear the burden of confronting it. The fact this is not self-evident is, in itself, a moral failing of America.
"If you were jogging like Ahmaud Arber, or sleeping like Breonna Taylor, or driving like Philando Castile, you were simply living as a black person in America — until you weren't. Every black person in this country has a right to live, a right to breathe, and a right to be a part of their community without fear of violence and senseless attack simply for the color of their skin. Acts of hate like this are unfortunately not new, unique, or disconnected. They represent a serious crisis in our society. This cannot be normalized. People of color in America are exhausted, and they're terrified, and they have every right to be.
"The deep history and trauma caused by the culture of white supremacy" means "this is no time for us to look away. Police violence against black people happens too often. The threat and real violence toward black people daring to exist in public spaces and even in their own homes is the direct result of how white supremacy culture is the air we breathe in America," added National Education Association President Lily Eskelsen-Garcia.
Black lives matter
"Black Lives Matter… because All Lives have not Mattered. Racism takes black and brown lives. Explicit racism foments hate and aggression. But implicit bias grows unreasonable fear and suspicion, moving people to act unreasonably on their fear and suspicion. We must do better."
"This is just the latest incident of an unwarranted police killing of an unarmed black man in the United States, and a harsh truth that we must accept – equal justice under the law is not a reality for all Americans. Black people fear for their lives on a daily basis by the very institutions which are supposed to protect them. It may not be most of our truths, but we must acknowledge and understand this is the truth of so many black and brown brothers and sisters in this union and throughout our country," said Teamsters President Jim Hoffa.
"We reject social injustices such as racism, which have eroded and divided us as a country for far too long. Denying that racism still exists and continues to operate in ways which destroys lives and communities threatens our very freedom," added Hoffa and his union's civil rights and diversity director, Marcus King.
"Racism causes pain to people of color every day in America. As we have throughout history, the BCTGM will continue to stand together against racism, inequality, and injustice," said the Bakery Workers' new president, Anthony Shelton. "The BCTGM categorically rejects violence and the destruction of property. As President Trumka states, racism is a labor issue because it is faced by workers every single day in their workplaces. It is a community issue because unions are the community."
Floyd's murder angered one AFL-CIO constituency group, the Asian Pacific American Labor Alliance, for two reasons. One was the murder itself. The other, which "enraged and ashamed" APALA, said Executive Director Alvina Yeh, was that Asian-American Tou Thao was one of the three Minneapolis officers who stood by and watched. All four, including Thao and Chauvin, have been fired, but only Chauvin has been charged.
"We've said this before and we'll say it again because the work continues; we all have a role in responding to atrocious acts of violence. As Asian American and Pacific Islander working people, we commit to leveraging our power to dismantle oppressive systems, addressing anti-blackness in the AAPI community, and loving and fighting for our black siblings."