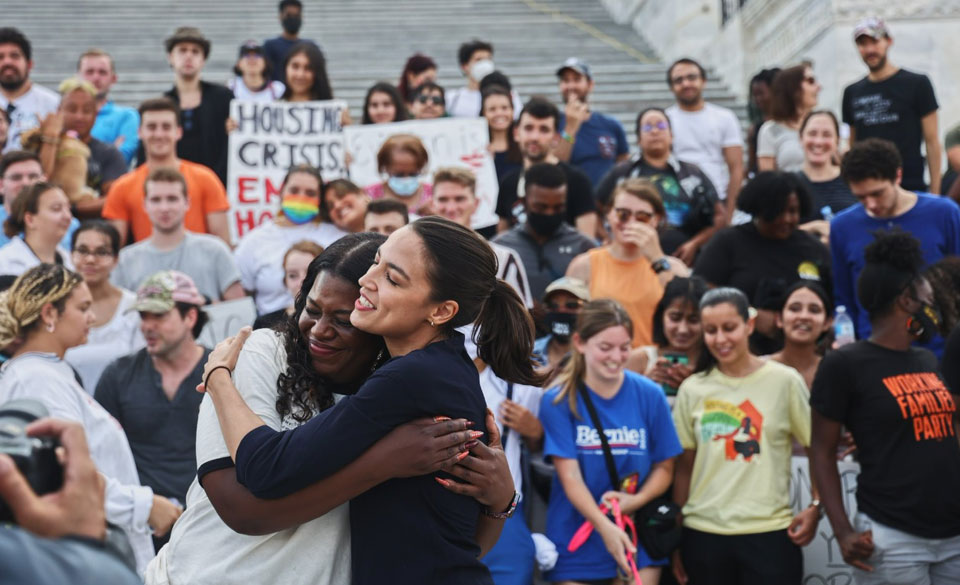 WASHINGTON—In a giant exercise of pass the buck, Congress, President Biden and the states are dithering while evictions of renters nationwide started even before a federal moratorium ended at midnight on July 31.
Biden says the issue is up to Congress. His hands are tied, he claims, by a Supreme Court ruling last month against a moratorium, unless solons act.
Congress is urging Biden to step in. House Democratic leaders tried to put together a quick rental moratorium extension, through Oct. 18, together. They failed.
House Financial Services Committee Chair Rep. Maxine Waters, D-Calif., blasted Biden's "unexpected lack of effort and refusal to use his authority" to extend the moratorium.
Waters, whose district includes inner-city Los Angeles, pushed for a vote on her bill, HR4791, to extend it through the end of the year. But the Democratic leaders ducked by deciding to bring it up only if every lawmaker agreed to consider it. Republicans, led by Cathy McMorris Rodgers, R-Wash., objected.
The National Low-Income Housing Coalition pointed out in a letter to lawmakers that Biden agencies, notably the Housing and Urban Development and Treasury Departments, could step in now, under existing law, to get aid to at least the federally funded tenants among the estimated six million families who would be left homeless. They haven't.
Bureaucratic requirements blamed for delays
State tenant rights groups and tweeters say slow bureaucratic procedures–including requirements people go online to seek aid when the tenants don't have computers or WIFI—-or outright refusal to send out the money risks putting people out on the street.
And waiting in fear are an estimated six and half million families who fell behind on their rent because people lost their jobs due to the raging coronavirus pandemic.
Evictions have already started, as Waters's House Financial Services Committee, which also handles housing legislation, learned July 30. The panel found some big chain landlords didn't even wait for the current moratorium to end before telling tenants to get out.
Pass the buck, please.
"The administration is going to work together with leaders in Congress on potential avenues to extend the eviction moratorium to protect these vulnerable renters and their families," Biden's Deputy Press Secretary Karine Jean-Pierre told reporters on July 30. "We understand how critical that is, how important that is.  It has been a lifeline to so many.
"We're encouraging the states to get (aid) that out as soon as possible.  They have it.  They need to get that out."
"Action is needed, and it must come from the administration," House Speaker Nancy Pelosi, D-Calif., Majority Leader Steny Hoyer, D-Md., Majority Whip James Clyburn, D-S.C., and Assistant Speaker Katherine Clark, D-Mass., said in a joint statement.
"Science and reason demand that they must also extend the moratorium in light of the (coronavirus) Delta variant. Doing so is a moral imperative."
The top program, Biden's team says, is HUD's Emergency Rental Assistance Program, with $25 billion available, but through the states. Tenants retort the states are sitting on their hands.
To symbolize urgency, and to try to push her colleagues to act, first-term Rep. Cori Bush, D-Mo., a "Squad" member and the first Black Lives Matter activist elected to Congress, camped out on the U.S. Capitol steps. As of 6 am on August 2, she was still there.
"5 a.m. this morning felt cold, like the wind was blowing straight through my sleeping bag. Since Friday–when some colleagues chose early vacation over voting to prevent evictions–we've been at the Capitol. It's an eviction emergency. Our people need an eviction moratorium. Now."
In a prior tweet, she called it "surreal" to be homeless, in a way, again, as she was several years ago when she was evicted and had to sleep in her car, along with her two kids.
"Last night, we stood on the steps of the Capitol in a moment of silence for all the people who are unhoused whose lives have been taken because of policy violence. For all of those whose lives will be at risk until the eviction moratorium is extended. We need to save lives," Bush tweeted before settling down for the night there."
Evictions started weeks ago
"The evictions process started weeks before the expiration of this moratorium and on Sunday (August 1) there will be families and children who will end up getting evicted in the middle of a housing crisis with no place to go. I am worried about the children who will be evicted and unable to enroll in school, or who will be forced to change schools, if the family can even find a place to live," Waters told her colleagues.
"We already know that Black, Brown, and low-income communities are some of the hardest hit by the pandemic and threats of eviction. I believe that without eviction protections, homelessness will only increase and families will be more vulnerable to this Delta variant, which has proven to be more contagious and deadly."
The states are sitting on their hands, too. Congress has OKd some $47 billion in federal coronavirus-related rental aid, but only $3.5 billion or so has reached the states.
"Sane people are all blinking twice down here in Florida. Please send help if you can see this. Our governor only gave out 2% of assistance funds," Caja Kelly tweeted to Bush. Gov. Ron DeSantis, R-Fla., is a right-wing Donald Trump follower who's pondering a White House run in 2024.
And 'Fed up mom" tweeted in reply to both Bush and Kelly that "Yep…I have had a 'Submitted' application for well over a month. If you call @Our_FL_Relief they just tell you to wait."
But it's not just GOP-led states that won't shovel rental aid out the door to threatened tenants. A coalition of more than 25 New York state pro-housing and pro-worker groups wrote lawmakers that the Democratic Cuomo administration there isn't moving, either.
"From day one, the implementation of the Emergency Rent Relief Assistance Program (ERAP) has been riddled with numerous flaws that make it harder for tenants to apply for and obtain aid," the Housing Justice For All coalition wrote Cuomo. "This failure on the part of your agency, the Office of Temporary and Disability Assistance, undermines New York State's ability to ensure that $2.7 billion in federal rent relief actually reaches tenants and families hit hardest by Covid.
"An estimated 1.2 million New Yorkers owe back rent because Covid destroyed their jobs and incomes.  It's clear from what we are seeing and hearing on the ground that many New Yorkers eligible for this emergency rent relief assistance are unable to access it. The online portal for ERAP is too difficult to navigate. ERAP must be fixed quickly so relief funds are distributed to the more  than  1 million New Yorkers who are saddled with rent debt and desperately need financial help."
The National Low-Income Housing Coalition summed up the situation and laid the blame on Biden and Congress.
"The White House punted responsibility for extending the federal eviction moratorium to Congress, 48 hours before its expiration, stating that the CDC could not extend it after the Supreme Court tied its hands," President Diane Yentel said. "This evening, after a last-ditch and ultimately failed effort by Democrats to extend the moratorium, the House left for summer break."
Yentel thanked Waters "and so many of you" for trying to extend the moratorium. "But the inaction of others put the lives of renters at risk and threatens our collective public health."