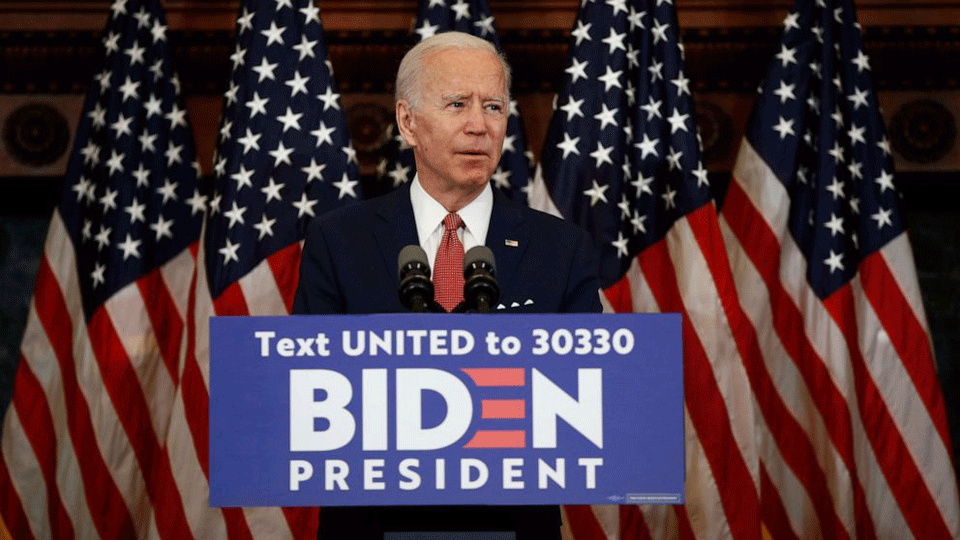 When it comes to the uprising against racism that is sweeping the country and how national leadership should react to it Democratic presidential nominee Joe Biden offered a sharp contrast yesterday to President Trump.
Trump has continued spewing out racist dog whistles and code words – as he did long before reaching the White House – and he continues to play to the white supremacists in his base.
In a major speech on June 2, Biden laid out the path he would take if voters, and the Electoral College, choose him this fall.
George Floyd's last words – "I can't breathe, I can't breathe" — as a Minneapolis police officer literally killed him by kneeing him in the throat on May 25 – have set off more than a week of protests against both police killings of unarmed African-Americans and against centuries of racial oppression that still infect the U.S.
In some areas, protests were accompanied by mayhem, much of it from white nationalists who infiltrated the otherwise-peaceful marches with the intent of driving police – and Trump – to respond with force.
They got it. The Chicago branch of the National Lawyers Guild, using language that echoes 1968, said police there rioted. And Trump too hauled out code words: "Law and order" and "If the looting starts, the shooting starts."
Biden, whom the AFL-CIO has endorsed for president, quoted Floyd, then took a much different tack.
Floyd's words, the former vice president said, "speak to a nation where every day millions of people ‑‑ not at the moment of losing their life ‑‑ but in the course of living their life ‑‑ are saying to themselves, 'I can't breathe.'"
And if you're black or brown, he added, it's not only the constant racial oppression which has run through the U.S. ever since the first enslaved Africans were exported to Jamestown, Va., in 1619.
It's also that the coronavirus pandemic and the resulting 40 million – or more – jobless are also disproportionately people of color.
"Floyd's words are "a wake-up call for our nation. For all of us," Biden said.
"And I mean all of us. It's not the first time we've heard these words. They're the same words we heard from Eric Garner when his life was taken six years ago" via a police chokehold, again inflicted on an unarmed African-American man, on Staten Island.
"But it's time to listen to these words. Understand them. And respond to them ‑‑ with real action," Biden declared.
"The country is crying out for leadership. Leadership that can unite us. Leadership that can bring us together. Leadership that can recognize the pain and deep grief of communities that have had a knee on their neck for too long."
That's not Trump, Biden said, without mentioning his foe's name. He'll try to be that type of inclusive leader, Biden promised.
"We must be vigilant about the violence that's being done by the incumbent president to our democracy and to the pursuit of justice," Biden declared.
"When peaceful protesters are dispersed by the order of the president from the doorstep of the White House ‑‑ using tear gas and flash grenades  ‑‑ to stage a photo-op at a noble church, we can be forgiven for believing the president is more interested in power" and "more interested in serving the passions of his base than the needs of the people in his care."
"For that's what the presidency is: A duty of care ‑‑ to all of us, not just our voters, not just our donors, but all of us." But Trump "isn't interested" in doing "the hard work" of healing the U.S.,  the former vice president said.
"Instead, he's preening and sweeping away all the guardrails that have long protected our democracy… Guardrails that have helped make possible this nation's path to a more perfect union — a union that constantly requires reform and rededication ‑‑ and yes, the protests from voices of those mistreated, ignored, left out, and left behind.
Biden hasn't always been this enlightened.
In one of the first Democratic presidential debates, Sen. Kamala Harris, D-Calif., slammed him for opposing busing to desegregate public schools in the early 1970s. She told him of a scared six-year-old girl on a school bus driven to a newly desegregated school at a time when such tensions ran high.
"That little girl was me," Harris said, leaving Biden speechless.
And as Senate Judiciary Committee Chairman later in his career, Biden shepherded the extended and strengthened Voting Rights Act through Congress – but also the 1994 crime bill.
That measure featured a "lock-'em-up" mindset against usually black or brown local drug sellers. But it lacked the same long sanctions against higher-up drug kingpins. And the measure had little to say about white-collar crime in white-dominated corporate suites.
When the white-collar criminals were jailed the usually received short sentences. And one of the failings of the Obama-Biden administration, critics note, is there were no "perp walks" of the white – and virtually all right-wing Republican, though critics don't say so – financial fraudsters and finaglers who brought on the 2008 Great Recession.
Biden, however, is responding to different times with stronger movements even as he himself also has changed and continues to change.
Besides pledging healing, he backed one specific measure and promised others. More importantly, he promised recognition of and an attempt to tackle leadership in the fight against racism.
The specific measure is legislation by Rep. Hakeem Jeffries, D-N.Y., banning police use of such chokeholds and knees in the throat. Biden promised more, but also warned that healing would take a long time, just as the racism that poisons the U.S. has lasted for centuries.
And he declared it's time for real, comprehensive police reform that – though he did not say so – attacks a culture of policing shot through with hostility to people of color.
And Biden also pledged to protect constitutional rights, especially the First Amendment's right to assemble and freedom of speech to protest.
Trump, however, hasn't changed. Biden pointed that out, just citing the incumbent's words as president – never mind Trump's own history of racism. He also suggested Trump should read the U.S. Constitution.
Trump's pre-presidential history of racism, which Biden didn't mention, is long. It includes being forced to plead "no contest" to federal charges, under the 1968 Open Housing Act banning racial discrimination in housing, to barring blacks from apartment buildings Trump and his developer father Fred owned in New York.
It includes Trump's baseless declaration of the guilt of the "Central Park Five," five young African-American men, later shown by DNA to be wrongfully convicted in the 1989 rape of a white female jogger.
And while Trump spent much of his 2015 speech announcing his run for the White House denouncing Mexicans as rapists and worse, his 2017 inaugural address blasted crime and mayhem in U.S. cities. Those were more code words for his white nationalist audience and implicitly blaming blacks.
Trump used other codewords in a 2017 speech to police, as Vanita Gupta, head of the Leadership Conference for Civil Rights, pointed out. Trump said the police should treat protesters very roughly when arresting them. Left unspoken: Many of the protesters Trump denounced are black. And it was no coincidence that he denounced Baltimore, which is two-thirds African-American, as "a place nobody would want to live" in.
Trump's  "Muslim ban" executive order barring migrants from certain nations targeted those in Africa and the Middle East. His deportations of the Dreamers and ripping of kids from parents at the U.S. border hits Hispanic-named people, and his demolition of the Temporary Protected Status (TPS) program deports families – some of whom have lived here legally for decades – to Central American and African nations, plus majority-black Haiti.
Put it all together and it's quite a contrast, as Biden pointed out.
"We will not allow any president to quiet our voice," he declared.
"We won't let those who see this as an opportunity to sow chaos throw up a smokescreen to distract us from the very real and legitimate grievances at the heart of these protests. And we can't leave this moment thinking we can once again turn away and do nothing. We can't."
"The moment has come for our nation to deal with systemic racism. To deal with the growing economic inequality in our nation. And to deal with the denial of the promise of this nation ‑‑ to so many."
"I've said from the outset of this election that we are in a battle for the soul of this nation. Who we are. What we believe. And maybe most important ‑‑ who we want to be."
"It's all at stake. That is truer today than ever. And it's in this urgency we can find the path forward…To paraphrase Reverend  (William) Barber, it's in the mourning we find hope."