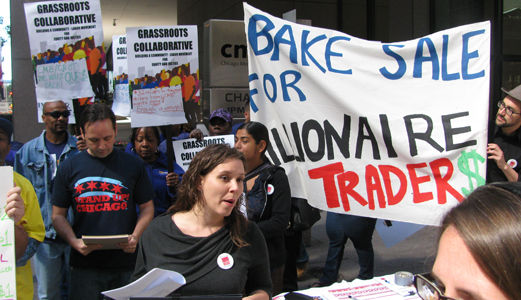 CHICAGO – The Chicago Mercantile Exchange Group (CME) or Chicago "Merc" for short made $951 million in profits on $3 billion in income in 2010. But apparently that's not enough. The CME is threatening to move out of Illinois unless it gets a tax break.
As if to up the ante, CME Group announced it was putting its Chicago Board of Trade Building up for sale.
Responding to the distress of this global finance player, the Grassroots Collaborative coalition including members of the Chicago Teachers Union, Service Employees International Union, Stand Up Chicago, and Chicago Coalition for the Homeless held a bake sale June 13 in front of CME's plush headquarters on South Wacker Drive to help the company out.
"We don't want to see CME go," said Kristine Mayle, Chicago Teachers Union Financial Secretary. "We don't understand why they would leave. Chicago taxpayers have already been very generous, helping CME to keep their headquarters here."
The coalition raised several dollars which they offered to a bewildered CME representative.
Taxpayer subsidies to CME include $32 million from the Tax Increment Financing accounts which divert property taxes that would have gone to public education and city parks into the pockets of wealthy corporations. Chicago area developers siphon off $250 million a year in TIF funds.
Meanwhile, the Chicago Public Schools (CPS) are experiencing a $720 million deficit. New CPS CEO Jean-Claudee Brizard has already slashed $75 million from the budget and promises more cuts.
"Schools are being hit hard, struggling with budgets which mean larger class sizes, buildings in disrepair, decrease in arts, music and elective courses that provide a rich education for our children. Many of our schools cannot afford libraries or librarians," said Mayle. "Students, parents and teachers are all sacrificing in this environment. We need profitable corporations like the CME to do their part as well."
The Illinois legislature passed a tax increase on individuals and corporations in January to help close an $8 billion budget gap. No sooner had the ink dried than some of the state's largest corporations began lining up for a break. Exploiting the fear and economic insecurity from high joblessness, they threatened to move out of state if they didn't get what they wanted.
"I don't think anybody likes paying taxes, but that's the price of having a democracy," said Governor Quinn last week after CME threatened to leave. "We need schools to educate our children and men and women in uniform to protect us."
But under enormous pressure from big business, Quinn has backpedaled.
Navistar International, Caterpillar, Sears, Roebuck and Co. and Motorola all threatened to move and all got special deals. To date, Gov. Quinn has handed out $230 million in tax breaks or incentives to these corporations after being threatened.
And now it's CME's turn. CME owns the Chicago Board of Trade, Chicago Mercantile Exchange and New York Mercantile Exchange. They are one of the largest futures trading markets in the world. They were created when the Mercantile Exchange bought the Board of Trade in 2007 for $11.9 billion.
CEO Terrance Duffy is complaining the new tax increase will cost the billion-dollar company $50 million in taxes.
Last year, Illinois gave $272.7 million in tax breaks and other incentives to 67 companies after states with right-wing Republican governors fell over themselves to lure the companies with the promise of lower taxes.
They complained even after two-thirds of corporations filing Illinois returns paid no taxes in 2008. The actions serve to undermine the tax increase on corporations and push the burden onto small and medium size business and workers.
Meanwhile the plight of working-class communities across the state continues to worsen with no improvement in sight. Deep cuts have meant layoffs of teachers, other public workers and closure of many social agencies providing essential services. Funding is being slashed to education, transit, housing and healthcare.
"There is 39% unemployment in my community of North Lawndale," said Charles Jenkins of the Coalition for the Homeless. "This is a depression. People are hurting. The unemployed can't live in the community because there's not enough affordable housing. There's a line stretching out the city for affordable housing."
"Are bathrooms for the rich (which is apparently where some of the TIF money went) more important than classrooms and books for children?" asked Jenkins.
As for the teachers union, Mayor Emanuel said, "We inherited at the city a $600 million deficit. We're gonna fix it. The schools? $720 million deficit. … We've got to make the tough calls, but everybody will have some skin in the game." Is "skin" in the game the same as "shared sacrifice?" Emanuel made himself rich while on the board of directors of the Mercantile Exchange. CME Group gave him $200,000 in his run for mayor, the single largest donation he got from any source.
Photo: John Bachtell/AP