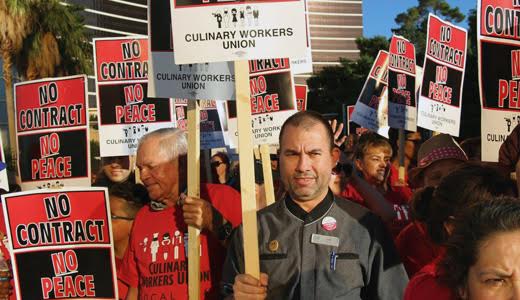 LAS VEGAS (PAI) – Big Culinary Workers Local 226, which has been stonewalled by management at Donald Trump's Las Vegas hotel, has issued a new website with a travel alert, warning the nation's travel industry about the struggle there.
The union, which the workers voted months ago to recognize as their representative, has repeatedly demanded managers named by Trump, now the GOP presidential nominee, and hotel co-owner Philip Ruffin, obey labor law and open bargaining.
They've refused. So now the local is widening its struggle, by setting up a website, VegasTravelAlert.org, to tell the rest of the country what's going on.
"The billionaire owners have so far refused to start contract negotiations with their employees, even though over 57,000 union workers in Nevada have fair wages, job security, and good health benefits – in stark contrast to workers at the Trump Hotel Las Vegas who are paid wages and benefits worth approximately $3 less per hour in comparison to union workers on the Las Vegas Strip," Local 226 says.
Following the overwhelming vote among the hotel's 500 workers months ago to unionize, the local formally sent the owners and managers a demand to bargain, as labor law orders. Instead, "Trump Hotel Las Vegas has tried to negate their employees' right to unionize and management has undertaken a hostile anti-union campaign."
The union, along with Bartenders Local 165 – which workers also voted for – vows to continue protests at Trump's hotel. The two local unions, both Unite Here affiliates, "highly recommend customers relocate events to a venue free of labor unrest."
Trump has had no comment on the dispute. One of his sons presided over the hotel's anti-union campaign before the recognition vote.
Photo: Culinary Workers Local 226 Facebook page.