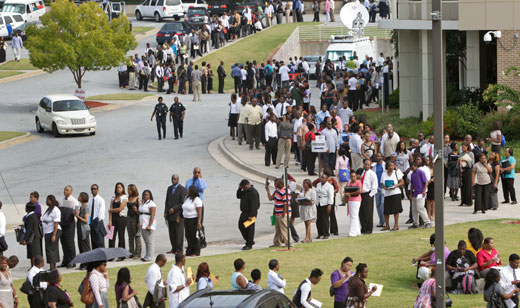 WASHINGTON—The Congressional Black Caucus (CBC) kicked off its 41st Legislative Conference, Sept. 21, with resounding calls for quick passage of President Obama's $450 billion jobs program and jobs bills introduced by CBC members.
The calls came during the half-day forum sponsored by the CBC's Jobs Commission. Rep. Marcia Fudge, D-Ohio, co-chair of the Jobs Commission, said, "The unemployment rate for African-American workers is nearly twice the national rate. In some cities the jobless rate for Black workers is three times the national rate as it is in Cleveland, the city I represent. When parents don't work, children don't eat."
The "most important part" of the Obama package "is the infrastructure program," Fudge said, assailing "partisan bickering" by tea party Republicans that is blocking the $100 billion infrastructure repair measure and every other proposal in the Obama package.
Half the $100 billion would be used to establish an infrastructure bank to pay for repairs to crumbling schools, hospitals, bridges, and roads. And $100 billion would pay for an extension of unemployment compensation for millions of workers who are exhausting their jobless benefits. Another $250 billion of the Obama package is extension of tax breaks, most of it payroll taxes for Social Security, and tax credits to firms that hire new workers. Obama proposes higher taxes on those earning above $200,000 to help pay for the package.
Rep. Maxine Waters, D-Calif., pointed out that Bush-era tax cuts were followed by the loss of eight million jobs. "We need to focus on infrastructure repair of bridge and roads, creation of a national housing trust fund, targeted aid to the unemployed, stopping the outsourcing of jobs," Waters said. "We need to invest in the future of our country. With a lot of work, lot of fight we can create those jobs."
James Lowry, Senior Advisor to the Boston Consulting Group, said, "We're dying in the Black community. I hope the Congressional Black Caucus jobs resolution is accepted and millions of new jobs are created. If a national infrastructure bank is created, how many minority jobs will it create?"
David Hinson, national director of the Minority Business Development Agency, told the crowd minority-owned businesses employ 5.9 million workers, creating jobs "not only for Black workers but for all Americans. We need diversity."
He strongly endorsed Obama's jobs program "that will create jobs and put money in jobless workers' pockets."
Dr. Maya Rockeymoore, President and CEO of the Washington-based consulting firm, Global Policy Solutions, also hailed most of the proposals in Obama's jobs package. "We know the Republicans in Congress have been throwing up roadblock after roadblock," she said. She urged a fight to win passage of the package. However, she warned against the payroll tax holiday including FICA funds that sustain Social Security, a scheme "that could be used in the future to undermine Social Security."
A questioner speaking from a floor microphone warned against jobs programs that produce only "dead-end jobs."
Part of the answer, she replied, is a strong labor movement that fought for and won "the minimum wage, time-and-a-half for overtime, pensions." She added, "Unions are important in the life of our country. They are under wholesale attack. We've seen it in Wisconsin and Ohio."
Alfonso Pollard, Director of Politics and Human Rights of the Communications Workers of America, took the microphone and thanked her for defending the labor movement in the face of the Republican attack.
Robert Borosage, co-director of the Institute for America's Future, called Obama's package "a good first step" but urged a sweeping transformation of the economy with the federal government acting as "employer of last resort" providing a job for every jobseeker.
With interest rates at record lows, he said, the Federal government can borrow at virtually no cost and use the revenues to put tens of millions to work repairing and rebuilding the nation's infrastructure. He also urged an "agenda about making things in America" assailing the U.S. as the world's only nation without a program to protect manufacturing. Borosage also called for an end to wars of intervention with the funds used to create jobs and meet human needs.
CBC Chairman, Emanuel Cleaver II, D-Mo., opened the forum by hailing the Commission's recently completed road trip to five cities – Cleveland, Detroit, Atlanta, Miami and Los Angeles. More than 30,000 jobless workers attended CBC "Job Fairs" and town hall meetings in those cities, Cleaver said. "We think we have brought this problem to the nation's attention. We're at the point where we have to make the proposals work. What we are doing now, in every way we can, is to focus on job creation."
Photo: Thousands of people packed the campus of Atlanta Technical College for a job fair sponsored by the Congressional Black Caucus, Aug, 18. Bob Andres/AP