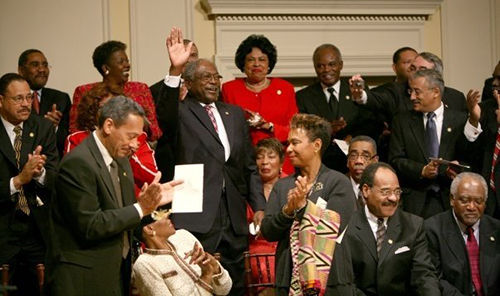 In a dramatic display of political independence, 10 members of the Congressional Black Caucus boycotted a House Financial Services Committee vote on regulatory reform on Wednesday. The CBC had asked for a postponement of the vote two weeks ago. African American lawmakers are unhappy with federal lack of attention to crisis conditions in minority and working-class communities. The measure passed 31 to 27. The committee is chaired by Rep. Barney Frank, D-Mass.
The House of Representatives is expected to vote on the financial regulatory reform bill next week.
Rep. Maxine Waters, D-Calif., in a statement on behalf of the 10 CBC representatives holding seats on the Financial Services Committee, said, "We have not been forceful enough in our efforts to protect the most vulnerable of our population."
She continued, "That stops today. While we appreciate the need for the expansion of regulatory authority, we can no longer afford for our public policy to be defined by the worldview of Wall Street."
According to press reports the decision to skip the vote came after a closed door meeting with White House Chief of Staff Rahm Emanuel. Glenn Thrush of politico.com writes that the decision came after a "tumultuous morning meeting at the Capitol" between Rep. Waters and Emanuel "failed to yield a deal, according to people familiar with the meeting."
Emanuel and Treasury Secretary Timothy Geithner had previously met with CBC members to address concerns spanning a wide range of grievances including foreclosures, unemployment, TARP assistance to minority banks, and federal advertising and contracts for small business. Only 5 percent of government advertising goes to minority businesses.
The CBC statement pointed to stark conditions in the African American community as a result of the recession: 17 percent unemployment, foreclosure rates of one in 10 among Black loan holders, a 50 percent drop in Black-owned auto dealers and a 40 percent drop in African American newspapers.
Waters declared, "Let us be clear, we understand that many of these issues are not issues that have been created solely in the last nine months." She continued, "There are those who choose not to speak about African Americans or the working class. We can no longer be in denial that certain sectors of our population, including the African American community, are feeling the recession to a greater extent."
A New York Times article published on Thursday claimed that much of the CBC's displeasure was driven by a financial crisis faced by Inner City Broadcasting, a company owned by veteran civil rights leader Percy Sutton.
The CBC statement makes clear that this was but one of several pressing concerns. It concludes, "Today, we are here to reaffirm our commitment to be forceful advocates for the voiceless, and insist that all of the resources of the government, whether they be through financial assistance programs or federal contracting, exhibit a basic fairness and equality that historically has not existed."
Photo: Congressional Black Caucus Facebook