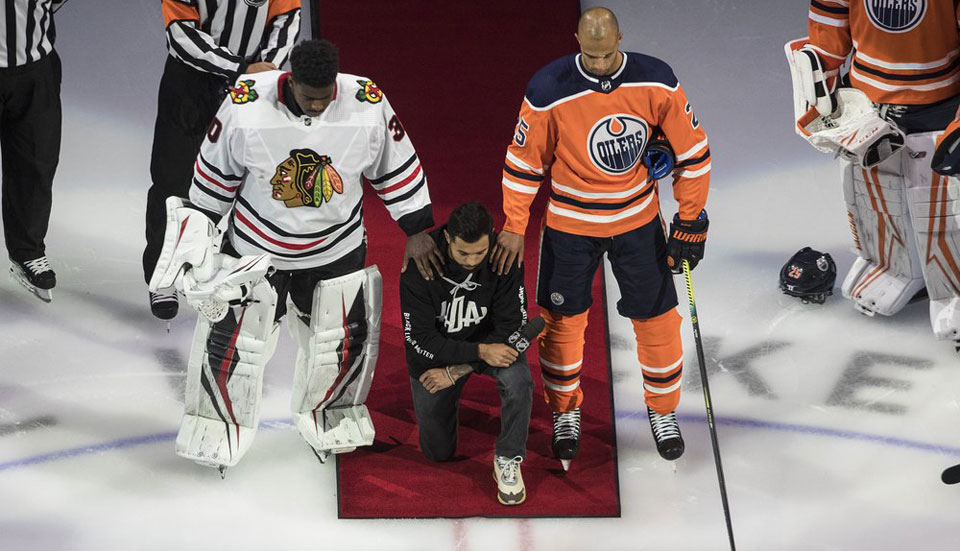 In times of desperation, you find the oddest couplings and strangest bedfellows. For Eric Trump, doing anything to support his failure-of-a-president father, it would be the National Hockey League, and unfortunately for the young Trump, it didn't turn out as expected.
But I'll get back to that later.
As we all know, COVID-19 curtailed professional sports for what seemed to be an eternity. Now as summer slowly turns to fall and we catch that occasional chill in the morning air, we can rest peacefully knowing hockey is back.
The official 2020 NHL post-season got underway Saturday, Aug. 1, and it wasn't the gameplay on center ice that captivated fans. It was Minnesota Wild defenseman Matt Dumba's heartfelt, gut-wrenching speech against racial injustice.
With the microphone gripped tightly in his hand, Dumba walked down the red carpet, stood inside a circle at center ice, sporting a black sweatshirt emblazoned with the Hockey Diversity Alliance, an independent organization founded this year by Black players to fight against inequality and racism in the sport.
Thanking all the fans at home and appreciating "all the people making a positive difference in the world right now," Dumba quickly transitioned, and said:
"During this pandemic, something unexpected but long overdue occurred. The world woke up to the existence of systematic racism and how deeply rooted it is in our society. For those unaffected by systematic racism or who are unaware, I'm sure some of you believe that this topic has garnered too much attention these last couple of months. But let me assure you that it has not. Racism is a man-made creation. All it does is deteriorate from our collective prosperity. Racism is everywhere, and we need to fight against it.
"On behalf of the NHL and the Hockey Diversity Alliance, we vow and promise to stand up for justice and fight for what is right. I know first-hand, as a minority playing the great game of hockey, the unexplainable and difficult challenges that come with it. The Hockey Diversity Alliance and the NHL want kids to feel safe, comfortable, and free-minded every time they enter the arena."
Dumba closed his statement by mentioning the Black Lives Matter movement and Breonna Taylor, a woman who was killed in her home by police in Louisville, Ky., on March 13.
He added: "I hope this inspires a new generation of hockey players and hockey fans. Because Black Lives Matter. Breonna Taylor's life matters. Hockey is a great game. But it could be a whole lot greater. And it starts with all of us."
And then, as the national anthem, blared from the arena speakers, Dumba took a knee—the first knee-taking in professional hockey. He was flanked by support from Chicago Blackhawks' Malcolm Subban and Edmonton Oilers' Darnell Nurse.
Oh, and this is where Eric Trump comes into play. Only a few days before the official opener, Trump tweeted his support for NHL players standing during the national anthem—thinking in hockey the Trump regime had an ally… They didn't.
Former NHL player Akim Aliu put it simply: "Yo, real talk @erictrump, you're the last guy the NHL and the hockey world want support from. It's not real patriotism if you're using it to divide us."
And if you scroll down far enough through the comments, you can see hockey fans from everywhere posing pics of them taking a knee, a form of at-home demonstrating.
Following last Saturday's historic moment, players from the Vegas Golden Knights and Dallas Stars all knelt on the ice before their Monday, Aug. 3 game in Edmonton, Alberta, in support of Black Likes Matter.
Dallas forward Tyler Sequin and Jason Dickinson knelt alongside Vegas forward Ryan Reaves and goaltender Robin Lehner during the American and Canadian national anthems.
Again and again, as this nation reflects upon systemic racism and police brutality, past and present, we can only hope that these overtures by the major leagues will lead to real change. There is certainly plenty of room for improvement in hockey.