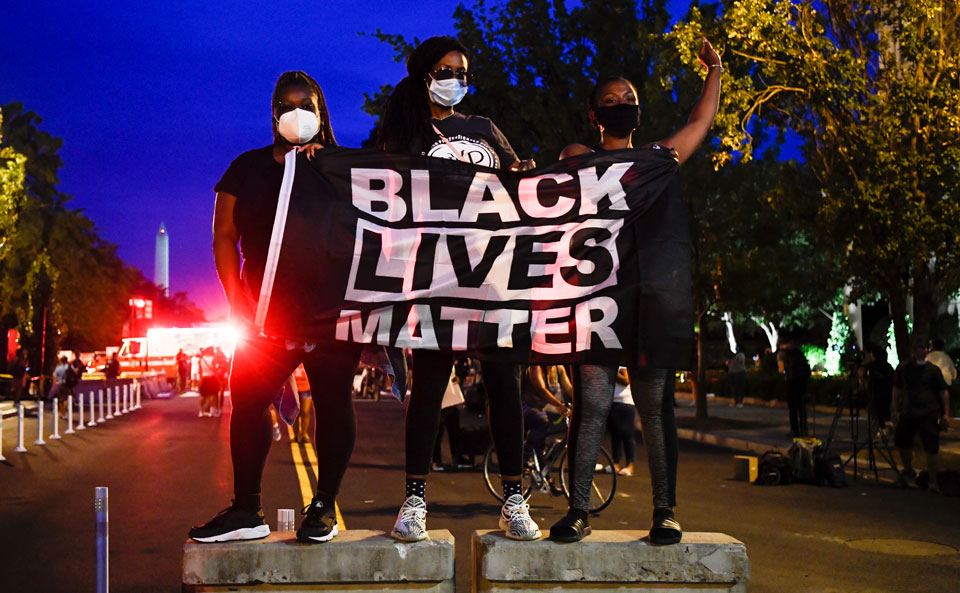 The Movement for Black Lives (M4BL) and the Electoral Justice Project joined forces to bring together Black organizers and activists from across the country this past Friday, Aug. 29, for the 2020 Black National Convention (BNC), a "multi-hour broadcast filled with energy, celebration, education, electoral justice, and a vision for Black lives before the biggest election of our time and long after."
A central theme of discussions was fighting against police violence and the struggle for full economic and racial justice. Many crucial struggles were centered in these conversations, such as the Moms 4 Housing organization, which was a group of unhoused mothers in Oakland, Calif., who occupied vacant homes to expose real estate speculation and displacement of Black communities through gentrification.
Longtime activist and academic Angela Davis spoke, saying, "This is an extraordinary moment. More people than ever, not only in the U.S. but all over the world, are finally acknowledging that racism is not simply about individual attitudes that can be overcome with individual therapy or the like. And that it is not simply about developing policies of diversity and inclusion, which leave larger structures intact, structures that were responsible for white supremacist and exclusionary practices in the first place."
During the convention opening and various sessions, attendees heard from a community of organizers, influencers, artists, and activists, including Phillip Agnew of Dream Defenders, Tarana J. Burke, founder of the #MeToo movement, Kendrick Sampson, Kayla Reed of Electoral Justice Project, Angelica Ross, star of FX's Pose, and others. They also were treated to music by Black performers such as Saul Williams.
The conference is part of a historical lineage of national Black progressive conferences that started in 1972 with the Gary, Ind., National Black Political Convention, and the Black Radical Congress, which was founded in 1998 in Chicago.
Another focus of the convention was the BREATHE Act, unveiled by M4BL in July. The proposal amounts to a modern-day civil rights bill in defense of Black lives. It would divest taxpayer dollars from policing and incarceration and invest in true public safety, equity, and self-determination. It has already been championed by Reps. Ayanna Pressley, D-Mass., and Rashida Tlaib, D-Mich.
The BREATHE Act will:
Divest Federal Resources from Policing & End Criminal Legal System Harms. The bill would decriminalize Black life and address systemic racism in the criminal-legal system, using a combination of changes to federal law and funding incentives that spur state action. This proposal would directly change or create resource changes to policing, pretrial detention, sentencing, the War on Drugs, jails and prisons, immigration, prosecution, reentry, antidiscrimination policy, and the 1994 Crime Bill.

Invest in New Approaches to Community Safety Utilizing State Incentives. As states respond to community demands, the bill would unlock federal resources through a competitive process for implementing the non-carceral programs, services, and other investments that truly keep our communities safe.

Invest in Healthy, Sustainable & Equitable Communities for All People. The bill would divest the federal government from incarceration, policing, and the criminal-legal system, and re-invest these dollars into urgent investments in education, health, and economic opportunity.

Hold Political Leaders Accountable & Enhance Self-Determination of Black Communities. BREATHE enacts reforms such as reparations for Black people, support for survivors of police violence and families, and people who have been harmed by the War on Drugs, voter protections, and other measures that enhance elected officials' political accountability to Black and Brown communities.
The BNC saw many other segments, giving attention to issues such as disability justice, harm reduction, community accountability, gender justice, unity, voting, immigration, food sovereignty, prison, and police abolition, freeing political prisoners, land, and homeownership, racial capitalism, and more. It also showcased new music videos from BYP100 D.C. and Black Lives Matter D.C. organizers such as "I Love Being Black" by Jonathan Lykes and others.
The M4BL, one of the co-conveners of the event, is a national network of over 150 leaders and organizations serving as a broad political home for Black people to learn, organize, and take action. M4BL is part of an ecosystem that includes the Black Lives Matter Global Network. It is a network of locally-rooted Black organizations and activists maximizing their efforts by building the capacity to do their work and win more when they work together.
The current global uprising in defense of Black life is unprecedented. It is a response not only to the murders of George Floyd, Breonna Taylor, Ahmaud Arbery, Tony McDade, Nina Pop, and countless others killed by police and vigilante violence, but also to centuries of anti-Black racism, discrimination, and the denial of Black rights and political power.
The Electoral Justice Project, the other convener, is made up of nearly 60 Black activists working every day on electoral campaigns and advising M4BL at the ballot box. Poll after poll in recent months shows that the American people are ready for real change. The New York Times found that support for the movement grew faster this summer than in the past two years. After months of sustained uprisings, and years of Black organizing, a majority of Americans support redirecting funds from police to invest in Black futures by a reimagining of public safety, something long demanded by Black communities that are impacted most by police terror.
This is a transformative time for the country and the world. From our elders and ancestors, we are learning it's possible to bring Black people together from all political ideologies and backgrounds to mobilize around a common vision for Black liberation.
Scenes from the BNC can be found here.