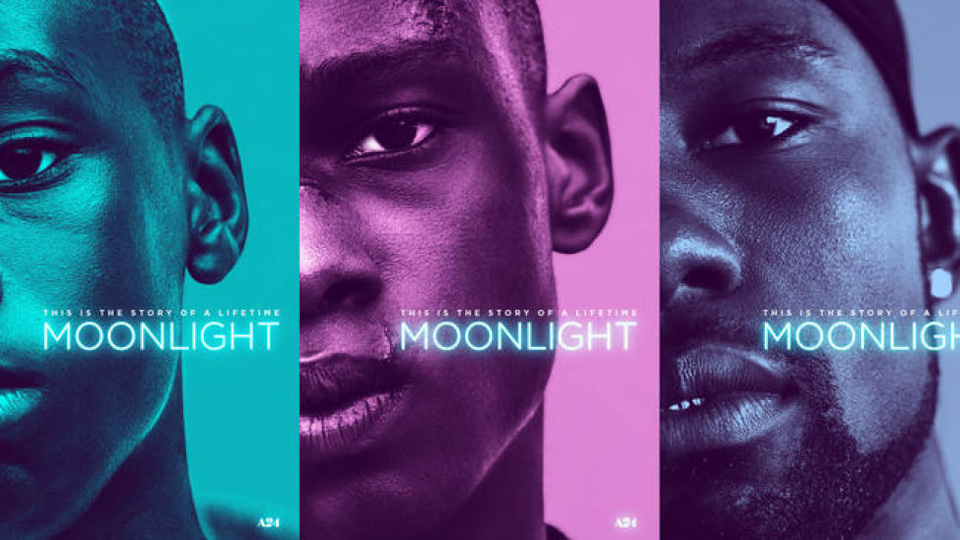 Barry Jenkins, director of the new film Moonlight, appeared on a panel called "When Race and Manhood Intersect" at The Atlantic Race + Justice summit in Los Angeles in mid-September, interviewed by NPR commentator Karen Grigsby Bates. Jenkins is straight, he said, but an LGBTQ ally, who grew up in Miami-area projects like those we see in his film's Liberty City, Fla., setting. "I wasn't seeing Black Southern stories," Jenkins said, nor "Miami stories, queer stories," and felt it important that audiences see alternative images of what it means to be Black, to be poor, gay, and male. We need to see these stories in our arts and letters, he explained. For him the film is "a memory of my memories."
In Miami on a previous project, Barry Jenkins met the award-winning Black playwright Tarell Alvin McCraney, who had an unproduced play called In Moonlight Black Boys Look Blue. The film (trailer here) is an adaptation of McCraney's concept.
Moonlight focuses its lens on Chiron (pron. Shy-RONE) over the course of two decades or so. He is played as a youngster, nicknamed "Little," by Alex R. Hibbert, as the teenage high school student Chiron by Ashton Sanders, and by the adult, who now calls himself "Black," by Trevante Rhodes.
We first meet "Little" as an almost catatonic kid, unable to speak out of his fear and rage from growing up the son of Paula (Naomie Harris), a crack-addicted mom who supports her habit by demanding money from her son, apparently turning tricks when necessary, and presumably engaging in other small crimes that will eventually land her in a Georgia rehab center that has become her permanent home. Growing up in her household was for Chiron a constant hurricane of unpredictability and neglect.
Chiron wanders off one day, afraid to return home, and is discovered like a caught feral animal by a kindly local drug dealer Juan (Mahershala Ali), who with his girlfriend Teresa (Janelle Monáe) become a suddenly acquired alternate set of parents. Juan, born in Cuba but now thoroughly Americanized, teaches Chiron to swim in the ocean, and they feed him real, sit-down family meals. When Chiron comes to their house from grammar school one day, he asks Juan, "What is a 'faggot?'" Perhaps counter to expectation, Juan instinctively surmises the meaning behind the question, and says it's a word some people use to make gay people feel bad — one of the rare times so far in his young life that Chiron has received the gift of unconditional understanding. As Teresa says, "This house is all love and all pride."
Although Chiron enjoys some happy times of camaraderie with his school chums — Kevin especially, who teaches him how to defend himself against slurs that he's "soft" — much of his time in Act 1 is taken up with avoiding the chaos at home, recoiling from being picked on at school, and seeking out the refuge Juan and Teresa provide.
As the teenager, in Act 2, the abuse gets worse, with both verbal and physical hurt from the tough kids at school trying to act macho. He does have a revelatory moment of self-discovery with his friend Kevin (Jaden Piner) on the beach late one night (anyone above a certain age could only think "Moon Over Miami"), but that closeness is shattered when bullies psychologically force Kevin to beat him bloody. Chiron takes it like a meek Christ figure, but returns the next day to attack his chief tormentor, who crumbles to the floor. We see Chiron taken away by two police officers.
By Act 3, Chiron, now "Black," is living in Georgia as a well-established and emotionally deadened drug dealer, seemingly one of the few occupations available to young men with his kind of background. He has spent time in prison, possibly from the high school incident, in which he may have committed manslaughter. Now he is a gun-toting, hard, bulked-up, athletic man who takes shit from no one and sports a "front," two dental fixtures like mouthguards that make him look like he has gold teeth.  He reconciles with his mother, who admits her irresponsibility but asks her son to believe that she did nevertheless always love him.
And one day, out of the blue, he hears from the now adult Kevin (André Holland), who also got into trouble with the law but is now earnestly trying to go straight as a cook, a skill he learned while in the joint.
Moonlight is a coming of age story that flows in gentle, episodic waves across time. Although the stage is rife with drugs and crime, harassment and extreme alienation, there are also moments of caring, tenderness, respect and love that must also be recalled. It's a good reminder that outward appearances can deceive, people are fragile in the face of peer pressure yet also resilient as they come to know their own internal strength, and that not everyone can be judged by the few things we hear about them.
Jenkins employs some quasi-experimental techniques, such as when at certain traumatic moments Chiron's tormentors are seen shouting at him but their voices are silent, as though the troubled youth is simply tuning out the damage. The film inevitably recalls Richard Linklater's documentary time-lapse film Boyhood in its treatment of a child's evolution into a man.
The music is the film deserves comment, as it is often counter-intuitive. Yes, there is some rap and hip-hop, but Nicholas Britell's original score has a calming classical effect that suggests how Chiron might escape his sad early environment. When Chiron and Kevin finally meet again, in the diner where Kevin is now working, the juke box plays Barbara Lewis's classic "Hello Stranger" ("seems like a mighty long time").
The closing shot shows us the young "Little" at the ocean. He turns toward the camera and looks right at us, as if to say to the world, "You don't know what will become of me, so try to do your best to love me now, educate me well, and treat me right so that I can make the most of my life. Please."
Moonlight is honest filmmaking at its best, marking a milestone in the development of Black-oriented cinema in America. It is important, it will touch your heart, and it will be talked about for decades.