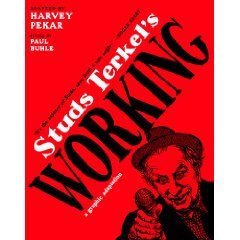 Studs Terkel's Working: A Graphic Adaptation
Adapted by Harvey Pekar, edited by Paul Buhle
NY/London: The New Press, 2009
Studs Terkel was synonymous with the everyman, heart of the hoi polloi. In one of his last interviews he repeated a story he enjoyed telling about encountering a couple of vocally anti-union Young Urban Professionals in his hometown of Chicago. Terkel, then already into his nineties, stared down the latest denizens of the ruling class, profoundly finishing them off in a manner which they probably never forgot. That was Studs.
Such a proponent of the working people was Terkel that he gave us "Working" some thirty-five years ago. The book, an oral history—no, really an oral contemporary account—of various worker' lives continues to be cherished by the left as a document of who we are.
While the original book remains just that important, it's been realized anew by the creative collaboration of underground comic book guru Harvey Pekar and rabble-rousing historian Paul Buhle, as well as a series of gifted illustrators who move these stories into an astonishingly visual realm. "Studs Terkel's Working: A Graphic Adaptation" maintains all of the grit, energy and honesty of classic Terkel, but with the 20/20 hindsight that's been at the heart of every Buhle tome thus far.
I have lost count of the amount of titles Buhle has authored and/or edited. After dozens of texts on left history, he's been focusing his attention on comic art graphic histories of same, but these are far from the comics we read as kids.
Buhle's partner in this endeavor is the rather legendary Harvey Pekar, who also served as the primary writer of Buhle's "Students for a Democratic Society: A Graphic History. "Pekar, of American Splendor fame, describes his chosen role as one who writes of the "quotidian life," that which is usually overlooked. If anyone could adapt the plainspoken tales of "Working," it's Pekar, and he does so here with all of the visceral edge he's known for.
Stand out segments include Bill Talcott, an organizer, with art and adaptation by Peter Kuper, another underground comic stalwart. The story of Talcott reveals the inner world of labor organizers, perhaps the ultimate among the overlooked. It brazenly presents Talcott's gnawing need to fight injustice, an integral component of the job, but one which can be seen as quixotic if not obsessive by browsers. Kuper's dark world, thick with barriers in every direction, depicts both the miners' lives and Talcott's tireless work to help the rank-and-file to realize its own strength.
In another segment, Lance Tooks breathes life into the noted tenor saxophonist Bud Freeman. No record company glitz here, Freeman was a regular guy who helped to create the "Chicago school" of Jazz in the 1920s and then performed with an endless array of big band legends. Tooks' use of multi-media ranges from Hirschfield-style drawings to photos of album covers and old performance posters, interspersed with chunks of text and collage-like pastiche. All of the sense of motion offers a visual approximation of the collective improvisations Freeman was an integral part of throughout his career. One can almost hear "That's a' Plenty" or "There'll Be Some Changes Made" soaring off of the pages.
Tooks also brings us the story of another musician, but this one is a local talent whose career was spent playing hotel piano bars. A self-taught player, Hots Michaels tells us that he considers himself to be a, "whisky salesman…I never thought of myself as an artist".
All walks of life, from the glamorous to the painfully ordinary, "Working" also brings us the story of Nick Salerno, garbage man (adapted by Pekar with art by Steve Thorkelson). Salerno speaks about his job of 18 years, one that his children are ashamed of but which has allowed him to provide well enough for his family. His is a prideful tale, though its visuals largely depict the otherwise unseen world of back-alleys. Eye of the beholder.
While one may imagine that a book such as this—one which marries the stories of workers filtered through a left icon, with the harsh visuals of underground art edited by a radical historian—as one brimming with social uprisings. Surprisingly, this is not the case, and it's a better book for it. Though Marxists and other progressives like to see the proletariat as the core of revolutionary possibilities, working people are often just trying to get by, week to week.
This book reminds us of the contributions of the overlooked, the very important "average" workers who keep society running, whether they pick up the trash, create art and culture, do domestic work, style hair or organize workers into unions. These are the stories—in startling words and pictures–of everyone from professional athletes to waitresses, stock brokers to postal workers, coal miners and farmers to box-boys and prostitutes. None of these workers are treated with the indignity they may encounter in their daily work-life. None of these people's stories are editorialized, brightened up or—worse—offered in a falsely "lumpen" fashion for the sake of radicalism. This is simply life for most of us.
As Terkel intended it, this is a portrait of everyday work and everyday workers presented to us in the immediacy of the moment. This graphic adaptation does Terkel proud and brings this brilliant study of the pre-eminent champion of the working class into the hands of a whole new generation.
John Pietaro (www.flamesofdiscontent.org) is a cultural worker and labor organizer from New York.