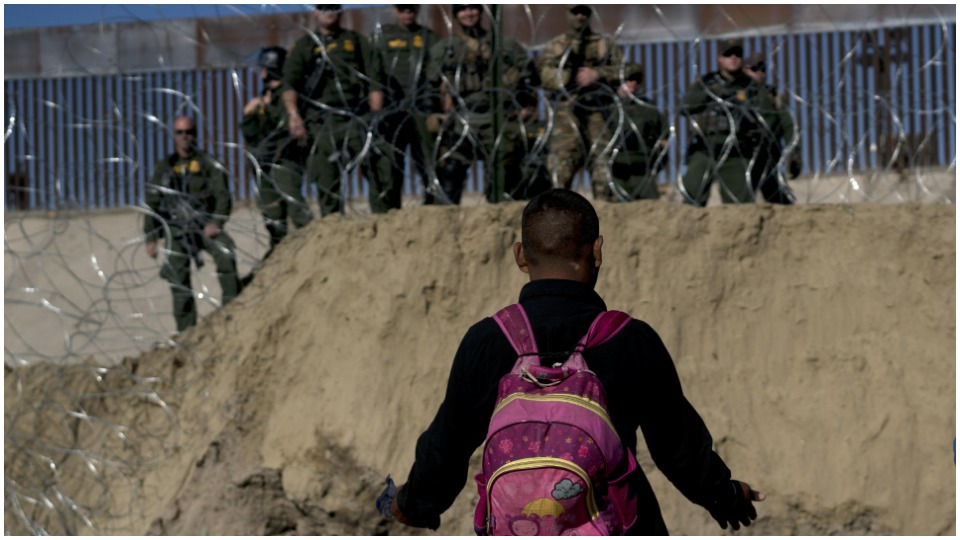 U.S. Border Patrol agents fired tear gas to repel migrants trying to exercise their right to apply for asylum in the United States yesterday. The migrants were staging a protest at the California-Mexico border near San Diego.
U.S. Customs and Border Patrol later claimed that several agents were struck with "projectiles" and tear gas was used "to dispel the group because of the risk to agents' safety."
Children in the group were screaming and coughing amid the chaos that erupted when the tear gas was fired into Mexican territory. "We ran, but when you run, the gas asphyxiates you more," Honduran migrant Ana Zuniga, 23, told The Associated Press while cradling daughter Valery, 3, in her arms.
Homeland Security Secretary Kirstjen Nielsen said her department "will not tolerate this type of lawlessness and will not hesitate to shut down ports of entry for security and public safety reasons." There have been no incursions by migrants onto any U.S. territory, and the Trump administration is in violation of both U.S. and international law by forcing asylum seekers to stay in Mexico without having a chance to file their claims.
The American Civil Liberties Union has condemned both the violation of law and the tear gas attacks on children. "Under no circumstances can these tear gas attacks be justified," the civil liberties organization declared in a release.
The confrontation came after a caravan of several hundred Central American migrants—including women pushing kids in strollers—protested being held in dangerous towns and areas along the border by Mexican police. Heat and lack of food and water plague the migrants who have been held in these conditions for the sole purpose of encouraging provocative actions and staging opportunities making for dramatic video footage the Trump administration can use for consumption by its base. None of this would happen, the ACLU and others points out, if the Trump administration would lawfully process the asylum claims.
The migrants carried hand-painted Honduran and American flags and chanted, "We are not criminals! We are international workers!"
The Trump-induced "crisis" has had the desired effect of allowing the posting of images and video that falsely portray immigrants rushing toward the border when, in fact, none have crossed. Similar footage was used in campaign ads by Trump during the midterm elections.
A scuffle broke out when Mexican police in riot gear blocked dozens of migrants who rushed across a canal on the Mexican side of the border.
Nielsen added to the trumped up lies and false images by vowing that federal and local law enforcement agencies—as well as the U.S. military—"will continue to have a robust presence along the Southwest Border and at our ports of entry to prevent illegal entry or violence."
Earlier this month, President Trump suggested that military troops deployed to the border could shoot rock-throwing migrants, but reversed those remarks a day later.
"Would be very SMART if Mexico would stop the Caravans long before they get to our Southern Border, or if originating countries would not let them form (it is a way they get certain people out of their country and dump in U.S. No longer). Dems created this problem. No crossings!" he tweeted.
Migrants who traveled in caravans through Mexico are camped out in and around a sports complex in Tijuana, with plans to apply for asylum in the U.S.
But officials at the San Ysidro crossing have been processing fewer than 100 asylum petitions a day, and Tijuana Mayor Juan Manuel Gastelum declared a humanitarian crisis on Friday.
Ireneo Mujica of the aid group Pueblo Sin Fronteras—Spanish for "People without Borders"—said Sunday's "march toward the border" was supposed to be a peaceful protest illustrating the migrants' desperate plight. The Trump administration successfully turned that peaceful protest into propaganda footage for its steady stream of lies about immigration.
John Wojcik contributed to this article.