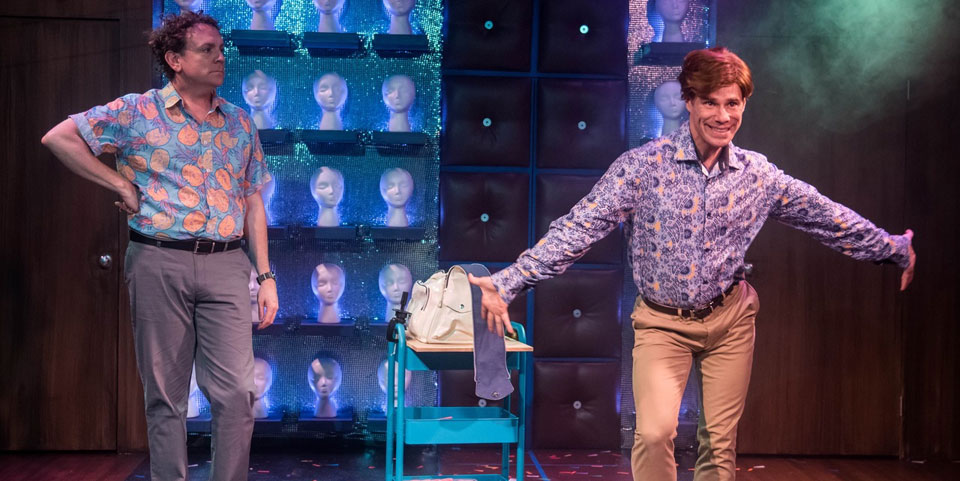 LOS ANGELES—No one does madcap comedy quite the way the Celebration Theatre does it, with a sassy, knowing rapier twist that only a gay sensibility can provide.
The frivolity continues with Matthew Wilkas and Mark Setlock's play Born to Win, now playing through March 31. It stars Drew Droege, who made an astoundingly deft impact in last season's Die, Mommie, Die, alongside playwright Matthew Wilkas. They form a partnership, respectively Bobby and Bob, whose business is training young girls to compete in beauty and talent contests, enticing mothers to enroll their children in the program. Every aspect of the girls' presentation is meticulously programmed—costumes, dental enhancements, coiffure, makeup, dance and talent routines, promotional headshots, travel, coaching, etc. It's clearly a profitable business model, and likely not very far from the reality of that world.
Mothers anticipate visibility, fame, prize money, advancement to the next level of competition, culminating in the crowning of the Supreme Queen in the Princess Pageant. While the story takes place mockingly in Texas, there must be similar versions of it other places too.
This production is the L.A. premiere of the play, which, in previous outings, starting in 2008, was known and published as Pageant Play.
Training for competition follows the business model of SHEIT (you'll want to put on your best Texas accent to pronounce that)—which may be the playwrights' ultimate judgment on this phenomenon. It stands for Smile, Hair, Eyes, Illusion, and Tenacity—although in the original version the T stood for Talent. Obviously, Talent has little to do with success, which itself is a commentary on the questionable American myth of meritocracy. Case in point: some of the corporate shills we manage to elect for high office. Too bad there was no room in the promoters' anagram for the letter M for Money or B for Benjamins.
The plot centers on Pinky Corningfield (Julanne Chidi Hill) who feels driven to push her daughter Chevrolet all the way to queendom and spares no expense to accomplish her goal. The cutthroat Bobby and Bob, of course, are happy to indulge her fantasies with their ecstatic quasi-religious con job (a little jab at evangelical ministry there). But along comes her nemesis, a newbie at this game, Marge (Daiva Deupree) and her daughter Puddle (the origins of these girls' names are themselves hilarious tales). The girls are "played" by little dresses that the moms hold, tossing them handily aside when not needed for the next scene, a gag that somehow never gets tiresome. Clearly, these Miss America for little girls contests are not for the sake of the children at all, but some kind of wish fulfillment cult for the mothers.
When Bobby auditions Marge he asks if she'd be open to having her 35-pound daughter lose weight for the competition, and Marge agrees, it recalls a similar scene in Sacha Baron Cohen's equally transgressive 2009 film Bruno. More recently, Insatiable, a new series that premiered on Netflix last August, likewise is centered around a gay coach for little girl princess contests.
The rivalry between contest moms echoes the tension between Bobby and Bob. Bobby is the dominant partner in the relationship, which is clearly emotional and romantic aside from professional, but Bob begins to chafe from underappreciation. Droege (Bobby) also plays Buddy, Marge's lowlife husband, although Marge likewise turns out to have a double identity which is revealed in the course of the play. Wilkas (Bob) also plays Pinky's husband Gunnar, a major player in American toothpick manufacturing. And Ms. Deupree also plays Pinky's Gloria Swanson-type mother in flashback scenes that show how Pinky became the obsessive fanatic she has become.
Discretion prevents a reviewer from revealing anything more than the basic premise of the play, which has a number of surprise noirish complications.
The authors have clearly studied the work of Charles Ludlam and the Ridiculous Theatre Company, as well as Die, Mommie, Die playwright, Charles Busch, as the play incorporates many quick costume changes to hurry the intricate plotting along, all the while putting on full display the actors' virtuosity in keeping all these campy personae straight (as it were). Michael Matthews's direction is split-second perfect.
The Celebration is a tiny black box in which magic happens. Stephen Gifford's scenic design utilizes the little space to full advantage, with entrances and exits carefully placed for maximum efficiency. Matthew Brian Denman does the lighting, which is a critical element, especially in the flashback scenes. Rebecca Kessin is responsible for the sound design, and Michael O'Hara for properties. The choreography is by Janet Roston (there's quite a bit, though mostly of the juvenile kind), the fight choreographer is Sondra Maye (there's a real knockout scene), and the broad Texas dialect coaching is by Tuffet Schmelzle.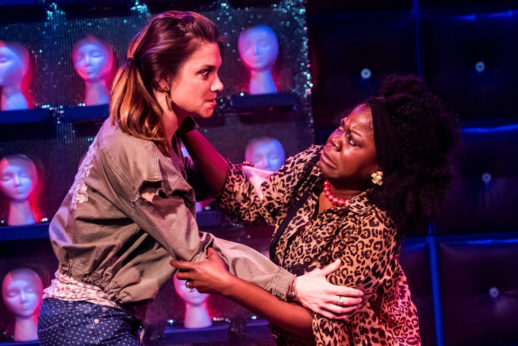 At the March 3 performance, an actual little girl appeared in the non-speaking role of Puddle in the final scene, but that person is not listed in the program. Was this a one-time event or an experiment? My companion thought it was intrusive, breaking the conceit that the girls' dresses stood in for the girls—which places the onus of the competitive drama on the mothers—but perhaps another way to think about it is that it reminds viewers that beyond all the wicked satire and over-the-top humor, there are real little girls swept up in this crass, exploitative world.
Outrageous gay-inflected humor is the trademark of this play, but the social implications ripple out in a wide circle. Parents don't necessarily have to submit their four-year-old girls to the rigors of beauty and talent contests to be affected by the larger culture of princesses, flouncy dresses, royal manners, and imperious behavior. That culture starts very early—think blue for boys, pink for girls—and sets into place the gender roles that will be expected of them. Disney films, and their like, reinforce gender stereotypes, although in recent years there has been a movement to offer images of girls and young women who are strong, capable and independent. The Barbie dolls, with their unrealistic body proportions, have long played a part in brainwashing girls to conform and shaming them into eating disorders and other psychological problems. Authors such as Jane Austen and Louisa May Alcott have always challenged social expectations for women, while of necessity acceding to the larger masculinist narrative which seemed beyond changing. (My own childhood role model was Nancy Drew and her famous mystery solving, which is a common touchpoint for those of my generation.)
Born to Win is a winner indeed, with nary a dull moment in its 100 minutes of action. Trample over people, if you have to, to see it! If you want to read it that way, you could even start questioning whether America really needs more "winners" and "losers"—standard vocabulary for the guy who came in second in the last presidential popular vote. Maybe we need to come up with some other principles to live and govern by so that most of us get most of what we want out of life instead of always being in competition with one another. Sorry for the preaching, but I think that's inherent in the play and, in any case, isn't that what you want to hear from a People's World critic?
Born to Win plays through March 31 at the Celebration Theatre, 6760 Lexington Ave., Los Angeles 90038. Performances are Fri. and Sat. at 8 pm, and Sun. at 2 pm. For tickets, call (323) 957-1884 or visit the company website.