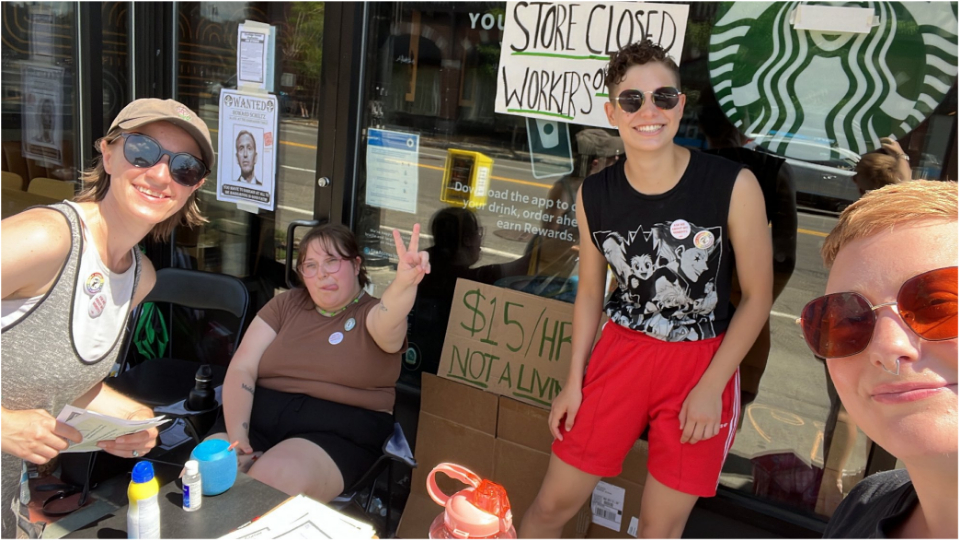 BOSTON—Five unionized Starbucks locations in the greater Boston area are on strike, fighting for their union's demands to be recognized. Of the five locations, four have conducted daily strikes since Aug. 1, while one location, at 874 Commonwealth Avenue, has been on strike for 25 days.
With the Starbucks union movement growing to over 200 locations, these striking workers are at the forefront of the struggle to organize the coffee giant. But within each of these five locations, there is an extensive history and a strategy behind why the workers there chose to strike when they did. From the struggle for full and equal benefits for all employees to demanding the termination of an abusive manager, the Boston workers' struggle demonstrates the collective power of the working class.
Of the five locations on strike, four started at the beginning of August, with protests against a divisive benefits plan that Starbucks announced in April. The scheme intentionally excludes the employees of any Starbucks location who have voted to go union from accessing benefits offered to workers at non-union stores. This is an illegal process and is a company strategy aimed at making employees see the union as being fundamentally against workers' interests.
Workers at the four stores striking since Aug. 1 are also acting in solidarity with workers at 874 Commonwealth Avenue, who have been on strike for 25 days demanding that their abusive and racist manager be terminated and removed from the company. The four other locations currently on strike are Watertown, Coolidge Corner, Worcester, and Cleveland Circle.
Building the Starbucks union in Massachusetts
In December 2021, a Starbucks location in Buffalo, N.Y., became the first store in the country to unionize, setting off a chain reaction across the company. As Starbucks employees began to see the union as a viable option to answer the exploitative working conditions they faced, the corporation began to increase its anti-union tactics. In fact, at the location in Buffalo a number of corporate stunts were pulled to deter workers, including having the president of Starbucks North America, Rossann Williams, photographed sweeping the lobbies of Buffalo stores in an attempt to have show a connection to the daily work of employees.
Even though the company made attempts to downplay the need for workers to unionize, the employees themselves supported their Buffalo comrades. This led straight into the Starbucks Boston locations now on strike. Adrianna Ross, an organizer at the unionized Starbucks in Watertown, said that starting in January, she and her co-workers were immediately interested in unionizing. In fact, the entire process of unionizing, which includes receiving union cards, filling them out, and sending them back to the NLRB, took less than a week.
The employees were ready to demand their own rights, even in the middle of mandatory anti-union meetings held by the company. Ross said of the experience:
"After the meeting, a bunch of us snuck out into our parking lot, behind our dumpsters, and I had everyone fill out the cards by the light of the cell phones, in the cold. I was keeping watch to make sure they couldn't see us behind the dumpster and I had 8 to 10 people filling out cards while members of corporate were inside trying to talk to partners [employees]. Then, the next day, I got the rest of our cards filled out, and I mailed them into the NLRB office, and by Friday we had officially filed to unionize."
At the Cleveland Circle store, organizer Willow Montana said that initially it took a long time to receive an election date, but once the store received the ballots, it took less than a month to vote to unionize, with workers voting unanimously "yes."
At 874 Commonwealth Avenue, Bthe company tried to contest the 10-0 vote by claiming shift managers should be excluded from being able to vote, even though they still work on the shop floor, serve drinks, and do not have the ability to hire or fire employees.
But as Starbucks organizer Nora Rossi said, because of the undeniable support for the union, it made no difference: "They only have to deal with it [shift leads] if there is a possibility that the contested votes can overturn the uncontested votes, but we already had10 yes votes, and then six contested that wouldn't be able to overturn it anyway. They originally ruled that shift managers counted, and then Starbucks was like 'Oh, we changed the conditions of the position, so now it doesn't count.' Super convenient for them. We received no word of how our job changed."
Anti-union repression
From the moment these Massachusetts stores started organizing, Starbucks management conducted "listening sessions" that reiterated unions were harmful for workers and the store. Deemed mandatory by the company, workers were told that the management only wanted to convey the "true" side of what the union would be like. This included long classes where workers were told to vote no by company officials.
Another tactic was to separate managers from baristas to create disunity within the store and isolate the baristas, who were the main organizers fighting for better working conditions.
Taylor Dickerson, an organizer at 874 Commonwealth Avenue, said:
"Starbucks would send higher-up corporate people to have these meetings and talk to us about why the union is bad. Once I got there, we would have individual one-on-one meetings with our previous store manager, where she would say, 'I'm required to have these meetings with you to make sure you know the truth about unions,' however, they framed it so you have the 'facts' before you vote. All of this was interesting because they were trying to push us to their narrative of unions, which was obviously very negative."
In another move of explicit anti-union hostility, Starbucks hired ex-CIA and Pinkerton Analyst Amanda Stanfill as the "Manager of Global Intelligence" for its retail operations. Pinkerton has also been contracted by Starbucks as security at some locations, ensuring that workers are threatened if they choose to unionize.
Stores were also sent anti-union posters and banners to post around the store. As Dickerson stated, "They posted a lot of materials that came straight from corporate in the back room that spelled out 'No before you vote' and that 'Unions are not going to protect you'. They were very explicit, and they would say 'Unions would hurt the store!' on these materials. We voted June 3rd; I was there for that, and we voted yes unanimously."
How did the Starbucks strike start?
Starting on Aug. 1, four of the five locations in the Boston area planned a group strike in reaction to Starbucks rolling out their divisive benefits program. The program is designed as a tactic to deter workers from unionizing and slow union progress as a whole. Currently, the benefits offer includes "expanded training, improved sick leave, and credit card tipping for some 240,000 Starbucks employees at more than 8,800 stores across the country, except for those that are unionizing."
Workers at the four locations struck to collectively demand the policy be stopped and that the company cease its anti-union activities. As Cleveland Circle organizer Willow Montana shared, the first of August was the day these "benefits" were planned to go put into effect, "August 1st is the day that Starbucks was launching a bunch of new benefits, with the intention to exclude them from unionized stores. And this is of course part of their effort to slow down the unionization efforts, because other (non-union) stores will receive these benefits and not be incentivized to unionize. So a reason why the strike was planned on that day was to show that we are not gonna stand down from that and that Starbucks does have to bargain with us."
Solidarity with the striking workers facing down an abusive manager at 874 Commonwealth Avenue was another motivation. When workers there chose to unionize on June 3, the company immediately hired a new manager to retaliate. This manager cut workers' hours to avoid providing full-time legal benefits and made other illegal changes without consulting with the union. Dickerson said, "I was used to working 36 hours because this is my full-time job, and I was in there as much as I could. Then, when she came in and she made the schedule, I only had 18 hours, which is awful because you cannot pay the bills that way. She cut the hours really low, and 20 hours is the benefits threshold. It seems convenient that she was scheduling everyone for 18 because then we wouldn't qualify for benefits, and we wouldn't technically be full-time employees."
This new manager also avoided giving breaks by cutting workers' days into smaller, four-hour shifts. This way employees could be easily replaced and would not have to receive breaks throughout the day. But simultaneously, as workers' hours were being cut, the manager began to hire new workers to replace them. As Taylor shared, "She started hiring a bunch of new people, which is interesting since she said we don't have enough hours for the people that were already working here. She would schedule workers for four-hour shifts so that we wouldn't have to take meals. She would do four-hour shifts back to back so that everyone would come in and work for four hours, not take a meal, and then a new person would come in and replace them."
Additionally, there have also been individual attacks on workers. For instance, multiple employees reported this manager making explicitly racist remarks about Black workers' hair, as well as refusing to use preferred pronouns for many of the baristas.
The workers at the store want this abusive manager permanently terminated from the company. As an alternative, the they demand a monthly check-in with their store manager and district manager, so they're able to reassess hours and coverage. The workers are concerned that even after removing the store manager, the company will hire someone else who may do the exact same thing.
As Taylor stated, "We want something where we can manage our hours and have transparency from them and also be realistic, because after all we're the people that see the business needs because we're the ones running the business and see it first hand everyday."
This strike has not only received widespread support from other Starbucks United-organized stores throughout the country, but is backed by the labor movement as a whole. Unions understand that when workers from one industry are attacked, the economic and political rights of workers everywhere are attacked. The strike has been supported financially by the Boston Labor Council and Starbucks strike fund to compensate for wages, as well as through the ongoing support of unions in other industries. For all five locations, especially at 874 Commonwealth Avenue, unions such as the Teamsters and the United Federation of Teachers have played a pivotal role in ensuring that the picket line is not crossed and the strike is able to continue.
There are also active volunteers from unionized and non-unionized stores coming out to show solidarity and hold the picket line. This prevents Starbucks from being able to staff and operate these stores. At all hours of the night, there are workers taking picket shifts and standing in solidarity with the workers at each location.
For a fair contract
This strike is important not only for the particular demands of the workers in each individual store; it is a representation of the the collective power of workers when they organize. There is now a network of unionized Starbucks stores throughout the Boston area whose workers refuse to be oppressed by the company. They continue to support one another and organize their individual store strikes to be coordinated collectively.
By organizing the strikes in a united fashion, the foundation for a broader political movement is being laid. As Starbucks organizer Willow Montana said:
"In Boston specifically, we have done a really good job of setting up a network of communication amongst other stores. It's not just one store on their own. It's like the Greater Boston Starbucks Workers United; we are very connected. We have different elections and different communication for things that are led by different people who have taken on different leadership roles. We are very organized, which is probably the best word to describe us. The stronger you get with stuff like that, the harder it is for them to break you down because you can do something like you are doing right now, this coordinated collective action that is so well-planned and so in sync with each other, it's not just one store."
All of this militant activity demonstrates the power of grassroots working class movements. These Boston Starbucks workers want their demands met, but they say they don't want to stop their struggle until workers in every industry receive a union contract.
As Starbucks organizer Taylor Dickerson shared, it isn't just about one Starbucks, it is about the victory of unions against capitalist exploitation everywhere.
"At the end of the day, we want our demands met, but we are a part of this bigger movement. Because the Starbucks Worker United movement is pretty young, it is within a year since the first store unionized. So we are at the forefront, and we're the ones that are pushing for a contract, and we're the ones that are actually going to decide what's in that contract.
"It goes beyond that, too; I feel that Starbucks is helping in leading the movement. We saw all that stuff with Amazon, Trader Joes, Chipotle, we got all of these places that are these mega corporations, and we're taking them head on and leading this fight.
"I hope that everyone is watching this as well and that it inspires them to do similar actions. That is why it is so important for us to get this win because it will be such a huge deal when we do. Other people will see that and say, 'Well, they can do it, why can't we?'"