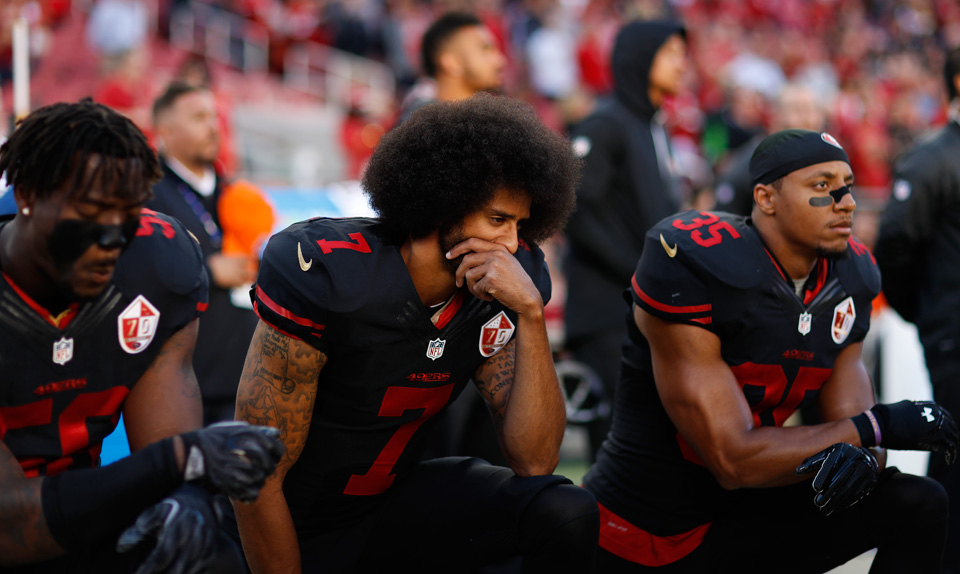 This article won Best Editorial in the 2018 International Labor Communications Association's Labor Media Awards.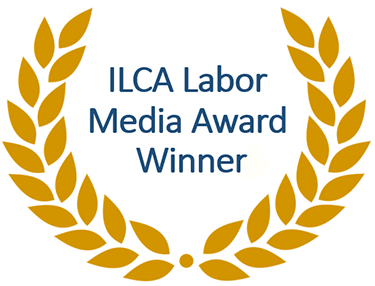 Professional American football player Colin Kaepernick used his platform as the quarterback for the San Francisco 49ers to bring attention to the injustice of police brutality in the United States and the continued oppression of Black and brown people in the country. He made headlines last fall when he refused to stand for the national anthem and set off a string of actions protesting police abuse by athletes across the country.
The 29-year-old Kaepernick is currently paying a hefty price for his activism, as he can't find a team willing to sign him. Fans, and a good amount of the general public, are calling foul on this recent development, and a campaign to boycott the National Football League (NFL) is now underway. Kaepernick's fight to stay employed, even as he speaks out against systemic injustice, is an important battle that goes beyond sports.
A petition making the rounds on Change.org that uses the hashtag #NoKaepernickNoNFL already has (as of this writing) over 136,000 signatures toward its 150,000 goal. The organizers of the petition made the case for a boycott on the website:
"If you are appalled by this [Kaepernick not being signed], then show your power by boycotting the NFL until Kaepernick gets signed to a team… We understand NFL is very important to you. We also understand the purpose of Colin Kaepernick's protest is FAR more important than any game you will ever watch. Simply put, if things stay the same for the way America—where "all men are created equal"—treats people of color, then your loved ones, friends, and children will eventually be affected as well… This situation shines a light on how much the NFL really cares about its Black athletes. It's pretty much: Play for us, entertain us, make us money, and shut up."
The protest is going beyond online petitions though, with Los Angeles civil rights activists planning demonstrations outside NFL stadiums. Najee Ali, leader of the local chapter of Rev. Al Sharpton's National Action Network, announced that protests will take place outside the pre-season games of the L.A. Rams and L.A. Chargers. In an interview with LA Weekly, Ali said, "My attitude is Colin Kaepernick may not be Tom Brady, but you can't tell me he shouldn't be in training camp. He's being blackballed for standing up for black and brown folks… The NFL is a form of the modern-day plantation. Most of the players are black and the ownership is all white. They're treating Kaepernick like a runaway slave, making him an example so other players get the message: Do not get too uppity, or we will blackball you. The parallels are very much like slavery, except the players are million-dollar slaves under contract who have made billions for the NFL."
Ali, and others, have a point, as statistics show the NFL is 70 percent Black. The population of people that predominate in this professional sport are part of a group disproportionately affected by police brutality in this country. A recent study revealed that Black men are three times as likely to die from police use of force. Yet, it would appear that the sports league considers any attention brought to this injustice a distraction from the game. The distraction argument doesn't hold much weight, however, given the NFL is no stranger to hanging onto, and even standing by, controversial players past and present.
The New York Giants were completely fine signing kicker Josh Brown even after allegations surfaced that he had assaulted his wife. It wasn't until even more damning evidence was revealed, in which Brown admitted to domestic violence, that the Giants released him from his contract last year.
Running back Joe Mixon was caught on video punching a woman in 2014, yet he was drafted by the Cincinnati Bengals. A.J. Jefferson was a player arrested for domestic assault by strangulation. Although he was initially released by his then team, the Minnesota Vikings, he eventually found a home with the Seattle Seahawks. Not to mention Michael Vick, who was found guilty of illegal dog fighting, spent 21 months in federal prison, yet was able to become the NFL's first two-time $100 million player in 2011.
In all these instances where so-called distractions by players occurred, fans and teammates were able to carry on with the game. Clearly, the claim that Kaepernick's activist "distraction" is so egregious is an unfounded one. Kaepernick being unsigned also can't be blamed on merit, as recent statistics show his skills and accomplishments are superior to half of the NFL backups now being signed.
"They're treating Kaepernick like a runaway slave, making him an example so other players get the message: Do not get too uppity, or we will blackball you."
If the arguments of distraction and meritocracy are disproven, then it becomes clear that Kaepernick is dealing with the fallout of taking a stand against systemic racism and inequality. By kneeling during the National Anthem, Kaepernick solidified his presence on the world stage of politics and popular culture. His distraction wasn't in line with other football player controversies before him that involved arrests, domestic violence, and the like.
He also had the audacity to do so during the onset of the era of Trump, a time when those who cater to racism and hate have become emboldened. The administration now occupying the White House has given space for such behavior to rise to the surface.
Donald Trump has gone on record condemning Kaepernick's protest and said that teams might not be signing the football player for fear of getting bullied on Twitter by the president himself. Trump used Kaepernick's current unemployment in a recent speech in Louisville, Kentucky, to push a twisted narrative about how standing up for the American flag equates to patriotism.
Trump clearly sees Kaepernick's protests as something that goes beyond sports. Those who resist the hateful rhetoric of Trump's administration should do so as well, and they should defend Kaepernick's right to protest.
What Kaepernick has decided to do is utilize his platform to take on a system that would rather keep him quiet while it profits from his labor. His resistance to efforts to silence him—and his fight for his and others' freedom from oppression—is not unlike what many are going through these days: struggling to maintain a livelihood while pushing for progress, whether it be on the job or in the streets.
The stakes are high because if Kaepernick goes without being signed, it could send a signal that standing up for human rights and justice is a battle with too high a cost. It will also prove that corporations, like the NFL, are allowed to use Black and brown bodies for profit, but dismiss them when it comes to the brutality they face under a system embedded with racism and oppression. Neither of these messages is a good one in a time where continued attacks on basic rights by the current administration in Washington occur almost daily.
Kaepernick chose to kneel for justice, along with donating to charities and starting programs that combat police brutality, and it seems only fitting that fans, and the general public, take a symbolic stand with him for his right to resist. If we don't do so, then Trump—and those that believe in his ideologies—win.
Even if you don't like sports, this is one "game" you can't afford to sit out.