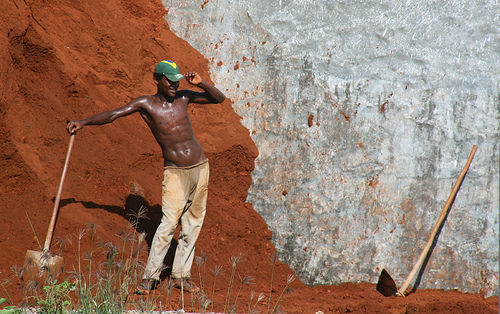 SÃO PAULO, Brazil — Carlos Lupi, minister of Labor and Employment, announced the creation of more than 205,000 formal jobs in February, according to data from the General Database of Employees and Unemployed (Caged), which hits a record high for job creation. In January, Caged reported the creation of 181,419 formal jobs, which is also a record.
"We are currently closing the numbers of February and we can consider this month to be the best February in 22 years since Caged was created," Lupi said to journalists. "This years tends to be the best one as far as creating jobs concerns, in the history of Brazil"
The minister also said that the average unemployment rate this year, measured by Brazilian Institute of Geography and Statistics, should be around 7.4% and 7.5%, down from 8.1% in 2009.
In a related story, the International Labor Organization released a book "Working Time Around the World: Trends in Working Hours, Laws and Policies," which showed a reduction of working hours in Brazil would benefit more than 18 million workers
All over the world, nearly 22% of the workforce, or 614.2 million workers, work more than 48 weekly hours.
This is one of the main facts publicized in "Working Time Around the World."
According to the book, written by Sangheon Lee, Deirdre McCann and Jon Messenger, during the last five decades, despite substantial regional differences and the unequal process to reduce the working hours for a legal week of work, there was a global change to a 40-hour limit.
Messenger came to Brazil to release the book.
Another conclusion was gender and age seem to be important factors to determine the length of work. Despite an increase in the participation of women in remunerated work, there is a clear "gender gap" regarding working shifts all over the world. Men tend to work longer shifts, while the shorter shifts are performed by women. The time women dedicate to their families and domestic responsibilities restrain their availability to a remunerated work.
In all regions of the developing world, informal work is responsible for at least half the occupation, out of which 60% are freelancer workers. While in industrialized countries a large amount of freelance workers go through extremely extended shifts, in developing countries, shifts are shorter (less than 35 weekly hours).
ILO proposes that agreements on decent working shifts should include:
health and safety standards;
family life compatibility;
gender equality.
UGT World is the international newsletter of Brazil's General Workers Union.
Photo: A worker in Bahia, Brazil. http://www.flickr.com/photos/16972775@N02/ / CC BY-NC-ND 2.0