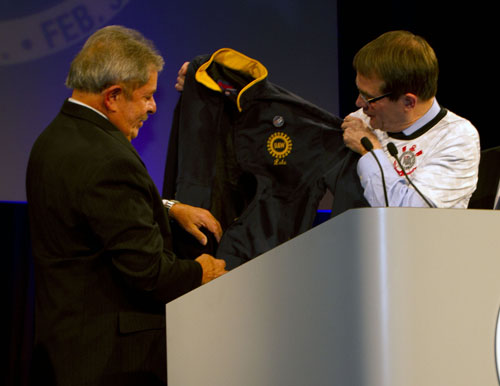 WASHINGTON – Former Brazilian President Luiz Inácio Lula da Silva, popularly known as Lula, issued a stirring call for international worker solidarity, speaking at a United Auto Workers conference here last week. He addressed a crowd of 1,500 UAW delegates at the union's annual Community Action Program conference.
"We cannot accept that a company like Nissan comes to America and says they will not accept workers organizing. We cannot allow that to happen," Lula said.
Workers at Nissan's Canton, Miss., plant are battling the company for their right to have a union. It has spurred a broad new civil rights coalition: the Mississippi Alliance for Fairness at Nissan.
The unprecedented appearance by Lula, the popular former leader of one of the world's major emerging powers, electrified the autoworkers here.
Lula met with several Nissan workers from the Canton plant during the UAW conference. Jeff Moore, a quality control body shop worker for the past 10 years at Nissan's Canton plant, was moved. "When he stuck his neck out for workers in Brazil, it made me realize he really cares about the labor movement," said Moore. "I think it's going to move my co-workers to get motivated toward a vote for the union."

UAW President Bob King, introducing Lula – a former autoworker- at the conference, presented him with an honorary UAW membership card and jacket (with "Lula" emblazoned on it).
Lula in turn gave King an official jersey of Brazil's Corinthians soccer team.
Wearing his new jacket, Lula gave a powerful and moving, almost hour-long speech. (See English-language video below.) He described forming the Workers Party in Brazil to advance workers' rights. Lula was the Workers Party's successful presidential candidate in 2002, and was re-elected in 2006, serving until 2011. He described how economic stimulus measures, not austerity and budget cuts, were implemented to turn the Brazilian economy into an international success story.
Lula observed that Nissan executives must not have not read President Abraham Lincoln's Gettysburg Address, where Lincoln says democracy and Americans' representative form of government are secured "by the people, for the people."
It is "unimaginable in the 21st century that someone could say unionization is not worthwhile," the Brazilian leader said.
Lula was not the only Brazilian meeting with Nissan workers from Mississippi. Last week a delegation of Brazilian union leaders, including Vagner Freitas de Moraes, president of Central Unica dos Trabalhadores (CUT), the largest trade union federation in Brazil, and Joao Cayres, international affairs secretary of Brazil's metalworkers union, met with members of the Mississippi Alliance for Fairness at Nissan and Nissan workers from the Canton plant.
Frietas said, "We've had a very revealing and important experience visiting with Nissan workers in Mississippi, learning about the conditions and abuses, and the disrespect to both the workers and to the community,"
The Brazilian labor leaders said Brazil's public is not likely to embrace a company that doesn't respect workers' rights.
Video: Brazilian ex-president Lula address the UAW conference, Feb. 3:
Photo: Former Brazilian President Lula receives a UAW jacket from UAW President Bob King. Lula was also named an honorary member of the UAW for his steadfast support of workers. Don Lehman/UAW Local 249.