Far-right Brazilian presidential candidate Jair Bolsonaro threatened a purge of the left in a chilling address to supporters Wednesday, raising fears of an authoritarian dictatorship.
The former army captain, who has praised the brutal military junta that ruled Brazil for more than 20 years, promised a "clean-up operation" of the likes never before seen in the country if he wins Sunday's crucial vote.
Evoking memories of the infamous slogan of the dictatorship era, "Brazil. Love it or leave it," he told supporters during a 10-minute speech broadcast via video link: "Either they go overseas or they go to jail.
"These red outlaws will be banished from our homeland. It will be a clean-up the likes of which has never been seen in Brazilian history," he said.
He branded the country's landless workers movement (MST) "crooks" and said they would be deemed terrorists if he is elected president.
Bolsonaro said he would let former president Lula "rot in jail," branding him a "drunkard" and hinted that his Workers Party (PT) rival in Sunday's decisive vote, Fernando Haddad, could suffer the same fate.
His tirade raised fears of a return to political dungeons and oppression of the left. The Brazilian congressman has consistently expressed his support for torture and previously told congress he was "in favor of a dictatorship."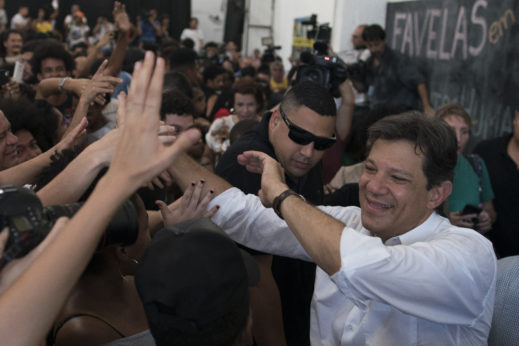 Bolsonaro's vice-presidential running mate, former army general Antonio Mourao, suggested the military had considered overthrowing the Brazilian government.
He told an audience last year: "Either the institutions solve the political problem through the courts, removing those elements involved in illegal acts from public life, or we will have to impose the solution," adding: "We have very well-made plans."
The 1964 U.S.-backed military coup was carried out under the pretext of clamping down on communism, and the dictatorship that followed shut down democracy for 21 years, with presidential elections scrapped and congress barely functioning.
Violence has dominated Bolsonaro's election campaign, with a surge in attacks on political opponents, including the murder of a prominent Workers Party activist.
He is accused of colluding with big business to run an illegal smear operation against Haddad, with Brazil's electoral commission considering action after more than 160,000 people signed a petition demanding Bolsonaro's disqualification from the election.
The right-winger promised to "build a new nation," claiming to be "the voice of freedom" and telling supporters: "We do not want socialism."
He remains the favorite going into Sunday's poll with an 18-point lead over Haddad.