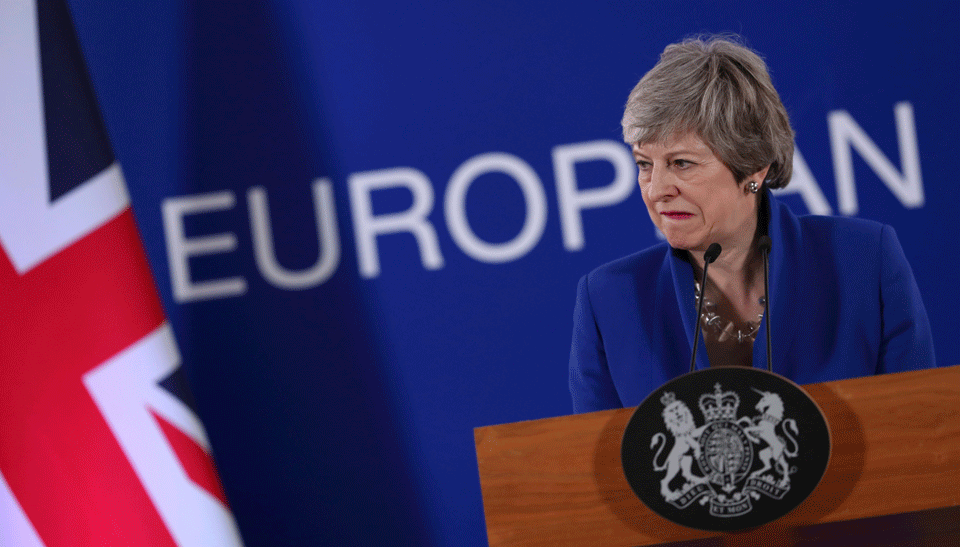 After a tumultuous start to the new year, all is quiet on the Brexit front…for now.
British Prime Minister Theresa May has set off to Wales for a walking holiday over the Easter weekend, and several other members of Parliament, on both sides of the aisle, have too left the Palace of Westminster for a bit of rest and relaxation.
However, the complicated mess that is Brexit will still be there after the holiday break, and European Union leaders will continue to urge U.K. lawmakers to find a way forward as exhaustion sets in.
"On both sides of the Channel, everyone, including myself, is exhausted by Brexit," said EU Council President Donald Tusk told the European Parliament in Strasbourg, France Tuesday. "However, this is not an excuse to say, 'let's get it over with."'
Last week the EU gave May a seven-month extension—Oct. 31—to pass the U.K./EU withdrawal agreement struck in November, ensuring an orderly divorce between the two. British MPs have rejected the deal three times, and May reached out and continues to hold talks with the opposition Labour Party to break the Parliamentary impasse.
The last time May went away on a walking holiday she called for a snap election once she returned. But that was 2017. A time when May felt she had "delivered stability after the Brexit referendum." We are now in 2019. And her spokesperson from No. 10 Downing Street confirmed that she would not be "considering an election."
Instead, May will, hopefully, be reconsidering her Brexit negotiation strategies after reading the Institute for Government think tank's report showing future Brexit talks will be more complicated and far more difficult.
Rather than closed-door negotiations at home and abroad, the summary called on the Prime Minister to "learn from what went right—and what went wrong—in the first phase of negotiations."
"As a result [of complicated future negotiations], many more departments across government will be involved; and the views of a much wider range of external groups will need to be considered before and during the negotiations," read the report.
A recent story in the Guardian newspaper saying talks between Labour and the government had stalled over a post-Brexit deregulated U.S. trade deal was denied by a Labour Party spokesperson. Despite some disagreements on fundamental Brexit issues, further talks have been scheduled for the next few weeks.
"There has to be access to European markets and above all, there has to be a dynamic relationship to protect the conditions and rights that we've got for environment and consumer workplace rights," said Corbyn. "We've put those cases very robustly to the government and there's no agreement as yet."
One of those fundamental sticking points dividing lawmakers is the Irish backstop, which prevents a hard border between Northern Ireland, and the Republic of Ireland, an EU member state; keeping the U.K. in a customs union with the EU until another solution is found.
Keeping peace in Ireland and the Good Friday Agreement intact hasn't only set up a showdown in the U.K. House of Commons, but one across the pond between Democratic lawmakers and the Trump White House.
The Quiet Americans
Hardcore Brexiteers believe a post-Brexit trade deal with Donald Trump will be a valuable economic addition. Trump believes he will be in the driver seat of U.S./U.K. post-Brexit trade negotiations, setting ambitious and aggressive economic demands.
Democratic speaker of the House of Representatives Nancy Pelosi crushed their "pie-in-the-sky" dreams—telling them to take a cold shower and come back to reality.
"Don't even think about that [trade deals]," said Pelosi in a warning to U.K. political leaders. "We made it clear to all that if there were any harm to Good Friday accords, no treaty."
While Trump can negotiate treaties and trade deals on his own, Congress has final authority over any deal's fate. This will certainly add more fuel to the current firefight between the Democrat-controlled House and the Trump administration over immigration, Trump investigation subpoenas, and the growing concerns over Trump's tax returns.
Speaking at the London School of Economics Monday night, Pelosi emphasized that getting a trade deal through Congress is not always a given. But if there were to be any weakening of the Good Friday accords, there would be "no chance whatsoever, a nonstarter, for a U.S.-U.K. trade agreement."
"The Good Friday accords ended 700 years of conflict. This is not a treaty only — it's an ideal, it's a value, it's something that's a model to the world, something that we all take pride in," she added. "It was a model and other people have used it as a model and we don't want that model to be something that can be bargained away in another agreement."
Pelosi expressed the same sentiments in her remarks before the Irish Parliament in Dublin Tuesday, again waring any damage to the Irish peace accord would prevent congressional approval of any trade deal.
Pelosi's remarks served to strengthen the EU's argument that Britain's withdrawal from EU membership is only possible by a guarantee that the open and invisible border that now exists between Northern Ireland and the Republic of Ireland will remain as it is.
May has repeatedly said her government will honor and comply with the Good Friday agreement and wants to do nothing to undermine it—much to the displeasure of Eurosceptic and Brexiteer members of the Conservative party who fear being handcuffed to the EU's rules, possibly forever.
This Easter holiday is a brief calm before the storm. And British lawmakers should enjoy it while they can.
Current Brexit Options
The U.K. is still able to withdraw at any time before Oct. 31 if a deal is passed by Parliament. May has pledged to push it through before May 23 in order to prevent the U.K. from participating in the European Parliament elections.
A no-deal withdrawal is also an option which could cause economic uncertainty and could even see the entire Brexit process canceled.
General election and a second Brexit Referendum: or finally,
A third withdrawal extension if no deal is approved by Oct. 31. EU leaders might still be open to another deal. "We will never kick out one of our members," said European Commission President Jean-Claude Junker.