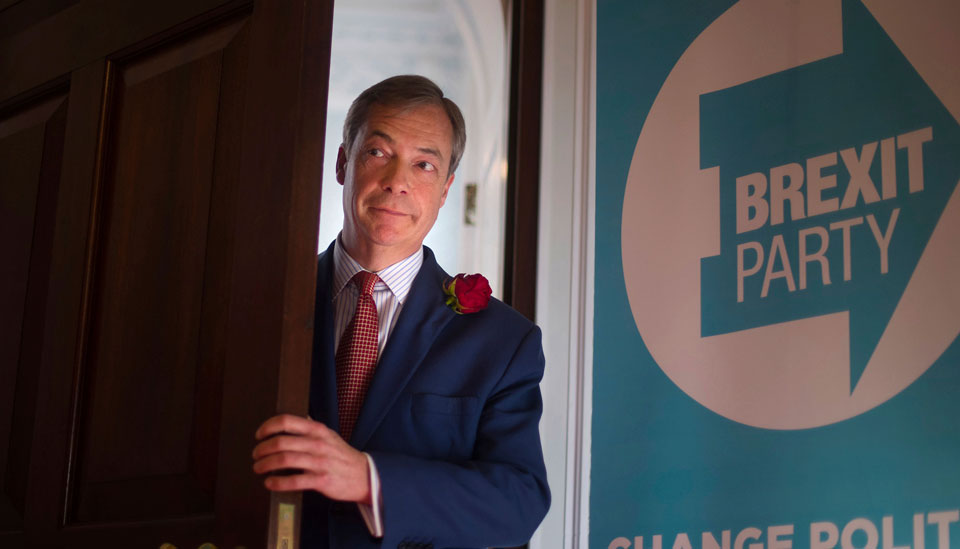 As expected, the Easter Holiday Brexit reprieve was short-lived. And as April rolls into May (no pun intended), progress in breaking the European Union divorce deal deadlock is lacking.
While the Oct. 31 extension granted by EU leaders was a sigh of relief for some British lawmakers, the ideological partisanships across the aisles coupled with two deeply entrenched voting factions—pro-Brexit and pro-EU—vying for power, has further complicated the war of attrition between the two major political parties.
Each side hoping the other will give in first, eventually.
The Conservative Party's grassroots chaos
British Prime Minister Theresa May's time in office is slowly ending. That is a fact. Aside from being unable to deliver a Brexit deal acceptable to the House of Commons and the voting public, May now faces a leadership challenge from activists and detractors in her own party.
For the first time in the Conservative Party's 185-year history, rank and file members have forced an emergency meeting, scheduled for June, to discuss party leadership, and allow up to 800 senior Conservative members to vote on whether May should resign the premiership.
The petition calling for her resignation was moved forward by Dinah Glover, London East Conservatives chair, who said: "I am extremely sad that we have had to organize this. Unfortunately, the Prime Minister is no longer the solution to the problem but is actually the block to Brexit."
The vote is non-binding but would be hard for May to ignore. She survived a "no confidence" vote in January, but the pressure and anger against her have only grown. Conservative MPs and members are furious with her decision to twice extend Brexit day and for seeking a cross-party divorce agreement with the opposition Labour Party.
With local elections scheduled for Thursday, British voters are expected to crack down on May at the ballot box. Over 8,000 mostly rural council seats are up for grabs, and the forecast is bleak for Conservatives. Tory Lord Robert Hayward, who is known for his electoral number predictions, wrote:
"[Elections experts]…last week predicted Tory losses in the range of 500-1,000. I would fall slightly on the higher side of that at around 800+, of which Labour will probably gain somewhat less than 300 and Lib Dems probably more than 500."
The Labour Party takes a (nuanced) stand
Labour Party and opposition leader Jeremy Corbyn too has been facing down challenges over his stand on a second Brexit referendum.
After a Tuesday meeting of the party's National Executive Committee, a manifesto for the upcoming elections was announced that is in line with its current Brexit policy.
"The NEC agreed the manifesto will be fully in line with Labour's existing policy to support Labour's alternative plan and if we can't get the necessary changes to the government's deal, or a general election, to back the option of a public vote," a party spokesperson said.
The decision sparked immediate anger and backlash from party members who want to remain in the EU.
"The manifesto's mealy-mouthed wording still maintains the fiction that there is a deal out there that can satisfy all the promises made three years ago, avoid real costs to jobs and living standards, or end the endless crisis around Brexit," said Bridget Phillipson, Labour MP speaking on behalf of the People's Vote campaign.
"This means Labour risks demoralizing activists, depressing turnout among supporters and decreasing the share of the vote for candidates who—like the overwhelming majority of our party—are fighting for a people's vote on any Brexit deal."
On the other side of the argument, Labour MP Gloria De Piero supported the NEC's decision and tweeted: "Labour's manifesto for the European Parliament will not contain a pledge to hold a second Brexit referendum. The party's ruling national executive committee agreed that another nationwide poll should only be 'an option' if it cannot force a general election."
Corbyn has been treading a thin line on whether to back a second referendum but has stuck to his position that a second vote was only a strategy to prevent a "damaging Conservative Brexit" or to stop Britain leaving the EU with no deal.
"We are working to bring the country together after the chaos and crisis created by the Tories (Conservatives)," said Labour's spokesperson.
Now after four weeks of negotiations with May and her Conservative Party, both the Prime Minister and Corbyn hinted Wednesday a cross-party deal is close to completion. They plan to hold more talks in the days ahead.
May made it clear she would like to wrap up talks by next week, either with a deal or not and said she could move on one of her key deal red lines, allowing a customs union with the EU—a position Labour has been pushing.
"There is a greater commonality in terms of some of the benefits of a customs union that we've already identified between ourselves and the official opposition," said May to a parliamentary committee. "Looking at the balance of these issues is part of the discussion. Can we come to an agreement on that? I hope we will be able to."
And if you're wondering why Corbyn has seemed a bit quiet on Brexit, he and Labour have been focused on local issues ahead of Thursday's vote, while also calling on MPs to declare climate change a national emergency.
Speaking before the House of Commons Wednesday, Corbyn said: "We have no time to waste. We are living in a climate crisis that will spiral dangerously out of control unless we take rapid and dramatic action now. This is no longer about the distant future. We are talking about nothing less than the irreversible destruction of the environment within our lifetimes.
"Let's work more closely with countries that are serious about ending the climate catastrophe, especially those at the sharp edge. Like the Maldives—so vulnerable to rising sea levels. And let's make clear to Donald Trump that he must re-engage with international climate agreements."
The creature from the black lagoon returns
Meanwhile, Nigel Farage, former U.K. Independence Party leader and racist, is back to his old tricks: scaring Conservative party members and feeding hateful rhetoric to the people.
Last month, Farage launched a new pro-Brexit party before EU Parliament elections due to be held at the end of May. The party's goal is to fight back against the "betrayal" of the Brexit referendum results and Britain's delayed divorce from the EU.
"It became clear pretty early on…that our Remainer parliament, our Remainer cabinet and indeed our Remainer prime minister would do their utmost to delay, dilute, and upturn Brexit," Farage said. "And what we have seen over recent weeks is the willful betrayal of the greatest democratic exercise in the history of this nation."
A Member of European Parliament, Farage ran unsuccessfully for U.K. Parliament seven times and says his new party's plan is to contest every region in the May 23 EU elections.
The truly frightening aspect of it all is Farage again gives a political gift to far right Brexiters by masking anti-immigrant rhetoric and racism as populism. But he's already had to remove the Brexit Party's first leader and treasurer for social media attacks on Muslims and Jews.
With the Brexit Party filling a void left by the Conservative Party's unwillingness to prepare for EU elections, most Conservative MPs agree that if no deal is secured before the May 23 elections, they will be beaten by Farage and his new party. But they can't agree on how to prevent it.
Doubts about the Brexit Party's longevity are swirling; its very name makes clear it is a one-issue organization. But it could be a mistake to dismiss the force that single-issue voters and parties can have when political disillusion sets in.