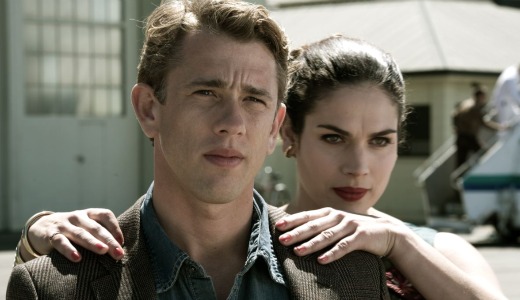 Movie Review: "Bride Flight"
Written by Marieke van der Pol

Directed by Ben Sombogaart
130 minutes, 2008, Rated R
Ben Sombogaart's "Bride Flight" is a highly recommended adult movie. I don't mean porn, although it does have some eroticism and one glorious nude scene. I simply mean that this foreign film has mature subject matter and is for grownups. It also has a complex form requiring a sustained attention span: It's definitely not for mall rats intent on mindless action and escapism.
As its name implies, "Bride Flight" is indeed about wives-to-be who fly on the so-called "Last Great Air Race" from Europe to New Zealand back in 1953, when these globe straddling jaunts were very big adventures. The passengers aboard the KLM carrier that participated in – and won – this real-life aerial contest including 40 Dutch emigrants, mostly women seeking to escape the hardships of post-war Holland by starting new lives in Christchurch, where their Dutch fiancés awaited them. A pretty offbeat premise, as far as plots go.
The film focuses on three women and a man on this flight that, back in the 1950s, took days to make. Frank touches the lives of the trio, and although the émigrés' experiences become intertwined in their adopted country, they go on to lead very separate lives, while remaining intimately bound. The film effortlessly shifts from past to present, so the romantic saga goes back and forth from the young to the aged immigrants, bending standard notions of time and continuity.
"Bride" therefore has two actors playing each major character – 20-somethings for the new Dutch arrivals, seniors for the present-day transplants. American audiences will be most familiar with the rugged Dutch action hero Rutger Hauer ("Blade Runner," "Batman Begins," "Hobo With a Shotgun"), who portrays Frank. Waldemar Torenstra plays the young Frank. Ada has married a religious zealot and is portrayed by nubile Karina Smulders, whose, uh, smoldering sex scene with Frank lights up the screen. Pleuni Touw depicts the older Ada.
As young Marjorie, Elise Schaap's character makes the best marriage of the trio, although life tosses her a curveball, causing her to become obsessive and possessive. Petra Laseur plays petulant Marjorie as an older and perhaps wiser lady; U.S. audiences may remember her in "Antonia's Line," the 1995 Oscar-winner for Best Foreign Language Film.
Probably the most interesting character is Esther (Anna Drijver), a Jew who, unlike her family members, survived the Holocaust, although its lingering, PTSD-like effects continue, understandably, to haunt her. The older Esther is Willeke van Ammelrooy, who had the title role in "Antonia's Line." Esther retains a strong individualistic streak and along with the jealous Marjorie, shares a "deep dark secret."
While movies and TV heavily favor certain professions – crime fighters, doctors, journalists, attorneys – Frank's career path is fairly unusual in this medium, another indication as to how singular the film is.
"Bride's" location shooting in New Zealand enhances the overall production, which is handsome to behold and drink in. Frank's partner is a Maori named Mozie, jovially played by Olly Coddington as a young man, and in his later years by the distinguished Maori actor Rawiri Raratene (from "Whale Rider," "Rapa Nui," the Xena TV series, and "What Becomes of the Broken Hearted"). Maori actress Glynis Paraha, who was in Jane Campion's powerful 1993 film "The Piano", plays the older Mozie's wife.
Like most movies set or shot in the South Seas, the indigenous Islanders and their Islands serve mainly as backdrop for the really important doings of the Caucasoid stars. However, in "Bride Flight" it's not even New Zealand's dominant majority white people or "Pakehas" of English origin who are featured; it's a Dutch minority. It would have been nice if Marieke van der Pol had taken the pains to integrate the Native characters into her script; it's not like NZ/Aotearoa lacks an abundance of indigenous talent. In any case, the movie inevitably recalls 1994's lovely Hawaii-made "Picture Bride," about Japanese mail order wives.
Nevertheless, this 130-minute, partially subtitled film is an excellent, well-crafted feature. It's a realistic slice of life, albeit in an unusual milieu, and shows us, as John Lennon once sang, "life is what happens to you when you're busy making other plans."
Director Sombogaart's "Twin Sisters" was nominated for Best Foreign Language Film Oscar in 2004, and gazing into my crystal ball, I predict the same for "Bride Flight," which has also earned some richly deserved prizes on the film-fest circuit. Like fine wines, "Bride Flight" shows that films taste better when aged.
Photo: Bride Flight website.
TOWN HALL May 2 – Confronting the COVID Economy: Women Fight Back