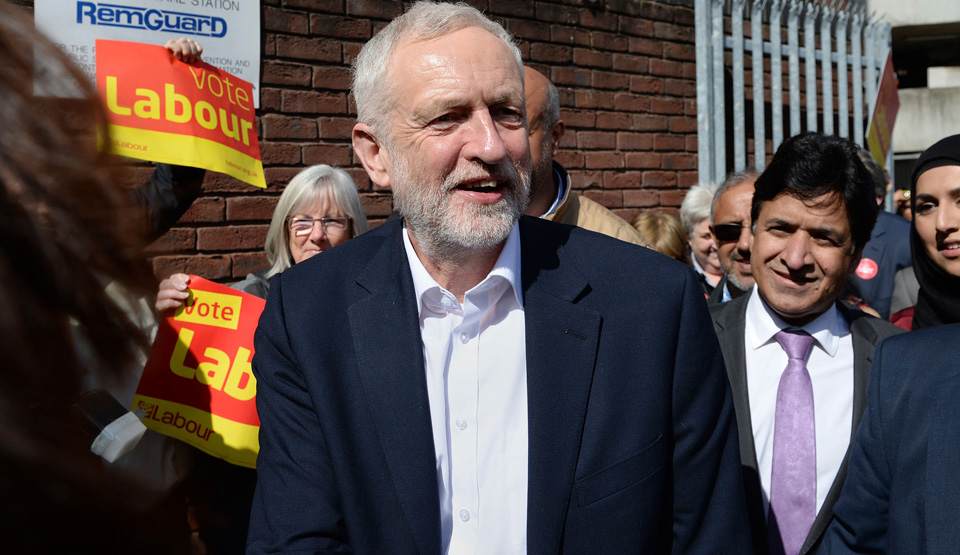 LONDON – British Labour Party leader Jeremy Corbyn welcomed yesterday's announcement of a snap general election on June 8, saying it was an opportunity for a Labour government to put the interests of the majority of people first.
Labour, which is the political party with the largest membership in Europe, has 50 days to campaign for a win.
Prime Minister Theresa May made her announcement without the usual prior briefing to journalists. It represents a remarkable U-turn in the light of her previous insistence that she had no intention of holding a general election before the scheduled 2020 poll.
She claimed that divisions in Parliament risked hampering Brexit negotiations and that she wanted "unity." The government has a majority of just 17 MPs. May admitted that she needs a stronger position in the House of Commons to secure her plans for Britain's future outside the European Union.
"I have concluded that the only way to guarantee certainty and stability for the years ahead is to hold this election and seek your support for the decisions I must take," she said.
Corbyn said in a statement:
"I welcome the Prime Minister's decision to give the British people the chance to vote for a government that will put the interests of the majority first. Labour will be offering the country an effective alternative to a government that has failed to rebuild the economy, delivered falling living standards, and damaging cuts to our schools and NHS [National Health Service]. In the last couple of weeks, Labour has set out policies that offer a clear and credible choice for the country. We look forward to showing how Labour will stand up for the people of Britain."
The Prime Minister's office at No. 10 Downing Street said that May will not engage in any public television debates with Corbyn. A spokesman said: "Our answer is no. The choice at this election is already clear."
A pugnacious Corbyn said: "If this general election is about leadership, as Theresa May said this morning, she should not be dodging head-to-head TV debates."
May's announcement calling a general election was met with strong responses by politicians of all shades yesterday.
Communist Party leader Robert Griffiths said that the unelected Prime Minister, who was appointed to her position by the Conservative Party following David Cameron's post-Brexit vote resignation, had called the election because she was standing on shaky ground and had "no mandate for five more years of austerity, privatization, and war."
May had been on the losing side of the EU referendum last June, and next month would be time to "give the Tories another election shock," he said.
Labour Party shadow home secretary Diane Abbott said May had decided to "cut and run" ahead of Brexit negotiations and predicted an unpleasant campaign under the management of spin-doctor Lynton Crosby, the man behind the dirty campaigning for Zac Goldsmith when he ran against Labour's Sadiq Khan in the London mayoral election.
Khan said, "I will be fighting hard for every Labour vote over the coming weeks – a Labour government is in the best interests of all Londoners and the whole country."
Green Party co-leader Caroline Lucas welcomed an early vote at a time when "Britain is at a crossroads" and promised that the Greens would present a "bold, positive vision for a different kind of Britain."
Her co-leader Jonathan Bartley said the announcement, following a string of denials there would be an early vote, revealed a "deep dishonesty at the heart of government."
Liberal Democratic Party leader Tim Farron said that the June 8 poll was Britain's chance to avoid a "disastrous hard Brexit." His party was almost wiped out in the 2015 general election after colluding with the Tories for five years in a coalition government.
UK Independence Party (UKIP) leader Paul Nuttall said that May's decision was based on the "weakness" of the Labour Party. UKIP no longer has any Members of Parliament.
The grassroots activist group Momentum, meanwhile, said campaigners need to get out on the streets as soon as possible to talk to voters about voting Labour to prevent more cuts to services, the NHS, education, and welfare.
A spokesman said, "Over the last week, Jeremy Corbyn has announced commonsense policies to rebalance our economy in favor of the majority, which polls show are extremely popular with the public.
"We now need to mobilize and communicate these policies to as many voters as possible so we can get Labour into government to build a society that works for the many, not the few."
This article is an edited and combined version of stories originally appearing in Morning Star.