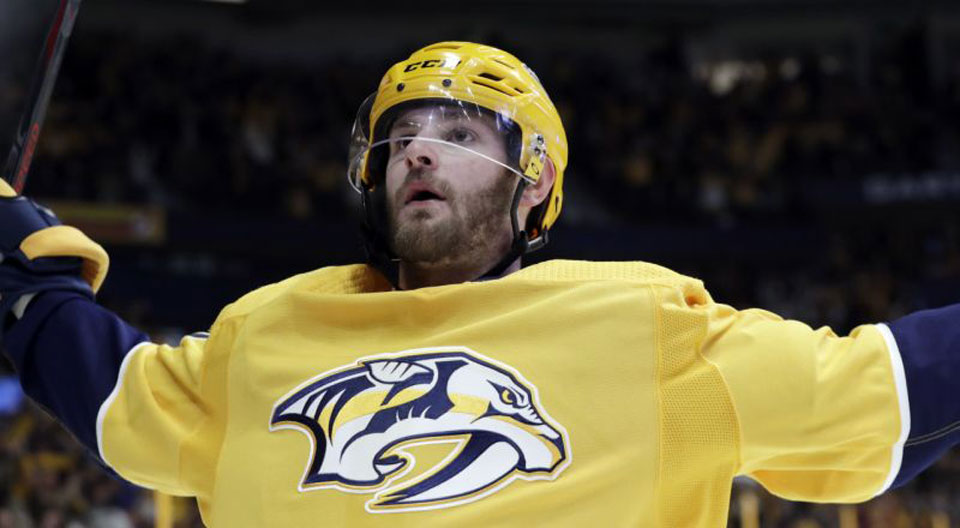 We're eight days into the 2018 National Hockey League (NHL) regular season with the Toronto Maple Leafs, Carolina Hurricanes, Colorado Avalanche, and the Anaheim Ducks taking the divisional top spots.
And as fans feast on the bloody and brutal on-ice fisticuffs, it's the off-ice conduct we should be paying attention to.
Over the summer, Nashville Predators forward Austin Watson was charged with domestic assault and suspended for 27 games, including the entire preseason, for "unacceptable off-ice conduct."
"I have determined that Nashville Player Austin Watson engaged in a physical confrontation with his domestic partner," NHL Commissioner Gary Bettman said in a statement. "Today's (Sept. 12) ruling, while tailored to the specific facts of this case and the individuals involved, is necessary and consistent with the NHL's strongly held view that it cannot and will not tolerate this and similar types of conduct."
Watson was arrested after a witness saw him and his girlfriend arguing at a gas station, and flagged down police.
Watson told officers that they were arguing and he pushed her. Officers found red welt marks on her chest, and she said Watson had caused them.
Watson pleaded no contest to the domestic assault charge July 24, and as part of the plea deal will have the misdemeanor charge dismissed after fulfilling the terms of the diversion program, completing three months of probation, and both an in-patient treatment program and batterer's intervention program.
The NHL Players Association filed an appeal on behalf of Watson.
Yesterday, arbitrator Shyam Das reduced Watson's suspension from 27 to 18 games. Watson will now be eligible to return to the ice November 15.
"We are aware of its reduction to 18 games," the Predators said in a statement. "As previously stated, our focus has and will continue to be the health and well-being of Austin and his family."
Speaking of domestic abusers in the NHL, Ex-Los Angeles Kings player Slava Voynov is looking at a possible return, too.
With blood everywhere on the floor, in the shape of a handprint on the wood floor by the bed, Marta Varlamova cried out as she was interviewed by police at midnight, Oct. 19, 2014.
"My blood, all over bedroom and bathroom," Varlamova said in a recording. "And it's not first time…He's aggressive every time."
Voynov pleaded no contest to a misdemeanor charge of corporal injury to a spouse.
He spent nearly two months in jail in 2015, and U.S. Immigration and Customs sent him back to Russia.
The assault against his wife cost him his six-year, $25 million contract, but not his career. Voynov has been playing in the Kontinental Hockey League since 2014 and made an appearance as an OAR athlete during the 2018 Winter Olympics.
On Monday, July 5, 2018, Voynov was granted a dismissal of his misdemeanor spousal abuse conviction on the grounds that he completed his sentence, which included his jail time, three years of probation and community service. The motion occurred the day his three years of probation ended.
Now, Voynov wants to return to the NHL, and he's free to apply for reinstatement.
NHL deputy commissioner Bill Daly confirmed back in September that the league had begun an investigation of Voynov to determine if he would be allowed to return to the NHL.
There were discussions over the course of the summer, including an in-person meeting the player had with Gary (Bettman) where the process started, but not in a formal way, Daly told USA TODAY Sports. "There were some discussions over the parameters by which he could potentially return, but they didn't prove fruitful. So we are now engaged in an investigation.
"(Voynov) was never in a position to talk to us, so he never cooperated with our security, our outside investigators, which he is entitled to do," Daly said. "But by the same token, before he could be cleared to play, if he can be, we would have to go through that process to understand exactly what happened."
The investigation continues, and despite public backlash, several NHL teams have expressed interest in possibly signing Voynov, but there haven't been indications that a team is going to.
"We have to play it straight," he said. "Players have rights under the terms of the CBA. We have obligations to assure the league does the right thing with regard to these kinds of incidents. I'm not in a position to pre-judge. I don't know enough of the facts."
The NHL, unlike other major leagues, does not have a joint domestic abuse policy in place, opting to view each incident on a case by case basis.
Let's hope they do the right thing for once.