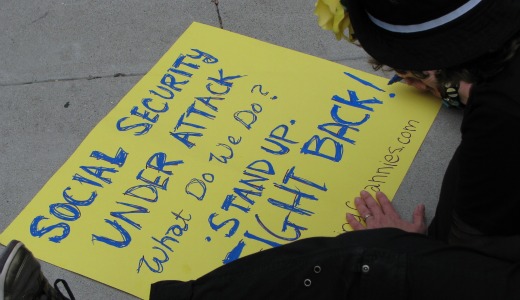 In their budget negotiations, Congress and President Obama must respect women's contributions to the economy, protect programs especially serving and employing women, and reject plans threatening to send women into poverty, says a nonpartisan coalition of women's organization.
At a July 12 telephone press conference, the 240-organization National Council of Womens' Organizations launched the Respect, Protect, Reject Campaign, and called on negotiators to uphold Social Security, Medicare and Medicaid and emphasize women's concerns in the talks.
Pointing out that women have been disproportionally harmed by the recession and rely heavily on these targeted programs, the council in a July 12 letter, urged budget negotiators to develop "a robust jobs program" and to acknowledge "the real causes of the federal budget deficit." They cited "two unpaid-for wars," continuing tax breaks for the wealthiest, and massive job loss that has cut revenues at all levels as causing the downturn and lagging recovery, and urged "examining revenue enhancers" to cut the national debt.
Calling joblessness "the first reason for the deficit," Terry O'Neill, president of the National Organization for Women, told reporters, "then our leaders must look at the real causes and do something about it. Instead, some of the leaders of Congress are insisting we cut back on the very things women rely on because we are in such a high unemployment situation now."
The inequality of wages between men and women, which is even greater for African American and Latino women, has also intensified the recession's impact on women, said O'Neill.
U.S. Rep. Donna Edwards, D-Md., said, "When I think about my congressional district, I think about the thousands of women, particularly, for whom there is no such thing as a 401(K) or a pension or savings, and whose homes have lost value. Social security is their groceries, their day-to-day expenses. So cutting, it's not an option."
Edwards and 69 other Democrats in Congress have written to President Obama urging him to keep Social Security, Medicare and Medicaid off the negotiating table.
Joan Entmacher of the National Women's Law Center supported Edwards' words. Noting that women have actually lost nearly 300,000 jobs during the recovery while men have gained over 800,000, Entmacher said, "This is the first recovery in history where women are doing so much worse than men, two years into the recovery."
The main cause, she said, is the huge layoffs in the public sector, where women – a majority of the workforce – actually lost even more than their share of jobs. "Who are these women? They are teachers, librarians, social workers, health care workers who provide essential services to women and their families. And now these jobs are gone."
In response to a reporter's question, Entmacher said military spending is "an area where we could certainly make significant cutbacks," including eliminating waste and evaluating whether the ongoing wars "actually contribute to national security."
Public works jobs programs should ensure that women, and men of color, could benefit from them, she said. And a public jobs program should also include "investments in our human infrastructure" such as education and libraries.
Older Women's League board member Margie Metzler, herself a laid-off worker, emphasized the overwhelming importance of Social Security, Medicare and Medicaid to older women, who experience widespread rejection when they apply for jobs. When negotiators call for those programs to be "on the table," she said, "what they are really saying is, 'you should die.'" Metzler said she is both terrified and angry at the attacks, "but I also feel galvanized into action, because I'm not sitting still for this."
Activists urge supporters to sign the Respect, Protect, and Reject Campaign's petition to Congress.
Photo: Marilyn Bechtel/PW.