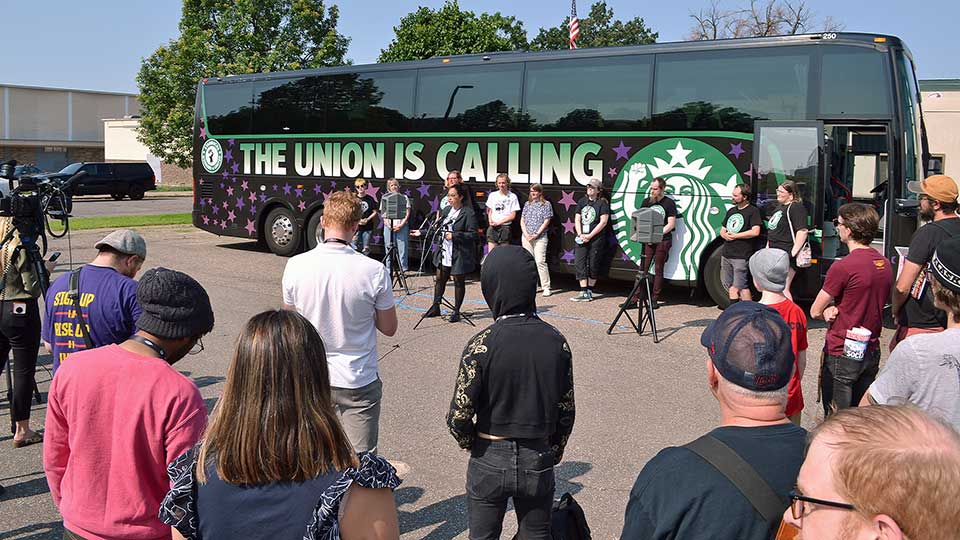 ST. PAUL, Minn.–Set to embark on a nationwide tour to pressure Starbucks into bargaining in good faith with their union, members of Starbucks Workers United rallied in St. Paul, Minn., with labor activists, community supporters, and Rep. Betty McCollum, DFL-Minn., who encouraged the baristas to keep up their fight for a union contract.
"I know firsthand the courage it's taken to do what you're doing today, and I salute you for it," McCollum, who represents the state capital of St. Paul and the surrounding area, told the crowd at an outdoor press conference on July 10.
The event marked the start of a nationwide "The Union Is Calling" bus tour designed to raise the already high-profile plight of Starbucks workers nationwide, as they battle the giant coffee chain for union recognition, respect, and a first contract.
The workers' grass-roots organizing, aided by Starbucks Workers United, a Service Employees sector, has won union recognition votes at more than 320 of the firm's coffee shops from coast to coast, including six in the Twin Cities.
They're also part of a mass movement of low-wage workers from around the nation, most in their 20s and 30s, who have had it up to here with corporate greed and exploitation.
Those workers, including baristas, child care and home care workers, port truck drivers, Amazon workers, warehouse workers, airline food service workers, and adjunct professors, have fought back by joining unions or taking a hike to higher paying jobs.
Former Starbucks CEO Howard Schultz flatly denied under oath to the U.S. Senate Labor Committee that he's union-busting. Two baristas his underlings fired promptly contradicted him—a point the workers on the bus tour will make—along with Starbucks's absolute refusal to bargain, despite National Labor Relations Board orders to do so.
In Minnesota, bargaining committees from three stores, including the location at 300 Snelling in St. Paul, held negotiating sessions, but the company's representatives walked out of each meeting in less than five minutes, according to union members. That duplicated what occurred nationally, where the firm's union buster led the management walkouts.
Rather than negotiate with its union, Starbucks has cut hours, closed unionized stores, and intimidated workers–all textbook union-busting tactics, Wisconsin barista Charles Poulter said.
"It is my opinion the Starbucks corporation intends to ignore this union to death," Poulter said during a press conference outside a coach bus emblazoned with union logos and slogans. "They will slash hours until every union partner is forced to move on. And when they bargain with us, they will not bargain in good faith."
The lead bus began its tour in the Twin Cities on July 10 and was scheduled to stop at a community block party in Atlanta on July 12, at Netroots Nation in Chicago on July 15, at a "Y'all means y'all" rally in Louisville, Ky., on July 17, Knoxville, Tenn., Pittsburgh, Pa., and at a press conference in Philadelphia on July 22. It will wind up in Buffalo, N.Y., at the first unionized Starbucks, which its workers organized a year and a half ago.
A West Coast bus will travel from Los Angeles and San Francisco through Eugene and Portland, Ore., to Seattle, which is Starbucks headquarters and the site of its original store. Workers will travel in custom-wrapped coaches, emblazoned "The Union is Calling."
The workers' union has appealed, successfully in most cases, to the National Labor Relations Board to force Starbucks to reinstate fired workers, reopen closed stores, and bargain in good faith.
Starbucks Workers United says 19 of 20 NLRB decisions have been favorable for the union, with the agency finding Starbucks has committed 194 labor law violations. Another 77 complaints, encompassing over 1,300 alleged violations, are still pending.
But as the NLRB process plays out, union members hope to ramp up public pressure on the corporation with a summer road trip, building solidarity among workers at unionized stores, encouraging others to join, and calling out members of Starbucks' board of directors to override the company's brass and force it to bargain.
Minneapolis barista Rev Beeby called Workers United's bus tour a "new, big counteroffensive" in the contract campaign.
"We're highlighting the victories we've had and the new stores that have organized, and we're going directly to the board of directors and telling them to negotiate," Beeby said. "Starbucks is scared of us. They know they're losing, and they know that once we win a strong contract, even more workers will be inspired to join and organize and exercise their power."
In St. Paul, union baristas shut down several stores with short-term strikes, protesting company labor law-breaking, formally called unfair labor practices, including its failure to bargain. The workers also cite short staffing in their cafes.
Workers at the 300 Snelling location in St. Paul have been forced to strike five times since forming a union in April 2022. The St. Anthony location saw picketing on June 28 in response to allegations that Starbucks banned some LGBTQ Pride Month decorations.
After the kickoff event at the Minnesota AFL-CIO's offices in St. Paul, Starbucks workers traveled to Land O'Lakes headquarters in Arden Hills. There, they called on CEO Beth Ford, a Starbucks board member, to oppose the firm's union busting at Starbucks. They also stopped outside two non-union stores, where union members distributed campaign materials.
Supporters can follow the buses online at https://sbworkersunited.squarespace.com/tour-map.