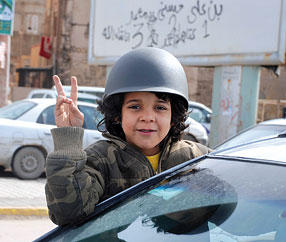 Egypt's Finance Ministry asked Britain Feb. 22 for its support in seeking debt relief from Europe in order to boost an economy bruised by weeks of upheaval.
Finance Minister Samir Radwan said that the current government's immediate priority was enacting quick measures to boost the economy.
The protests that led to Mr Mubarak's departure ravaged Egypt's economy, forcing banks to close, businesses to shut down and the stock market to halt operations.
They also sparked massive trade union protests and strikes.
Workers in virtually every part of the public sector have been demanding better pay and conditions, as well as a shift from temporary contracts that deprive them of basic benefits such as health care and pensions.
The strikes and unrest, which have spread to the Suez Canal Authority, also forced the banks to shut for a week on two separate occasions.
In a rare incident of the strikes turning violent workers at the Kafr el-Dawar textile company stormed the office of Mohammed Rifaat El-Geneidi, the company's deputy head, today and beat him to death.
Mr Radwan said that he would like London's help in either securing full debt relief or at least relief on the interest on the loans.
Egypt owes the EU member states about $9 billion. The country's total foreign debt stands at about $34.7 billion.
European foreign ministers have already been discussing a comprehensive economic and trade package to help countries in north Africa that have been affected by the turmoil.
EU foreign policy chief Catherine Ashton met Foreign Minister Ahmed Aboul Gheit yesterday and said the EU was studying ways to help Egypt's transition to democracy as well as steps the bloc could take to rebuild the economy.
She said that Brussels could provide expertise and resources but that it was up to Egyptians to determine their own future.
The government has cut its forecast for growth by almost half and has estimated that the unrest cost the nation about $1.7 billion, with more than half that figure stemming from tourism losses.
Officials have said more than 210,000 tourists fled the country in the last week of January and the first few days of February.
This article and accompanying photo originally appeared in Morning Star, Britain's daily newspaper of the left.