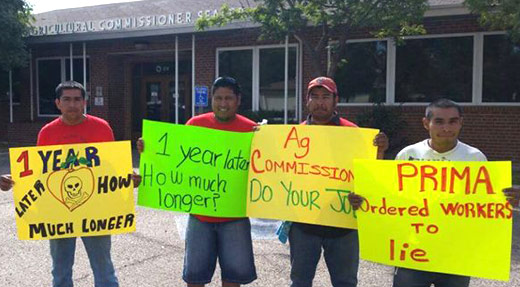 SACRAMENTO (PAI) — Calling the legislation unbalanced, Gov. Jerry Brown, D-Calif., vetoed legislation, pushed by the United Farm Workers, that would let a state board implement union contracts with growers, through mediation, even if the growers appealed.
"Both contract enforcement and election disputes should be dealt with so that the due process is fair," Brown's Sept. 28 veto message said. "This deals only with contract enforcement."
The measure would have removed one roadblock growers use to prevent contracts with workers, primarily represented by UFW, from taking effect.
UFW had no immediate comment on Brown's veto, but the governor's name was notably absent from the union's endorsement list for this fall's election. UFW endorsed his running mate, Lieut. Gov. Gavin Newsom.
Farm Workers cheered the bill's passage earlier this year. Farm Worker Juan Cruz, one of three dozen who descended on Sacramento on August 18 to lobby for the bill, called it "this great day organized by the United Farm Workers…with one main purpose: The dream of contributing a little and to do the best we could to convince Assembly members to give a yes vote on SB 25 – which is very important to us."
Meanwhile, a 5,000-worker anti-union grower in the state's Central Valley ran a heavy, expensive – and misleading – ad campaign against the measure. The ad, by Gerawan Farming, featured a narrator with a heavy Spanish accent criticizing the Farm Workers union. It implies the speaker is a Farm Worker disillusioned with UFW's advocacy of the measure, said its sponsor, state Sen. Darrell Steinberg (D). He called the ad "a lie."
Photo: Gerawan workers demonstrate over pesticide exposure incident at Fresno County Ag Commissioners office, September 26. UFW, Facebook.