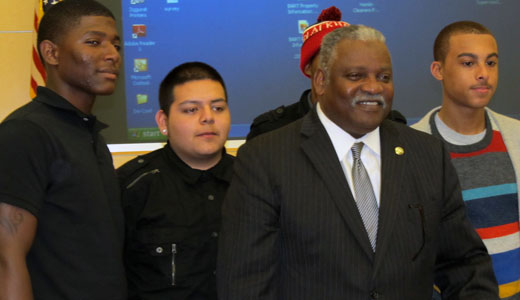 OAKLAND, Calif. – As income disparity takes center stage around the country, a special spotlight is being trained on the economic, educational and social challenges faced by boys and men of color.
Efforts are being stepped up to change the dire situation the Children's Defense Fund found in 2007: young African American men facing a one in three chance of going to prison in their lifetimes, with homicides a leading cause of death among black men ages 15-19.
In California, the Assembly Select Committee on the Status of Boys and Men of Color, chaired by Assemblyman Sandré Swanson, D-Alameda, is gathering recommendations for legislative policies. The committee held its first hearing in Oakland Jan. 20.
The urgent need for good jobs, and training and services to help young men qualify for them, was a main concern of some 400 participants in the standing-room-only session.
"A central issue for boys and men of color is employment and creating real solutions, and not seeing young men of color as the problem. This isn't just a crisis for young men of color, it's a crisis for all of us," Olis Simmons told the crowd. Simmons heads Youth Uprising, which builds leadership among youth in a poor working-class area of the city.
Citing 50 percent unemployment among African American men, he urged the lawmakers to take into account the kinds of work and skills needed in the future, and to remove barriers faced by many men of color, including the question on many job applications about prior criminal convictions.
The necessity of "wrap-around" services was stressed by Jose Malvido of the American Indian Child Resource Center. While Native Americans urgently need jobs, he said, support systems such as job training and life skills are vital to help young people become employable.
Alex Briscoe, who heads the Alameda County Health Care Services Agency, said his agency told a career day at an area juvenile facility about becoming an emergency medical technician.
"We were incredibly surprised how many came" to the EMT training program the agency set up, Briscoe said.
Briscoe said he told the young men that if they passed the exam and got national certification, the agency would make sure they got an EMT job. He said 11 have graduated from the program and another 22 young men and women are now being trained.
Tony Iton, former Alameda County Health Officer now with the private health foundation California Endowment, told the hearing that a black boy living in a poor working-class Oakland neighborhood will die, on average, 15 years earlier than a white boy born in more affluent areas of the city.
"Manmade structures have made the odds; we can reset the odds," he said, urging starting in early childhood and breaking down barriers between health, education and other agencies serving young people.
A number of young people shared their views and experiences. As discussion turned to education, Roy Ramos, a Fremont High School senior, said his school "looks like a prison," and called on schools to do a better job of preparing students of color to graduate and move forward to college and careers.
"We do more harm, to deal with harm," Fania Davis, director of Restorative Justice for Oakland Youth, told the crowd. She described how restorative justice at one Oakland school has drastically cut suspensions and expulsions and improved academic performance.
Swanson said the committee's mission is important, because "we were walking by this problem and not paying attention to it … This is about rescuing young people, letting them know we value them. We can find the resources right now, to change the situation."
Future hearings are slated for Los Angeles, Fresno and Sacramento.
Photo: Assemblyman Sandré Swanson with young participants in the Jan. 20 hearing on the status of boys and men of color. Marilyn Bechtel/PW