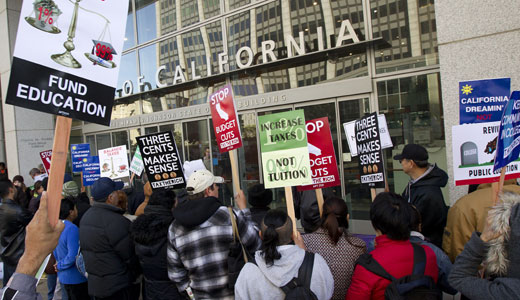 SACRAMENTO, Calif. – Over 10,000 college and university students and their supporters from throughout the state, carrying signs proclaiming, "Save our university!" "Cut fees now, save public education!" and "Millionaires tax of 2012," marched from Southside Park to the state Capitol steps Mar. 5 to kick off a "Fund Our Future" day of action.
Students from all three public education systems – community colleges, the California State University System, and the University of California – joined forces in the protest. Along their route, the air rang with their chant, "Students united will never be divided!"
Claudia Magaña, president of the UC Student Association, told the rally at the Capitol, "We are being forced to pay for a crisis we did not create! Shame!" The crowd roared back, "Shame!"
Magaña cited three ballot measures for which signatures are now being gathered, a "millionaires' tax," a tax on oil extracted in California, and a measure that would temporarily raise sales taxes and taxes on the wealthiest Californians, all of which would benefit education.
From the West Steps of the Capitol Building, Kevin Feliciano, president of the statewide Student Senate for Community Colleges, called on rally participants to tell the legislature to "fund our futures" for higher education.
Mehran Khodabandeh, president of Associated Students, Inc. at California State University, Stanislaus, challenged legislators, "Hear us out or we'll vote you out!"
UC Berkeley student Senator Sydney Hai Fang voiced a universal concern: "When I see my tuition go up 130 percent, enough is enough! Today we stand united as students, as workers, and as community."
And Gregory Washington, California State Student Association president, led the crowd in reminding elected officials, "We are the future!"
Legislative leaders pledged their support. "You're sending a powerful message to me and my colleagues," State Assembly Speaker John Pérez, D-Los Angeles, told the students. "The people of our state agree with you. We have to keep the promises that California has made: accessible higher education for all."
State Senate President Pro Tem Darrell Steinberg, D-Sacramento, told them, "You own this place, nobody else. You have the right to be mad. Nothing can stop you, nothing can stop us together."
Steinberg's five-point program for higher education includes increased funding, closing tax loopholes, and affordable textbooks.
Lieutenant Governor Gavin Newsom also addressed the crowd.
Steinberg cited Republican obstructionism, which has stalemated California's budget process for many years. Both legislative houses are led by Democrats, but their majority falls short of the two-thirds required to raise revenues. Most Republican legislators have signed a Grover Norquist "no new taxes" pledge. As a result, human services and education have faced massive cuts.
More actions were planned for the afternoon, including a 5:30 p.m. labor rally, and an action by Occupy activists.
Marilyn Bechtel contributed to this story.
Photo: "Calif. demonstrators protest cuts to education at the Calif. State Office Building." Ben Margot/AP