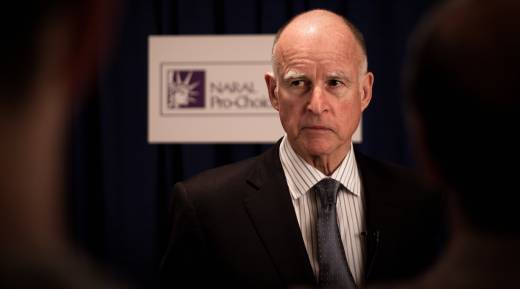 California Governor Jerry Brown, Democrat, unveiled on Jan. 10 a proposed budget to cope with the state's $26 billion-plus deficit in the coming fiscal year.
Brown told a Capitol press conference his budget "will take sacrifice from every sector of California." But, he said, after a decade of putting together budgets "with gimmicks, tricks and unrealistic expectations … it is time to restore California to fiscal solvency and put us on the road to economic recovery and jobs."
The proposals would impose what Brown called "painful" cuts to many human services, along with lower funding for higher education. Funding for K-12 education, which Brown said had "borne the brunt" of past reductions, would stay at present levels.
On the revenue side, Brown proposed extending for five years temporary increases to sales, vehicle and income taxes the legislature passed in 2009, tightening ways corporations calculate their taxes, and some one-time borrowing from special funds.
Extending the tax increases, and funding MediCal (state Medicare) for young children from cigarette tax money, will require the legislature to put measures on the ballot for a June special election. Asked by reporters what would happen if the measures fail, Brown said cuts would "multiply by two," and warned, "It's going to be extremely difficult, even draconian – and Dracula was not a very kind chief executive."
The governor also proposed to restructure government functions, returning authority for many functions to local authorities while providing them with state funds.
Among programs facing cuts: the Healthy Families program for children in low income families, CalWORKS welfare-to-work, child care, In-Home Supportive Services for the elderly and disabled, mental health and others, as well as the governor's office.
Brown urged the legislature to pass legislation needed for the budget within 60 days, though he said finalizing it must await results of the special election.
Asked why he was not proposing other taxes, such as an oil severance tax, Brown said he wanted to put together a program that is feasible "and this is my best sense of what the people of California could accept."
Democratic legislators were unhappy over the cuts, but pledged to work with Brown to resolve the crisis.
"I hate these cuts," Senate President Pro Tem Darrell Steinberg, D-Sacramento, told reporters. "But I think this is a realistic budget … the only thing worse is to allow this fiscal crisis to continue."
In a statement, Assembly Speaker John Perez, D-Los Angeles, called Brown's proposal "the starting point of a responsible fiscal plan for California," and said he looked forward to working to approve "a budget that will begin to eliminate our structural deficit and protect California jobs."
A two-thirds legislative vote is required to raise taxes in the state. Though Democrats control both legislative houses, their majority falls short of that level.
At the press conference, Brown said he had been talking with Republican legislators, and expressed confidence that some Republicans will ultimately support the tax extension. "I'm going to work to get Republicans as part of it, it's much better if this is a bipartisan effort," he said.
But Republican Senate leader Bob Dutton, while calling the spending cuts a start, said they were "too little, too late," and predicted that "zero" Republicans would vote for Brown's proposals. Other Republican legislators echoed those views.
Meanwhile, advocates for social programs held a day of action Jan. 10 in cities around the state, urging legislators to put all revenue options on the table so as to avoid many of the harmful cuts proposed in the budget. In Los Angeles, hundreds of families, seniors, disabled people and health and human services providers demonstrated at Gov. Brown's office, in an action organized by more than a dozen organizations.
Image: Stock photo of Gov. Brown, courtesy ohad* // CC BY-NC-ND 2.0