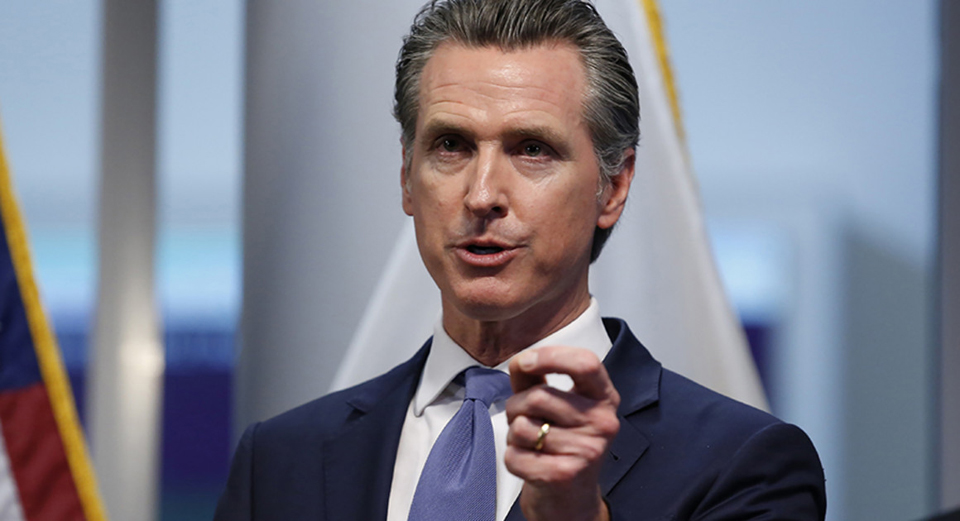 As the number of confirmed COVID-19 cases in California continued to rise sharply, Governor Gavin Newsom on March 19 ordered the state's 40 million residents to remain at home, leaving only for the most essential purposes. The order, the most sweeping in the nation, will be in effect until further notice. It is similar to orders issued by counties throughout the San Francisco Bay Area, by the City of Los Angeles, and elsewhere around the state earlier in the week.
According to California's Public Health Department, confirmed cases of COVID-19 in the state had reached 675 by the evening of March 18, with 16 deaths reported statewide.
"We need to make tough decisions," Newsom said in announcing the order. "We need to bend the curve in the State of California…. The experience we're having on the ground throughout the state of California, the experience that's manifesting all across the United States and for that matter around the world, requires us to adjust our thinking and to adjust our activities."
Under the statewide order, people will still shop for groceries, seek medical care, exercise outside as long as they keep a distance of at least 6 feet from others. Essential businesses will continue to function; others will need to close or have their employees work from home.
The governor said he didn't think law enforcement action would be needed, instead expressing confidence that Californians will self-regulate and that "social pressure" will "encourage people to do the right thing."
Newsom's announcement followed the release of his letter to President Trump in which the governor projected that some 56 percent of the state's population, or over 25 million Californians, would become infected within the coming eight weeks, unless strong measures were employed to stop the coronavirus's spread. The governor has also said there could be a shortage of as many as 20,000 hospital beds. In the letter, Newsom requested that a U.S. Navy hospital ship be sent to the Port of Los Angeles to care for patients there.
Meanwhile, counties around the state were ramping up services needed as they began to observe shelter-in-place and shelter-at-home orders announced earlier in the week.
In a PBS News Hour interview March 17, San Francisco Mayor London Breed emphasized that the decision to issue an order there was based on information provided by Bay Area county health officers. With limited availability of tests, protective gear and other essentials, she said, "we need to make sure we are protecting public health, that we are making the right decisions so that when people are sick and need to be hospitalized, we are at a capacity that can handle the influx of people into our system."
Breed emphasized that county authorities are not trying to be "heavy-handed" in enforcing the requirements but want people "to understand that this is a public health crisis," and "to comply and to be good citizens of our city."
As hospitals in the Bay Area ramped up their preparations, the San Francisco mayor on March 17 issued an emergency declaration to speed up the city's ability to hire nurses and other frontline health care workers.
Hospitals throughout the area were reported to be setting up outdoor clinics so patients referred by a physician could be tested promptly by properly protected medical personnel while shielding other hospital patients and staff from exposure. Health facilities were conserving scarce masks and other equipment and canceling elective procedures and routine appointments.
The state's more than 100,000 unhoused residents are seen to be at especially great risk for COVID-19. Newsom said on Monday that his team has found over 900 hotels that could house unhoused people, and are negotiating to convert some of them into temporary housing. State officials are also working to distribute trailers for unhoused people to be housed or if necessary, quarantined.
San Jose and Oakland have paused sweeps of encampments, and distributed hand-washing stations, porta potties and clean water to homeless encampments. San Jose is partnering with the nonprofit WeHOPE to operate a mobile medical trailer with virtual physician visits as well as to distribute hygiene kits at encampments twice a week.
In San Francisco, the Port Commission was expected to hold an emergency meeting March 19 to consider expanding a shelter that has received a lot of NIMBY pushback from neighbors since it opened in December.
Though schools are closed up and down the state, school officials are emphasizing that students who depend on in-school breakfasts and lunches and their families can still come and pick up meals-to-go. Oakland Unified School District officials said they handed out almost 25,000 grab-and-go meals to more than 4,000 students on March 16, the first day of the program. OUSD officials said the meals are available "for all OUSD students or families and any Oakland child under 18, free of charge," and multiple days of food can be picked up to take home.
In San Jose, Mayor Sam Liccardo and Santa Clara County Board of Supervisors President Cindy Chavez announced they would work together to build a partnership including nonprofit groups and the private sector, to ensure all in the community have access to food. One location has been identified in each city to serve as a food distribution site.
San Francisco, Hayward and Oakland were all taking measures to protect renters from eviction if they could not pay their rent because of the pandemic.
Elected prosecutors in San Francisco and Contra Costa Counties joined more than two dozen prosecutors across the country in calling for releasing inmates who are not a threat to the community, who are being held because they can't pay bail, are elderly, have medical conditions, or are within six months of completing their sentences. The Alameda County Sheriff's office said 67 inmates were released from Santa Rita Jail March 17, and the county was also working to find housing for released inmates who were unhoused.
On March 16, the California legislature unanimously passed $1.1 billion in emergency funding related to COVID-19.
Much of the funding will go to expand capacity in the state's hospitals, add beds in health care facilities and buy hotels and motels to house sick, unhoused people in the state, and pay for a deep disinfecting of school campuses.
Governor Newsom announced that the first $150,000 million will go to shelter unhoused people, who he said are "among the most vulnerable" to the pandemic. $100 million will go to local governments, and $50 million will buy over 1,300 travel trailers and to lease hotel and motel rooms as quarantining sites.
In a March 16 executive order, the governor called on local governments to bar evictions of tenants unable to pay rent because of the pandemic. The order, in effect until the end of May, asks financial institutions to delay foreclosures when the mortgage holder can't pay because of wages lost because of COVID-19.
Another executive order emphasized measures to support the needs of older people and people with serious underlying health conditions, including strengthening in-home support systems and health and community care facilities.
The governor also predicted that the state's schools would remain closed through the end of the school year. "This is a very sober thing to say," Newsom told a press conference. "I would plan and assume that it's unlikely that many of these schools—few if any—will open before the summer break."