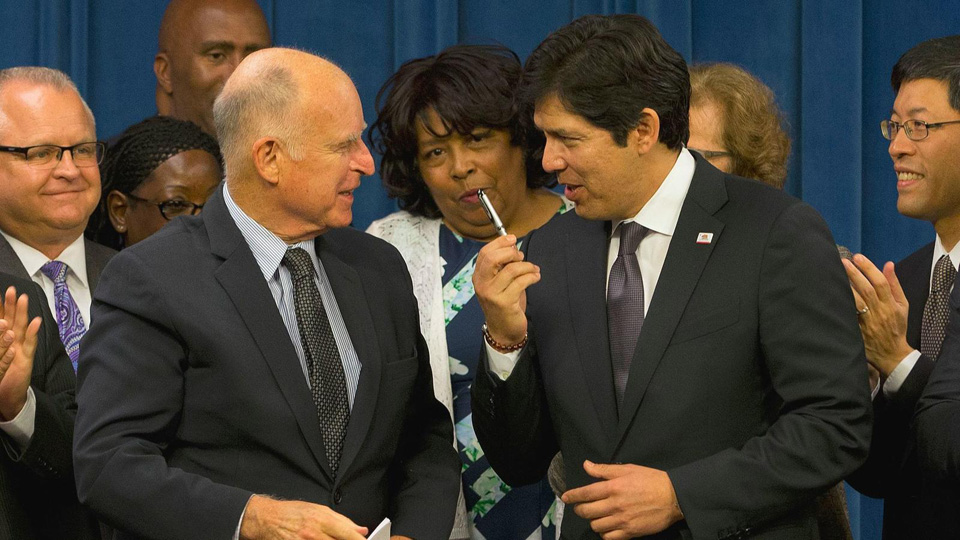 OAKLAND, Calif.—On Oct. 5, Gov. Jerry Brown signed a far-reaching package of bills to protect the rights of California's immigrants. The 11 bills range from law enforcement to public K-12 and higher education, housing, workplace rights, and help for veterans.
Heading the list is Senate Bill 54, the California Values Act, introduced by Senate President Pro Tem Kevin de León on the first day of the current legislative session last December. The final version followed talks between de León, Brown and law enforcement agencies concerned about some of the original restrictions.
SB 54 will prevent state and local law enforcement agencies, including school police and security departments, from using their resources to investigate, question, or arrest people for immigration enforcement purposes. The state Attorney General is directed to develop model policies limiting as much as possible the help schools, libraries, hospital, courthouses, and other public facilities provide to Immigration and Customs Enforcement (ICE) agents.
California has an estimated 2.3 million undocumented immigrants – the most of any state.
In a statement after signing the measure, Brown emphasized that federal agencies are free to use their own resources to enforce federal immigration law in California. The new law does not keep sheriffs from giving immigration agents access to California jails for routine interviews, and does not bar cooperation in deportation proceedings for those in state prisons, or those in local jails for serious offenses.
"These are uncertain times for undocumented Californians and their families," Brown said, "and this bill strikes a balance that will protect public safety, while bringing a measure of comfort to those families who are now living in fear every day."
In a statement, de León thanked Brown for understanding the measure's importance to millions of Californians. "The California Values Act won't stop ICE from trolling our streets, it will not provide complete sanctuary," he said. "But it will put a kink in Trump's perverse and inhumane deportation machine."
Predictably, Immigration and Customs Enforcement (ICE) wasted no time in responding.
ICE Director Tom Holman immediately warned that immigrants will be more at risk than ever, because ICE will now have to turn to making at-large sweeps in neighborhoods and worksites, and will probably detain arrested Californians in detention facilities outside the state.
And despite the changes made in the bill between its introduction and final passage, the California Sheriffs Association remains opposed, because "the bill still goes too far in cutting off communications with the federal government."
Immigrants' rights advocates celebrated the signing.
"The Trump administration, in its zeal to deport millions, is turning police and sheriffs into deportation agents, a broad statewide coalition of immigrant and civil rights organizations said in a statement after the signing. "This has broken up families, opened the door to civil rights violations, burdened local resources, and further undermined confidence in law enforcement."
The organizations said the California Values Act will challenge that agenda, strengthen protections for immigrants across the state, and end or limit other abuses.
Among over 30 signers are the ACLU of California, California Immigrant Policy Center, National Day Laborer Organizing Network, Mujeres Unidas y Activas, the Immigration Task Force of the California Nevada Annual Conference of the United Methodist Church, and the Southern California Coalition for Occupational Safety & Health.
Highlights from the other 10 immigrant rights laws:
Assembly Bill 291, introduced by Assemblymember David Chiu, D-San Francisco, will bar landlords from using tenants' immigration status to harass them.
AB 450, also introduced by Chiu, says employers must require proper court documents before letting immigration agents come into a workplace or obtain workers' records.
AB 21, by Assemblymember Ash Kalra, D-San Jose, requires California State Universities and community colleges to increase protections for their students who are in the Deferred Action for Childhood Arrivals (DACA) program, and their families.
SB 29, by Senator Ricardo Lara, D-Bell Gardens, puts a moratorium on local governments' contracts with corporations running private detention centers.