OAKLAND, Calif.—As their legislative session closed on Sept. 15, the California State Senate and Assembly sent a list of measures to protect immigrant rights to Gov. Jerry Brown's desk for signature. Brown has until Oct. 15 to do so.
Heading the list was the landmark California Values Act, Senate Bill 54, authored by Senate President Pro Tempore Kevin De Leόn, D-Los Angeles, to strictly limit ways state law enforcement agencies can cooperate in enforcing federal immigration laws.
The so-called "Sanctuary State" bill was introduced on the very first day of the current session early in December, along with a number of bills to protect and uphold the rights of California's undocumented immigrants.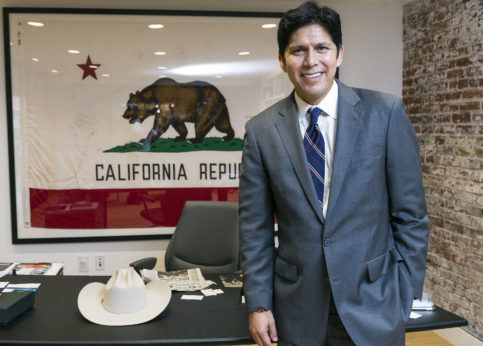 The final version followed months of talks between De Leόn, Brown, and law enforcement officials who worried about the degree of restrictions in the initial language. Though the governor and other law enforcement agencies were satisfied with the changes, the State Sheriff's Association remains opposed. Brown is expected to sign the measure.
SB 54 bars state and local law enforcement agencies, including school police and security departments, from using their resources to investigate, question, or arrest people for immigration enforcement purposes. It also directs the state Attorney General to develop model policies to limit as much as possible the help schools, libraries, hospital, courthouses, and other public facilities provide to Immigration and Customs Enforcement (ICE) agents.
Among changes to the original version: local police can hold someone for federal law enforcement if he or she has been convicted of a serious or violent felony or unlawful possession of a deadly weapon, as well as some lesser crimes. Immigration agents can interview people in jails, and information in databases can be shared. Law enforcement officers can cooperate with federal task forces that are not targeting immigration, and the bill would not apply to state prisons.
De Leόn said the measure continues to provide "landmark protections" for undocumented Californians.
"I introduced SB 54 to protect our state and local police from having to arrest honest, hardworking mothers, fathers, and students instead of carrying out the duties that protect all of us," he said. "Our undocumented neighbors will be able to interact with local law enforcement to report crimes and help in prosecutions without fear of deportation—and that will make our communities safer."
Immigrant and civil rights organizations including the ACLU of California, Asian Americans Advancing Justice-California, the Mexican American Legal Defense and Educational Fund (MALDEF), and the National Day Laborer Organizing Network, said in a statement that the bill will improve on existing protections.
"Without this bill," they said, "immigrant Californians in many cities and counties would have no protection against ICE's abusive new tactics which enlist police and sheriffs as deportation officers… At the same time, we recognize that California has more work to do to fully embrace the humanity and dignity of every person who calls our state home, including people criminalized by racially biased systems of mass incarceration."
The organizations pledged to continue the fight for due process and equal treatment of immigrants.
Among other immigration-related bills now on Gov. Brown's desk:
SB 29, to keep local governments from making new contracts with ICE to detain immigrants facing deportation.
SB 257, to let U.S. citizen children of deported parents continue to attend local schools.
Assembly Bill 21, requiring state universities and community colleges to ensure undocumented students' access to financial aid, legal representation, and the right to due process. They would also be barred from letting ICE know the immigration status of undocumented students, faculty, or staff.
AB 291, to bar landlords and property managers from telling, or threatening to tell, any immigration authority about a tenant's immigration status.
AB 450, to mandate that employers ask ICE for a warrant before a workplace raid takes place, and that they warn workers if ICE action is pending.
A 2015 study by the Public Policy Institute estimated California's undocumented population as 2.67 million—nearly a quarter of undocumented people in the U.S.—and said they make up just over 6 percent of the population.
Earlier this month, the state, and the University of California, each sued the Trump administration over its decision to end the Deferred Action for Childhood Arrivals (DACA) program that lets undocumented immigrants brought to the U.S. as children—often called "Dreamers"—study and work without fearing deportation.
State Attorney General Xavier Becerra told journalists, "In this country, I have never seen a case where we tell children that we are going to punish them for acts that they were not responsible for."
One in four DACA recipients lives in California, and Becerra has said that ending the program would also harm the state's economy and its higher education system.
University of California President Janet Napolitano, who served as Homeland Security secretary under President Obama, said the Dreamers "represent the best of who we are—hardworking, resilient, and motivated high achievers."
The UC system has about 400,000 undocumented students, many with DACA status, along with DACA recipients among its teachers, researchers, and health care providers, the university said in a statement announcing the lawsuit.