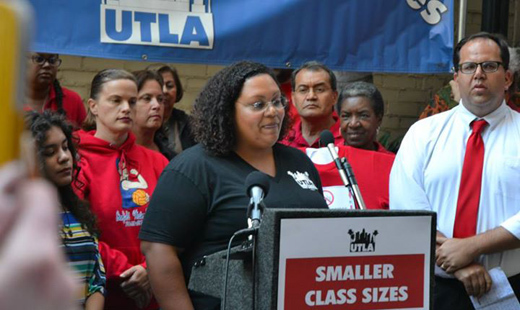 SAN FRANCISCO – The latest attack on teachers and their unions was handed down on June 10 by Judge Rolf M. Treu of Los Angeles Superior Court, in his ruling on Vergara v. California. In a 16-page ruling, Judge Treu stripped tenure protection from California public school teachers, stating that he found evidence that the statutes that protect teachers are unconstitutional.
Vergara v. California is the latest in a series of court struggles stemming from teacher layoffs that resulted from the $10 billion cuts to education in 2009 demanded by then-Gov. Arnold Schwarzenegger. "Reduction in force" cuts resulted in the loss of more than 2,000 teachers in Los Angeles Unified School District (LAUSD) schools, with some schools, like Markham Middle School, seeing up to a 72% reduction in teaching staff.
The first round of court cases centered around Reed v. California, a class action lawsuit which argued that these layoffs adversely and disproportionately affected schools in disadvantaged neighborhoods. The lawsuit claimed that because of the teachers union's "last in, first out" layoff policy, teachers who wished to stay at these schools were being displaced by older staff with greater seniority rights. In 2011, a judge ruled that student rights to a quality education were affected by this policy, and an exemption was granted to 45 low-performing schools.
However, in 2012, the California Second District Court of Appeal overturned this exemption, stating that the teachers union, United Teachers of Los Angeles, was not given an opportunity to present its side of the case, and that special exemptions violated state education law. The union at this time also stated that there was no evidence that less-experienced staff were the key to improving at-risk schools, and proposed its own reforms to stop layoffs, which included addressing the root issues of high teacher turnover and hurdles to student success.
Little mention at the time was made of the fact that several of the schools, including Markham, which had seen draconian layoffs due to budget cuts, were also part of an earlier education reform project, under the umbrella of Partnership for Los Angeles Schools, spearheaded by Los Angeles Mayor Antonio Villaraigosa. Under the partnership, in 2008, 11 LAUSD public schools were placed in a "turnaround" system, where all existing veteran school staff were fired and told to reapply for their jobs.
That late-year turnaround resulted in a younger staff (generally also lower paid) with little experience being brought in to staff the schools, who, in turn, were then let go when the wave of layoffs hit. A revolving door of substitute teachers protected from seniority-based layoffs were then cycled through the schools to teach classes, heightening the instability for students. The narrative that younger, more competent teachers were being let go in favor of older and less competent teaching staff entered the media reports on Reed, with blame going to the tenure system.
"Merit" vs "seniority" became the story, instead of the causes of the recession that led to the cratering of California's economy, further stressing already low per-pupil spending and causing class sizes to balloon. Budget shortfalls hit distressed communities the worst, while wealthy neighborhoods retained much of their staff.
The 2012 Reed appeal outcome put the legal dispute on the question of tenure in abeyance until May 2012, when in stepped David Welch, a Silicon Valley CEO, his organization Students Matter, and a lawsuit, Vergara v. California. Welch's organization would go on to spend $3 million dollars pressing the case.
Vergara asserted that the right of students to a quality education had been violated by tenure policies. The lawsuit intended to prove that ineffective teachers had been kept in place, harming students in their classes. Educators named by plaintiffs as ineffective were placed on the stand, testifying on their educational practices and outcomes.
However, "Something doesn't add up," as Randi Weingarten and Joshua Pechthalt, leaders of the American Federation of Teachers and California Federation of Teachers, respectively, stated in their editorial last May.
Teachers brought to testify in the Vergara trial had never been rated ineffective by their administrations, and had taught at low-income schools as senior and experienced teachers. This contradicts the narrative that had been created that experienced teachers flee to suburban schools or stay in at-risk schools as incompetent chair warmers, protected by tenure. One teacher had even been named teacher of the year in Pasadena.
Think-tank Education Trust-West, a Students Matter ally and also a backer of Vergara, published a study in 2005 that contradicts the central assumption of the lawsuit it now supports. It found that "Low-income students are twice as likely to have an under-prepared teacher than are their more affluent peers … experienced teachers, for example, are more effective in helping students than inexperienced teachers."
The Vergara ruling comes at a time when education layoffs in general are almost eliminated in California, due to the successful passage of Proposition 30 in 2012, a tax on millionaires that was successful due in part to the work of California teachers unions to bring it to victory at the polls.
The California Teachers Association will appeal the court's decision.
Photo: Erika Jones, a teacher at Angeles Mesa Elementary School, speaks at a United Teachers of Los Angeles rally, June 2. UTLA Facebook page