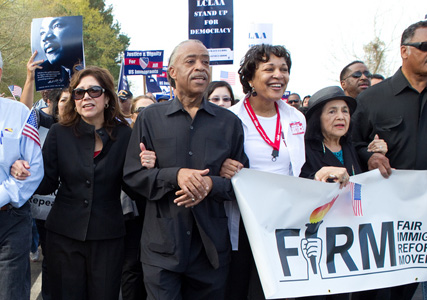 WASHINGTON – California labor official Tefere Gebre, a teenaged political refugee from Ethiopia, a former member of Laborers Local 270, and a politically savvy operative from the nation's largest state, will succeed Arlene Holt Baker as Executive Vice President of the AFL-CIO, at the federation's convention in Los Angeles in September.
Holt-Baker announced at the AFL-CIO Executive Council meeting in D.C. on July 24 that she would step down from her post, effective then, "because I have two granddaughters and I want to spend more time with them."
Gebre is executive director of the Orange County, Calif., Labor Federation. After his immigration to the U.S. in 1987, he graduated from high school in Los Angeles, and from college at Cal Poly Pomona, paying his way through a combination of a track scholarship and part-time work, as a member of Teamsters Local 396, for UPS.
Gebre is also known for his political savvy. Before joining the Laborers, where he rose to be political director, he was an aide to the powerful longtime State Assembly Speaker Willie Brown (D), the first African-American in that post. Gebre also became the first African-American to head the Golden State's Young Democrats.
If AFL-CIO convention delegates ratify his selection to succeed Holt-Baker, Gebre would be the first political refugee from Africa to hold the executive vice president's post, and the second consecutive African-American.
Holt-Baker, a Texas native and longtime Californian, came to the federation post from a long career at AFSCME, the federation's largest union. A veteran of the civil rights movement, she has been heavily involved in campaigning among women and minorities to join unions – and among unions to promote and speak for those groups.
Symbolic of her role was the latest event she helped chair, a July 22 Economic Policy Institute symposium at the AFL-CIO on the "unfinished business" of Dr. Martin Luther King's historic 1963 March on Washington.
As Holt-Baker reminded the packed audience, the march was for jobs and freedom – and the jobs part gets left out, even if it was first on the marchers' signs.
"As long as black workers are economically deprived, the fight of white workers for economic justice will fail," she declared. "Today, millions of workers of all hues are struggling. They need access to decent housing, to quality public education. We still hear cries for freedom, for equality, for freedom to come out of the shadows, for freedom for shared prosperity, and for freedom from being (racially) profiled," she said.
Photo: Arlene Holt Baker with some of the other participants in the 2012 re-enactment of the march from Selma, along U.S. Highway 80 eastbound. Holt Baker is wearing the cream-colored jacket. Creative Commons 3.0