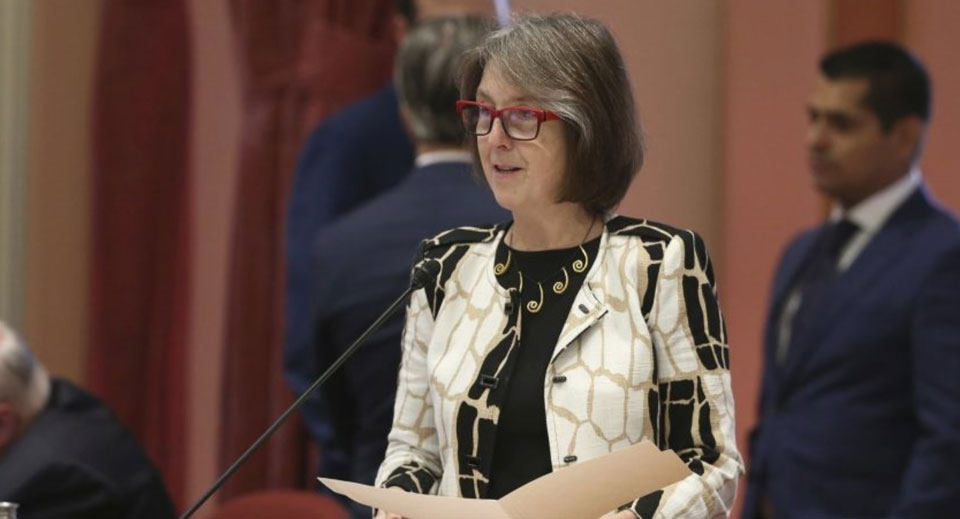 As the California state Senate and Assembly prepare to launch their 2021 legislative session on Dec. 7, state Senator Nancy Skinner, D-Berkeley, announced on Monday she will reintroduce a measure she introduced early in 2020, to open public access to records of law enforcement officers who have engaged in biased or discriminatory behavior, conducted unlawful arrests or searches, or used excessive or unreasonable force.
The measure, last year listed as Senate Bill 776, passed the Assembly 53-17 with bipartisan support on Aug. 31. But in a legislative session curtailed by COVID-19, the state Senate could not vote on it before the constitutional deadline.
The bill would also ensure that officers with a history of misconduct could not just resign, keep their records secret, move to another jurisdiction and continue their misconduct. Jurisdictions failing to release records in a timely fashion would face civil penalties, and agencies could only charge for the cost of duplicating records, barring a tactic used by some agencies to delay or avoid releasing records.
"Communities deserve tools to hold law enforcement accountable," Skinner, who chairs the Senate's Public Safety Committee, said in announcing the pending reintroduction. "This legislation also shines a light on officers who have a history of racist, discriminatory or abusive behavior."
The new bill expands and strengthens Skinner's earlier SB 1421, to open to the public investigations of officer shootings and other major uses of force, confirmed cases of sexual assault or making false statements while on duty. That bill entered into force in January 2019, lifting the veil of complete secrecy that had shrouded officer conduct in California for more than 40 years.
While a landmark bill, SB 1421 only made publicly available a limited set of police records on use of deadly force, on-the-job sexual assault, and some types of dishonest acts. Even then, many agencies slowed down the process or refused to release records, and departments and officers could evade SB 1421 if an officer accused of misconduct quit before a disciplinary investigation was completed, and thus kept the record secret.
Though a number of significant bills relating to law enforcement did pass the California legislature in the 2020 session, were signed by Governor Gavin Newsom and will become law on Jan. 1, others including SB 776 stalled amid a combination of resistance from law enforcement agencies and the significantly truncated schedule of the 2020 legislative session during the COVID-19 epidemic. Authors of those bills, including Sen. Skinner, all vowed to renew their efforts in the new session.
Another legislator in that group is state Sen. Steven Bradford, D-Gardena, whose SB 731, the Kenneth Ross Jr. Police Decertification Act to create a statewide process to revoke certification of a law enforcement officer after conviction of certain serious crimes or termination due to misconduct, was not brought up for a vote in the Assembly before the constitutional deadline.
Bradford and Senate President Pro Tem Toni Atkins, D-San Diego, pledged in a joint statement that they would continue to pursue legislation to restrict officers from returning to duty after firing or discipline for serious misconduct.
In October, Bradford told Spectrum News/In Focus he plans to reintroduce the bill in the new session. He said SB 731 would allow California "to join 45 other states in having a process of decertifying bad officers, officers that have committed felonies, who have tampered with evidence, who have committed murder, who have committed sexual assault." Without a decertification process, he said, officers can be fired or resign before an investigation is completed and join another police department.
That this has indeed occurred repeatedly in California was noted in an investigative series led by UC Berkeley's Investigative Reporting Project and involving over 30 newsrooms around California, launched in 2019.
In late September, Assembly Speaker Anthony Rendon, D-Lakewood, announced that a 10-member bipartisan Select Committee on Police Reform has been established to provide a "public forum to discuss measures to keep our communities safe and continue California's leadership in police reform" in the 2021 legislative session. Among its members is Legislative Black Caucus Chair Shirley Weber, D-San Diego.