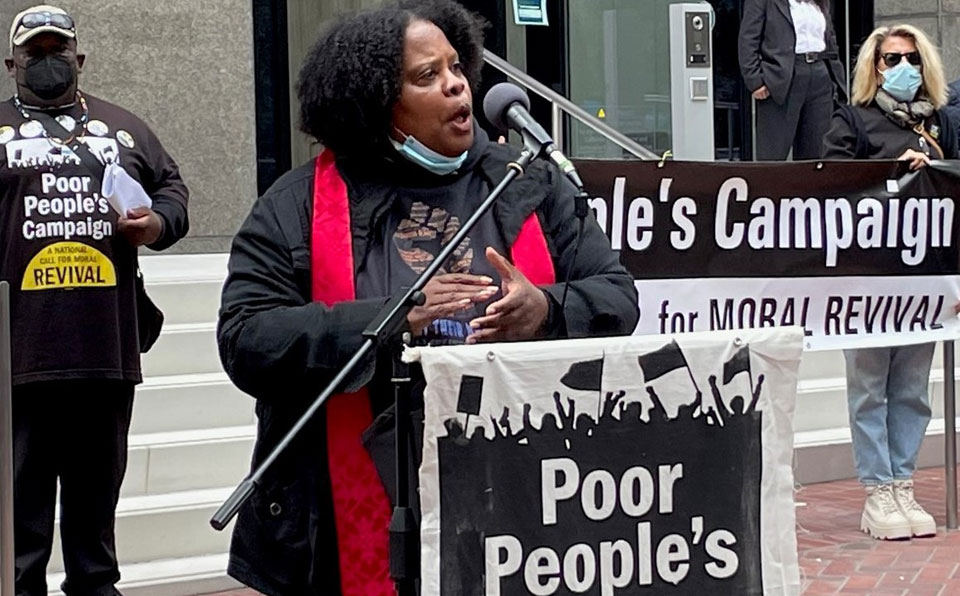 SAN FRANCISCO – Their voices rang out as they gathered at the foot of the towering office building in the heart of downtown, singing new words to the iconic labor and civil rights anthem, Which Side Are You On?
"We're outside, Dianne Feinstein, our voices loud and clear: Voting rights are what we need, we won't stand hate and fear! The filibuster's got to go, which side are you on?"
The dozens of northern California constituents who rallied on Market St., outside Democratic Sen. Dianne Feinstein's office here on July 26, and their fellow demonstrators in Los Angeles, were among the throngs of protesters who gathered for Moral Monday actions at senators' offices in 35 states, called by the Poor People's Campaign as part of its Season of Nonviolent Moral Direct Action.
Their demands: abolish the filibuster rule that lets a minority of 41 senators block all legislation except tax and money bills, pass all provisions of the For the People Act to preserve and expand voting rights, pass the John Lewis Voting Rights Act to fully restore the 1965 voting rights protections, and raise the federal minimum wage to $15 an hour.
As passing vehicles honked their support, longtime Sacramento activist Faye Wilson Kennedy – one of the California Poor People's Campaign's co-chairs – called out, "Do you hear, Sen. Feinstein? We want you to raise that minimum wage! We want you to end the filibuster, not restore, not refine it! We want you to do some Good Trouble: we want you to pass that Voting Rights Act!"
Among the faith leaders, impacted individuals, and advocates who took the podium was Minister Cherri Murphy of Oakland's Heart and Soul Center of Light, who led the crowd in a chant: "Today we are here because we can no longer be silent anymore!"
Murphy shared her experiences as "a Black woman living in America" who knows what it's like to work long hours with no guaranteed wage, work breaks, or overtime.
"I know what it's like to be misclassified and have to struggle to get unemployment insurance in the midst of a pandemic," she said. "I know what it's like to experience lip service in support of Black lives and people of color, absent of any promise of real change.
"We are gathered here today, Sen. Feinstein, to call forth your moral will … today is about fully addressing poverty and low wages from the bottom up! Which side are you on?"
Restaurant worker Linda Liang emphasized the importance of raising the federal minimum wage from the present $7.25/hour to $15. As a restaurant worker in California, she said she has benefited from the state's higher minimum wage. But with a living wage in the Bay Area "actually $30/hour," she has always had to work two and three jobs "just to stitch together a livable income."
"We all deserve to prosper and to live with dignity and respect, regardless of who we are, where we live, and what we do for work," Liang said. Raising the federal minimum to $15 would mean California's minimum would have to be adjusted accordingly, she said, bringing it closer to an actual living wage.
Thanking Feinstein for being an original cosponsor of the Raise the Wage Act which would gradually raise the federal minimum to $15 by 2025, Liang added, "As your voter, I am here to hold you accountable and to demand that you act quickly to fulfill this mandate by any means necessary, including abolishing the filibuster, because the bottom line is that living wages cannot wait."
PPC California Steering Committee member Kevin Carter, who had traveled from Sacramento, picked up on that theme: "Just in case you don't know what the filibuster means, when they take it to the floor in the Senate, they're filling in for the rich and the wealthy and they keep busting us out!"
Carter called on the crowd to "remember those who came before us," including those who were attacked by state and local law enforcement as they marched for voting rights in Selma, Alabama in March 1965. Now, he said, when reactionary political forces "are trying to recreate the same politics of hate and despair … we must all remember the words of John Lewis, who said we must get into good trouble, necessary trouble, speak out and speak often when things are not right."
As he led the crowd in chants, Carter declared, "We must be the voice for the voiceless. We must remember that this is our time because we have come too far to turn around now. We must remember that we are the people! We are the promise of a multiracial democracy!"
Bay Area Steering Committee member David White reminded the crowd that Sen. Feinstein has been in office for nearly 30 years. "She started in public service on the 2nd floor of City Hall, and now her office is on the 24th floor … I think we need to help her hear us.
"Basically, we have very simple, modest demands," White said. "We demand a commitment from you, an unconditional commitment, that you will vote for all the strong voter protections in the For the People Act. You say you will, but you know this can't happen unless the filibuster is abolished."
The crowd joined in: "Senator, which side are you on?
"We also demand an unconditional commitment that you will restore the full strength and power of the original Voting Rights Act … We demand an unconditional commitment that you will vote for the $15 federal minimum wage …
"And the last thing we come back to is the very first. Senator: we demand an unconditional commitment to abolish the filibuster, an insidious effort to shut down the majority will …"
At that moment, members of the crowd, including a dozen "messengers" who had committed to nonviolent direct action, stepped forward to unfurl a giant banner stretching across the entrances to the giant office tower, as chants and singing led by the Campaign's theomusicologist, Virginia Hollins-Davidson, rang out across the plaza.
"When voting rights are under attack, What do we do? Stand up, fight back!"
"We the people are for the people and For the People Act. We the people are for the people! Now, will you have our back?"
"We won't, we won't, ever let go of the hard-won freedom, freedom to vote!"
And in the midst of the singing, the distinctive counterpoint of a solo bass viol could be heard – a passerby had stripped the cover from his instrument and was adding its voice to the chorus.
Finally, after more than an hour, it came time to furl the giant banner, as PPC Steering Committee members took the microphone to tell of their meeting with a member of Sen. Feinstein's staff, who listened intently and urged rally participants to call her office often because the staff keep statistics on which issues are at the top of her constituents' lists.