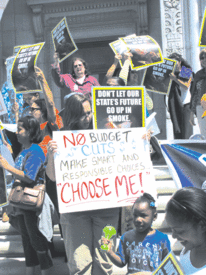 After weeks of behind-the-scenes negotiations, legislative leaders and Governor Arnold Schwarzenegger announced on the night of July 20 that they had reached tentative agreement on how to cope with the state's $26.3 billion budget deficit. The legislature could vote as early as July 23 on the pact, which must be approved by a two-thirds majority in both legislative houses.
The agreement includes over $15 billion in cuts as well as taking funds from local governments and accounting manipulations such as speeding up collection of quarterly tax payments and paying state workers their June 2010 wages on July 1 instead of June 30, to push payment into the next fiscal year.
Though Republican legislators nixed all proposals to increase revenues, including taxing oil extraction as do all other oil-producing states, the budget deal does authorize an off-shore oil drilling lease near Santa Barbara, the first such lease in four decades.
With California the only state requiring two-thirds majorities both to pass budgets and to raise taxes, the state's budget process has been hamstrung for years by Republican legislators who reject all new revenues ― including returning some to levels under previous Republican governors. Gov. Schwarzenegger, a Republican, also rejected new revenues. The Democratic majority in both legislative houses falls short of two-thirds.
Among the proposed cuts as reported by the Associated Press:
• Nearly $9 billion from public education at all levels.
• $1.3 billion from MediCal, the state's Medicare program.
• $1.3 billion from "furloughing" state workers three days each month.
• $528 million from the CalWORKS welfare-to-work program.
• $226 million from In-Home Supportive Services for the disabled and elderly.
• $124 million from the Healthy Families health care program for low-income children.
The proposed budget would also take $1 billion each in redevelopment and transportation funds from local governments, and borrow $2 billion from property taxes they collect.
Despite the severe cuts, Democratic legislators were able to block the governor's earlier proposals to eliminate CalWORKS and In-Home Supportive Services.
Educators and health care advocates were quick to express dismay. "The priorities are wrong, California Federation of Teachers President Marty Hittelman said in a statement. "Massive cuts to all levels of education while, at the same time, preserving unproductive corporate tax breaks , is a blueprint for further California decline."
Meanwhile, student protesters gathered outside the California State University chancellor's office in Long Beach where CSU trustees were meeting.
Commenting on californiaprogressreport.org, Anthony Wright, executive director of the Health Access coalition of over 200 organizations, said the state "has better choices than to deny coverage to thousands of children, or to make these devastating cuts to the health system on which we all rely … these were the worst possible choices for our children, for our health system, and for our economy."
Wright pointed out that "hundreds of millions" in federal matching funds will be lost as well.
And Yvonne Walker, president of SEIU Local 1000, whose members are state workers, promised a court fight against the furlough days, which would result in a 14 percent pay cut.