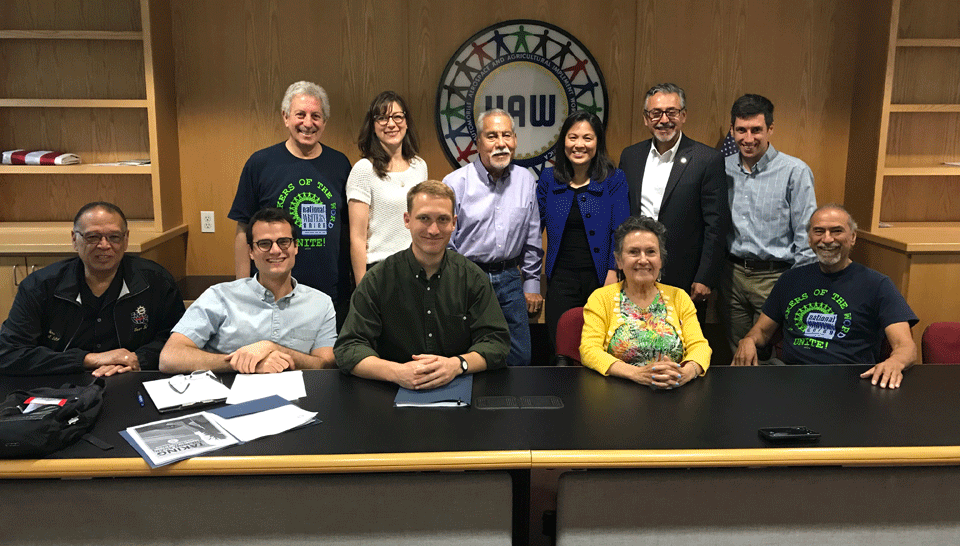 PICO RIVERA, Calif.—If an American president were truly committed to "draining the swamp" of corporate malfeasance in the workplace and the economy, s/he would look to the likes of Julie Su as the next U.S. Secretary of Labor. We do not, of course, have such a president at this time.
But we do have Governor Gavin Newsom of California, who upon assuming office in January of 2019 appointed Su to serve as his cabinet advisor on labor issues. Her official title is Secretary of the California Labor and Workforce Development Agency, unofficially California Secretary of Labor. She previously served under Gov. Jerry Brown as California's Labor Commissioner.
In 2014, Su launched the "Wage Theft is a Crime" multi-media, multilingual campaign to reach out to low-wage workers and their employers to help them understand their rights and feel safe speaking up about labor law abuses. It is the first statewide campaign of its kind.
Su has taught at UCLA Law School and Northeastern Law School. She is a graduate of Stanford University and Harvard Law School, and speaks Mandarin and Spanish.
On April 11, just three months into her new job and still, as she admits, very much on a learning curve, she accepted a cordial invitation for a sit-down chat and spent a couple of hours at the Southern California meeting hall of the United Auto Workers (UAW). Aside from auto and aerospace workers who were represented in the delegation that received her (Joe Padilla of Local 887 and Bob Jimenez of Local 230), along with an officer and a labor researcher for the union, her host committee also included UAW affiliate members of the National Writers Union and the University of California Student-Workers Union, mostly doctoral candidates who teach up to 70% of the statewide university-level courses.
Secretary Su oversees the state departments and boards that enforce labor laws, including minimum wage and occupational safety standards, provide state disability and unemployment insurance benefits, fund workforce training and apprenticeship programs, combat wage theft, protect injured workers, and arbitrate public sector contract disputes.
"We can't do all our work just sitting in our office in Sacramento," Su told the UAW members as she opened her introductory remarks. She said of her time as Labor Commissioner, "We took seriously our role enforcing the labor code. We were not a neutral agency…. If you've broken the law, we're not on your side."
Her stance begs comparison to the current U.S. Secretary of Labor, Alexander Acosta, a pro-corporate conservative appointed by Donald Trump with, to say the least, a controversial history.
Su earlier worked as lead counsel at Advancing Justice-LA, the nation's largest non-profit civil rights organization devoted to issues affecting the Asian American community, as an advocate for low-wage and immigrant workers. She famously achieved justice for some 80 Thai and Latino garment workers who worked behind barbed wire for years in an apartment complex in El Monte, Calif., as slave laborers. She is a 2001 recipient of the MacArthur "Genius" Grant, and has also been honored numerous times for her human rights activism.
In her new role she asks, "How do we create a model for the just economy that works for everyone?" California as the world's fifth largest economy gives the lie to the idea that taxation and regulation are bad for business. In fact, just the opposite: California liberalism overall spells prosperity and success, though obviously these are not universal nor equally distributed. "How do we ensure that the standards we've come to expect are maintained to make life even better?" she challenges herself and the state.
Now is not the time to relax. The state requires deep investments in infrastructure, housing, education and other sectors, "making sure that workers are at the table. Workers are not a 'cost item,'" she says, but rather the very reason we seek improved conditions.
Victor Quiroz, hosting the gathering on behalf of CAP/Retirees Department UAW Region 5, put it succinctly: "We have a surplus in California. The policies we have now have not undermined profitability."
One of the challenges UAW sees is increasing automation. Longtime employees surveying current manufacturing, such as both Joe Padilla and Bob Jimenez, say they have seen engineers working with AI literally go in six months' time from imagining a new vehicle to bringing it to three-dimensional life.
The emergence of new technologies, such as EV—electric vehicles—means vast changes in the workforce. Presently in California, EV represents 8 to 10% of sales (compared to only about 2% nationwide). Yet government policy meant to encourage such "green" technology through subsidies may be unfair, making the EV industry not entirely free-market. "The subsidy program for EV is helping people who don't need it," comments UAW consultant Alyssa Giachino. Or as Su restates it, "Those who would buy them would buy them anyway." Policy needs to be rethought so as to benefit more low-income families.
Furthermore, says Giachino, not all auto workers are unionized. The Tesla workforce, for example, is deeply troubled for their health and safety without a role in workplace governance. Giachino is active with the Fremont, Calif., organizing drive. "We don't have a voice, and we'd like to partner with them." Tesla has ramped up production to meet current and anticipated demand but, she says, "manufacturers are not being held accountable at all for their practices."
A National Writers Union member raised additional issues related to labor that Secretary Su could look into if she wants to take a "wholistic" approach toward California workers' wellbeing. Immigration reform obviously has to take place: Although fundamentally a federal issue, the state must tend to its own needs, especially in the agriculture and service industries. And as much as the UAW is concerned with auto manufacture, the state ought to be concerned with public transportation to move workers around, save money and the environment. Medicare for All is on the legislative table in California, and of course there too any statewide reform is only possible with Washington's agreement to continue paying its federal share. Finally, a California public bank could ensure that interest from loans and bonds would remain in the state and be available for investment, and not sent to Wall Street. And if post offices could resume their small-scale banking services for the poor, such as existed for half a century, or if state agencies could assume those functions, that would get around the exorbitant fees banks charge and the exploitative payday lenders.
The new Secretary of Labor got a real education from the graduate student teachers present—Michael Dean and Michael Stenovec from UCLA's UAW Local 2865—as well as from university researcher Neal Sweeney of the Postdoc Union at UC, UAW Local 5810. She had no idea how difficult part-time student teachers' lives are, with unreliable short-term contingent contracts of 11 or 15 weeks, depending on the semester system on different campuses, inadequate childcare subsidies, average annual salaries of only $22,000, and a newly automated payroll system that rolled out in complete disarray and disaster. It apparently is not actually against the law for the university not to pay the salaries it owes; a bill in the legislature is currently attempting to address that.
Researcher Neal Sweeney of Local 5810 echoed these concerns, citing the absence of parental leave as a problem for young families. Forty-three percent of new mothers in scientific fields leave their careers behind because of the paucity of childcare programs. He also cited a remarkable figure of two-thirds of research workers on guest worker visas. Those workers waste critical time, and the research suffers constant interruption, when they have to deal with forced exits and re-entrances to the country, and the absence of job security. "The research that we do contributes to the next level of technology," Sweeney says.
Secretary Su had never heard in so much detail that such abuses were going on.
It was a productive morning for both sides of the conversation. Business cards were exchanged, contacts were made, and more will certainly come out of future such encounters.