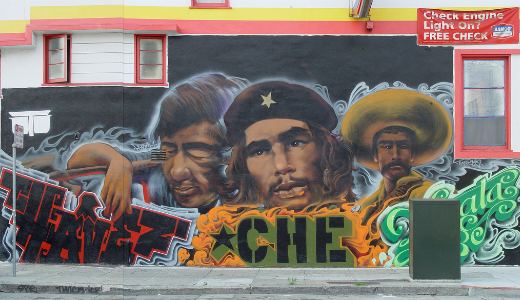 The California State Senate honored the legendary labor leader Cesar Chavez on his birthday, March 31, by approving "card check" legislation for farm workers seeking union representation.
Meanwhile, President Barack Obama declared March 31Cesar Chavez Day in honor of the late farm labor leader's birthday. Chavez would have been 84 yesterday.
Ten states already commemorate Cesar Chavez Day, including California, Arizona and New Mexico.
Outside the Senate floor, after the vote, United Farm Workers President Arturo Rodriguez, flanked by dozens of union members, broke into cheers and chants of "Sí, se puede."
Democratic Senate President Pro Tem Darrell Steinberg, the bill's author, accompanied by union members, then hand-delivered the bill to Assembly Speaker John A. Perez, also a Democrat.
"This is a simple, sensible, righteous piece of legislation that does not eliminate secret ballot but gives farm workers another option to choose a collective bargaining representative," Steinberg told the Sacramento Bee.
The action by the Democratic controlled state senate to expand collective bargaining rights for farm workers stands in sharp contrast to Republican efforts in Wisconsin and elsewhere to eliminate such rights for public employees.
Senate Bill 104, which passed on a party-line vote 24-14, would grant workers the right to unionize by having a majority of them sign and submit petition cards to the state's Agricultural Labor Relations Board.
The legislation would also impose steep penalties on employers seeking to prevent workers from unionizing and engaging in unfair labor practices.
With "card check" legislation, California is on course to pass a new law that would give farm workers in the state union rights that have so far eluded the labor movement seeking comparable legislation at the national level for workers generally, through its campaign for the Employee Free Choice Act.
Similar legislation has passed several times in recent years both California legislative chambers, where Democrats hold majorities, only to be vetoed by former Republican Gov. Arnold Schwarzenegger.
Newly elected Democratic Gov. Jerry Brown has not indicated whether he would sign the bill, according to the Bee. But, Brown, who owes his election largely to the state's labor movement, would be hard put not to sign.
The California Agricultural Labor Relations Act, which created the labor relations board, is a landmark statute establishing collective bargaining for farm workers in the state, signed into law by Brown himself in 1975 during his earlier tenure as California governor.
The law is a product of the farm workers' cause that Chavez championed in the 1960s and 1970s, which drew broad national support and inspired legions of Americans to social activism.
Throughout this week, Chavez' legacy was celebrated in numerous actions across the nation.
In Sacramento, California's capital, more than 400 people braved wind and rain Saturday in a march that drew a diverse crowd from union workers, teachers and school children to low rider groups and the homeless, the Bee reported.
"The issues of the 1960s are the same, but even worse, today," said march organizer Al Rojas, who had worked with Chavez in the fields in 1961. "Right now, workers are feeling the loss of jobs, loss of homes, loss of benefits and the loss of education of their children."
"Cesar's legacy is about not just remembering what he did in the past but continuing his work," Rojas concluded, according to the Bee.
Image: A San Francisco mural depicting the iconic Chavez, along with Che Guevara and Mexican revolutionary Emiliano Zapata. Franco Folini // CC BY-SA 2.0