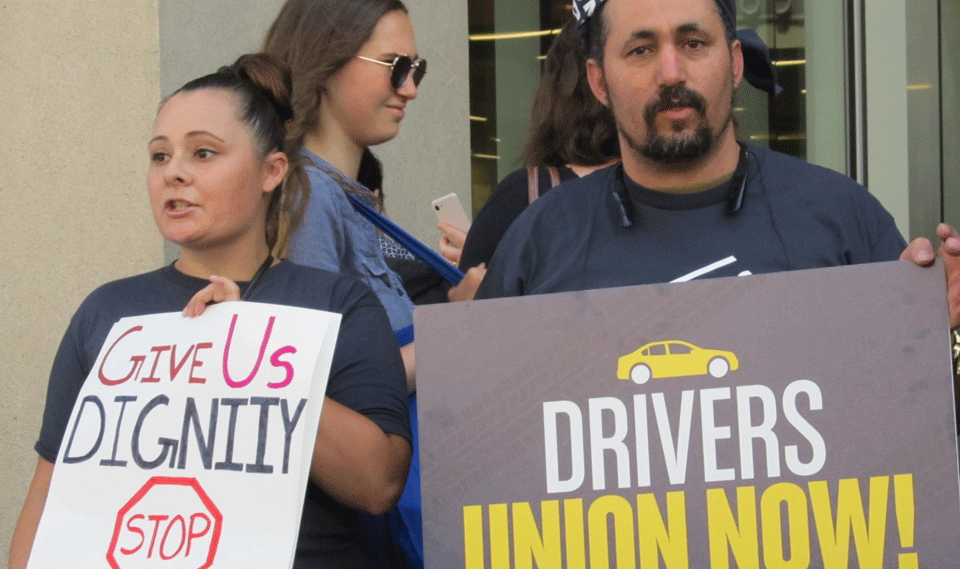 California's Attorney General Xavier Becerra and city attorneys of three of its largest cities – Los Angeles, San Francisco and San Diego – on May 5 sued Uber and Lyft over the app-based ride-sharing firms' failure to reclassify their drivers as employees, instead of independent contractors.
The change is required under Assembly Bill 5, "Worker Status: Employees and Independent Contractors," which took effect in January.
The attorneys said that under AB 5 and California's Unfair Competition Law, the two firms' misclassification of their workers has deprived the drivers of "critical workplace protections such as the right to minimum wage and overtime, and access to paid sick leave, disability insurance, and unemployment insurance." Their lawsuit seeks restitution that could amount to $2,500 for each violation. Lyft says it has 325,000 drivers in California, and Uber has some 200,000, so the two firms' liabilities could total more than $1 billion.
In announcing the suit, Becerra said, "Uber and Lyft claim their drivers aren't engaged in the companies' core mission and cannot qualify for benefits. Sometimes it takes a pandemic to shake us into realizing what that really means and who suffers the consequences."
While drivers who contract the virus or lose their job quickly realize what they've lost, he said, taxpayers also lose when they have to carry the burden the ride-hailing firms won't accept. "We intend to make sure Uber and Lyft play by the rules."
AB 5, authored by Assemblymember Lorena Gonzalez, D-San Diego, was passed overwhelmingly by the legislature last year. It mandates that workers in a number of occupations who have wrongly been classified as independent contractors must be reclassified as employees, with benefits including minimum wage, Social Security, unemployment insurance, disability insurance, workers' compensation and overtime pay, as well as the right to organize.
AB 5 codifies into law the April 2018 Dynamex decision by the California Supreme Court, which set out three requirements for employers to label workers "independent contractors:" 1) they are free from employer control, 2) they work outside the regular scope of the business, and 3) they are independently established in their trade. Otherwise, the law says, workers are employees.
Uber, Lyft and other gig-economy companies have fought the new requirement every step of the way, defending vigorously against lawsuits brought by thousands of ride-hailing drivers, and currently campaigning for a ballot measure to overturn AB 5 altogether.
As the state and city attorneys filed their suit, Los Angeles City Attorney Mike Feuer declared, "Enough is enough! As law enforcement leaders across the state, we're going to aggressively protect these hard-working drivers and fight to uphold California's worker classification laws," and San Diego City Attorney Mara Elliott added, "It's time for Uber and Lyft to pay their own bills."
The southern California-based Mobile Workers Alliance called the suit "a game changer" and "a huge step toward enforcement…. Our fight isn't over, but this is a victory worth celebrating," earned by all the drivers who have taken action on the classification issue.
Lyft driver and Gig Workers Rising leader Carlos Ramos said on Facebook, "Billionaires like to pick and choose what laws they follow. Today, California is showing that no one is above the law, not even big tech. This is a win for workers and for organizing."
Among many earlier lawsuits dealing with the same issue: In December 2019 drivers for Uber and Lyft had sued the two companies demanding to be reclassified as employees. Earlier this month U.S. District Judge Vince Chhabria denied their request for an emergency injunction because in his view, the lawsuit itself was flawed. But he backed the workers' argument about their status, writing that instead of complying with "a clear legal obligation, companies like Lyft are thumbing their noses at the California legislature" and called Lyft's contention that its drivers were doing work not within its usual line of business, "frivolous."
Meanwhile, on Dec. 30, Uber and the delivery services firm Postmates filed their own suit, claiming that "app-based independent service providers and the companies that operate the platforms they use" have a constitutional right not to be employees and not to be delivery companies "when they are technology companies."
In recent months the COVID-19 pandemic has multiplied the difficulties app-based drivers for Lyft, Uber, DoorDash and GrubHub have faced every day for many years.
In Los Angeles, employers have resisted complying with Los Angeles Mayor Eric Garcetti's Worker Protection Order requiring them to provide cloth face coverings, sanitizing agents and access to sanitary restrooms.
Lyft driver and Mobile Workers Alliance leader Jerome Gage said Lyft was only supplying one mask and one small bottle of hand sanitizer to each worker once a week, and Mobile Workers Alliance said companies' refusal to provide basic protective equipment to all workers "underscores the grim reality" of the gig economy in which the giant companies use a predatory business model to cheat employees out of basic protections.