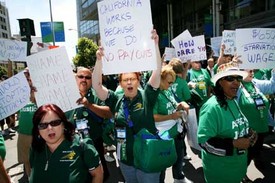 SAN FRANCISCO — Union members protest the decision by California Governor Arnold Schwarzenegger to cut the wages of over two hundred thousand state workers to the Federal minimum wage of $6.55/hour, alleging he must do so because the state legislature has not passed a budget. Workers accuse the governor of using their jobs and wages as a means of pressuring the Democratic legislature into agreeing to deep Republican budget cuts.
Democratic State Controller John Chiang has said that he will refuse to obey the governor's order, and that the state has the money to continue to pay workers their full salaries through September. According to the California Budget Project, tax cuts enacted since 1993 will cost the state $12 billion this year. "It's time to take another look at who gets tax breaks and whether the state can really afford them."
The workers, members of the American Federation of State, County and Municipal Employees, left their national convention and marched through downtown San Francisco to protest the wage-cutting order. Bill Lucy, AFSCME Secretary Treasurer and founder of the Coalition of Black Trade Unionists, condemns Schwarzenegger's action.