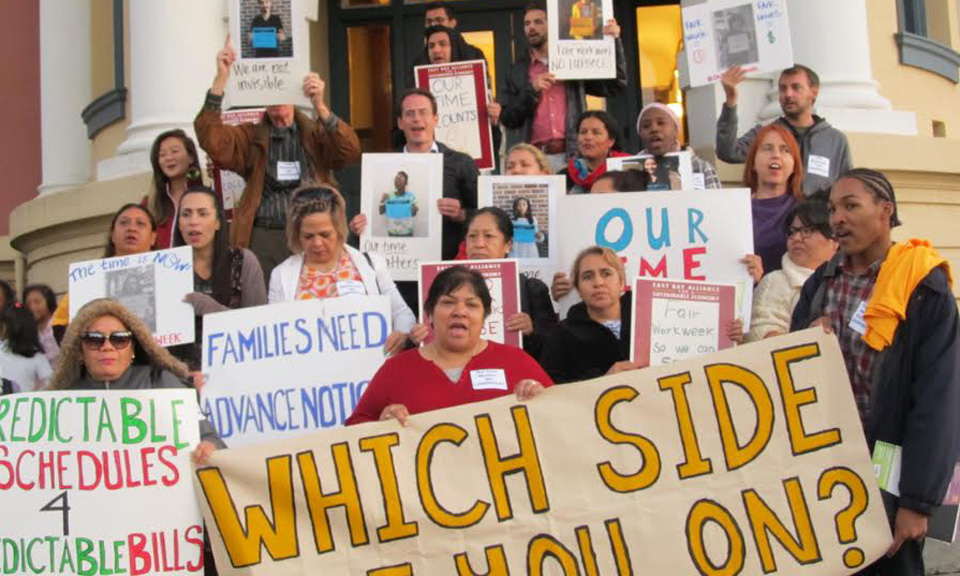 EMERYVILLE, Calif. – On Oct. 18, this city became the third in the nation to pass a Fair Workweek policy. The City Council passed the ordinance unanimously at its first reading, following testimony at a pre-meeting press conference and during the meeting itself, by those most affected.
Under the new policy, employers will have to give workers their schedules two weeks in advance, compensating them for last-minute changes. When more hours become available, current workers will have priority so they can get closer to fulltime work.
The council must confirm its action with a second vote, scheduled for Nov. 1. The new law, which will affect some 4,000 fast food and retail workers, is to become effective in July 2017.
Almost two years ago, San Francisco's Board of Supervisors passed the first such measure, the Retail Workers Bill of Rights, and just last month, Seattle followed suit https://www.peoplesworld.org/article/tale-of-two-cities-yes-vs-no-on-fair-work-schedules/.
New York City may be next: Mayor Bill de Blasio and City Council members are pressing legislation to require employers to give some 65,000 hourly fast food workers a two week notice of changes in their shift assignments. However, the bill doesn't extend such requirements to retail stores or full-service restaurants.
Emeryville, a small city across the Bay from San Francisco with a large concentration of retail stores, already has the country's highest minimum wage, with large employers required to pay their workers at least $14.82 per hour. Smaller businesses must pay at least $13 per hour.
At the state level, earlier this year California passed a new minimum wage law with a path to a $15 hourly minimum.
At the press conference, low wage workers, local residents, community and labor organizations, faith leaders and academic researchers told of the many challenges faced by retail workers who must deal with constantly shifting and unpredictable schedules and variable numbers of work hours.
Moriah Larkins, an Emeryville retail worker and activist with the Alliance of Californians for Community Empowerment (ACCE) who MC'd the press conference, told of her own experience working six days a week for a "bad apple" employer. "And on my days off they would call me in, and I have my son, who was two years old at the time."
At first, Larkins said, she used to scramble and pay extra for last minute child care. But as she realized her extra hours, and less time for her son, were making him unhappy, she started refusing the extra shifts. After that, her hours, which had been 32 to 40 per week, were cut in half.
"Now," she said, "I work for a 'good apple.' I work 28 hours per week, I can pay all my bills, I can spend time with my son and finish my nursing degree."
In a conversation after the press conference, Larkins said she hoped the ordinance would pass "without exceptions." She and others are warning that before the final vote Nov. 1, the California Retail Association is trying hard to weaken the measure.
Other retail and fast food workers described their experiences, including a past employer who paid subminimum wages and another who fired a worker after "forgetting" he had accepted her timely request for a day off.
The new ordinance has been in the making for a while. In May, Emeryville Mayor Dianne Martinez and Councilmember Ruth Atkin wrote an op-ed published by the San Francisco Chronicle, in which they said a regional fair workweek was needed to assure workers "stable schedules so they can pay the bills, live healthier lives, "and contribute more to our communities.
A recent study, Wages and Hours: Why workers in Emeryville's service sector need a fair workweek, conducted by ACCE, the East Bay Alliance for a Sustainable Economy (EBASE), and the Center for Popular Democracy found that in a sample of more than 100 frontline Emeryville retail workers, some 68 percent had part-time schedules, 82 percent were people of color, eight out of 10 had variable schedules and nearly two-thirds only got their schedules a week or less in advance. Over two-thirds said they wanted to work more hours, while over half said they were scheduled for "clopening" shifts, or back-to-back closings and openings with less than 11 hours off.
The study concluded that employers need to commit to predictable, flexible and responsive schedules that allow for adequate rest.
At the Oct. 18 press conference, EBASE Deputy Director Jennifer Lin said, "Providing a fair work week is not only good for workers, it's good for business, too." With many retailers already scheduling in advance, she said, the new ordinance will help level the playing field, and stable schedules and more adequate hours also reduce turnover and absenteeism.
In an article earlier this month in The Nation magazine, author Michelle Chen noted that the Fight for $15 and Fair Workweek struggles are "converging on sectors that used to be known as bastions of dead-end jobs." The next step, she said, is "to organize, and unionize, to give workers real collective bargaining leverage over their wages and working conditions. Work-life balance comes by shifting the power balance on the job, so that workers have the final say over when they're on call."