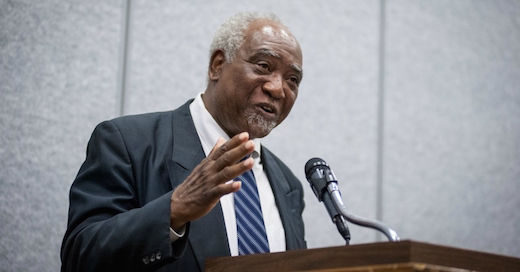 Cook County commissioner Richard Boykin and U.S. Representative Danny Davis on Wednesday stepped up their demand for the federal Department of Justice to investigate the secret detention and torture of American citizens that took place for years in Chicago's Homan Square compound.
The duo traveled to Washington, D.C. to hand-deliver a letter to Attorney General Eric Holder calling for an "immediate investigation" by the Justice Department into Homan Square, the site, which Chicago police routinely used for off-the-books interrogations and abuse of majority-black suspects, as revealed by a Guardian investigation last month.
"We fully expect to get a reply," Boykin told the Guardian after the delivery. He and Davis handed the letter to the Justice Department's civil rights division, headed by former ACLU deputy legal director Vanita Gupta, which conducted the bombshell probe into the racist and unconstitutional tactics practiced by Ferguson, Missouri's police department, an investigation that has since led to the firings and resignations of at least six city officials.
Davis, a Democrat who represents the district where Homan Square stands, told the Guardian, "I had hoped we were making more progress than maybe is being made… but I think the verdict is still out."
Davis and Boykin join a chorus of voices demanding justice over the "CIA or Gestapo tactics" discovered at Homan Square.
Despite the efforts of human rights activists and politicians, city leaders have done little to acknowledge the charges, as noted by incumbent Mayor Rahm Emanuel's runoff challenger Jesús "Chuy" García in an interview with In These Times last week.
On Wednesday, Amnesty USA also called for a DOJ investigation into the facility and into whether the abuses employed there are systemic throughout the Chicago Police Department.
"International law…obligates governments to investigate allegations of human rights violations; disclose the truth about violations; prosecute those responsible; and ensure remedy for victims, including reparations, truth and justice," Amnesty USA Executive Director Steven W. Hawkins wrote in his letter (pdf) to Gupta.
"In the light of the national conversation around policing, it is clear that the United States government can and must do much more to ensure policing practices both in Chicago and nationwide are brought into line with international human rights standards," he continued.
This article originally was posted at Common Dreams.
Photo: Congressman Danny Davis, who represents the Chicago district, which includes Homan Square, called on the Justice Department to investigate the alleged police brutality site. (Photo: Pat Quinn/flickr/cc)