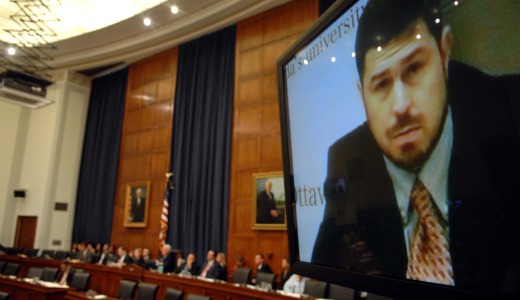 Canadian legislator Don Davies asked the federal government last week to deny entry to Dick Cheney, citing the country's Immigration and Refugee Protection Act which prohibits entry to senior officials in governments that have engaged in "terrorism, systemic or gross human rights violations, or genocide, a war crime or a crime against humanity." Though Cheney left office in 2009, the Act also renders a person inadmissible if he or she has committed offenses listed in the Canada's Crimes Against Humanity and War Crimes Act, or other crimes that would result in a 10-year sentence if committed in Canada. Cheney is scheduled to enter Canada on or around September 26 in order to promote his new book in Vancouver.
The request comes just before Human Rights Watch urged Canada's federal government to use the opportunity to arrest Cheney, citing his role in torture during the Bush administration and jurisdiction provided by Canadian law over individuals committing torture in cases with Canadian complainants, notably including Syrian-Canadian Maher Arar. In 2002, while at a stopover in John F. Kennedy International Airport, Arar was questioned, denied access to a lawyer, and detained by the United States for two weeks before deported to Syria where he was held for a year and tortured.
In his statement, Davies also referenced Canadian court rulings finding that Arar's detention and prisoner treatment at Guantanamo Bay violated Canadian domestic and international law. Releasing its final report in 2006, a separate commission of inquiry formed by the Canadian government also concluded that Arar was tortured, despite three years of refusal by United States officials to participate and share evidence. Arar eventually obtained a 10.5M CAD settlement from the Canadian government, as well as a formal apology from the Prime Minister and Canada's national police agency, but remains on a U.S. watch list.
Don Davies repeated his call for denial of entry at a news conference in downtown Vancouver, joined by peace activists at the W2 Media Centre. "Torture is a serious crime. It is a war crime. It is a crime against humanity," said Davies.
Davies is the Member of Parliament for Vancouver Kingsway and member of the New Democratic Party, a social democratic party that displaced the centrist Liberals and nearly tripled its seat count in the May election to become the main opposition to Stephen Harper's Conservatives. In his letter to Canada's immigration minister, Davies reminded him of the government's previous decision to bar George Galloway, a former British MP denied entry for allegedly supporting Hamas. Galloway participated in and donated to an aid convoy that landed in the Hamas-controlled Gaza Strip, but rejects the idea that his donation constitutes support for the Hamas itself, considered a terrorist group by Canada and several other Western governments.
Heading the Halliburton Company while out of office during the 1990s, Cheney served five terms in Congress representing Wyoming, and also served as Secretary of Defense under George H. W. Bush and as President Gerald Ford's Chief of Staff. In 2007 articles of impeachment were filed against Cheney by U.S. Rep. Dennis Kucinich, D-Ohio, gaining twenty-six additional Democratic cosponsors, though a full vote was avoided due to resistance from the party's leadership.
While Cheney's planned speaking engagement has sold out entirely, the Vancouver StopWar coalition plans to mount a protest outside the building. An American Research Group poll taken in July 2007 found 54 percent of those polled supported beginning impeachment proceedings against him, with 74 percent support among Democrats.
Photo: Syrian-Canadian Arar Mahar, right, testifies via video conference, before a House Joint Oversight Hearing on "Rendition to Torture: The Case of Maher Arar," Oct. 18, 2007, in the Rayburn House Office Building on Capitol Hill in Washington. (AP Photo/Kevin Wolf)