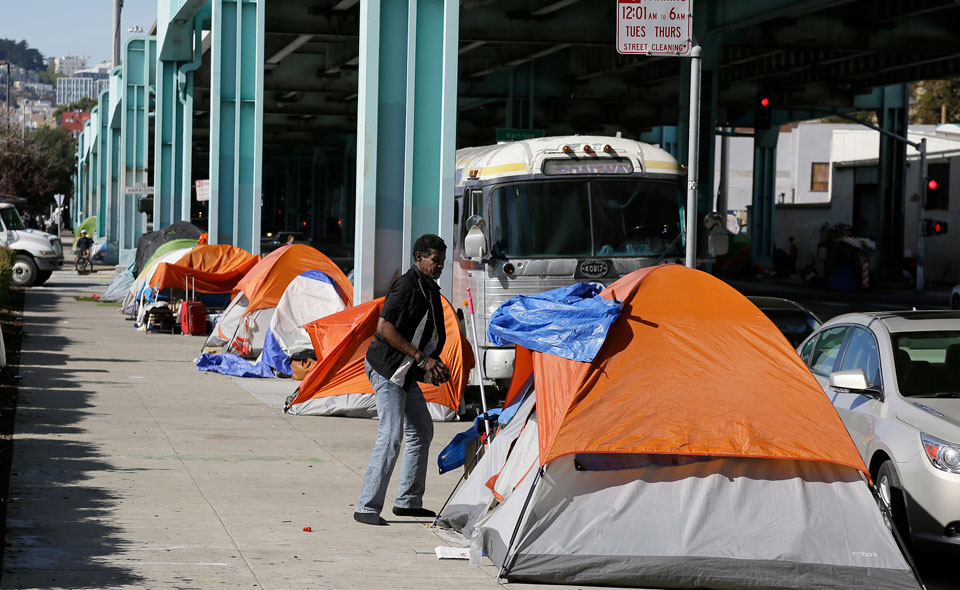 Earlier this month, the University of California, San Francisco inaugurated the Benioff Homelessness and Housing Initiative, an institute founded to "research causes of homelessness," collect "data," and "identify evidence-based solutions." The center is named for benefactor Marc Benioff, the founder and co-CEO of cloud-computing firm Salesforce and owner of Time magazine, whose $30 million donation is vaunted by corporate media outlets as the largest-ever private grant for homelessness research.
Benioff's donation—a mere sliver of his multi-billion-dollar net worth—comes amid a much-documented housing crisis in San Francisco: As of 2017, 7,500 people living in the city were unhoused. An influx of monstrously lucrative second-wave-tech-boom companies like Salesforce, of course, have played no small part in said crisis—a glaring truth that Benioff has chosen to acknowledge and, ostensibly, seek to atone for.
Viewed in tandem with the fanfare it's generated, the donation quite obviously spells a public-relations ploy for both Benioff and his company. Yet the technocratic means by which Benioff claims to address the housing crisis illustrates a problem of much greater breadth and depth. By maintaining jurisdiction over what messages the university broadcasts, what and how "data" is collected, and how the funds are used, Benioff seeks to take control of the narrative, obscuring the real problem in the process.
It's worth examining why this particular type of institution would be founded. Directing millions of dollars toward "research" on the causes of homelessness presupposes that the causes of homelessness aren't fully known. On the contrary, they most certainly are. To borrow a phrase from writer Gus Bagakis, homelessness is "one of capitalism's many inevitable products": the result of a privatized housing market that marginalizes and excludes the (predominantly Black and Latinx) poor, and a looming threat to coerce people into performing wage labor—in whatever demeaning, grueling, or hazardous form it may take—in order to have a stable place to live.
The implication that the causes of homelessness still need to be studied is advantageous to Benioff. It obfuscates the relationship between capitalism and homelessness and excuses the historical negligence, and outright contempt, of unhoused people by policymakers and business owners. It thus absolves Benioff and his ruling-class cohorts of their own culpability in the existence of homelessness, giving them free rein to conduct business as usual.
The institute also commands scrutiny for its emphasis on "data" and "evidence-based solutions" and rejection of social and economic theory. "When it comes to homelessness, there are philosophers who think they know what's best, and the scientists who actually do," Benioff told The San Francisco Chronicle. "This is about helping the scientists. This initiative can fuel our best minds, which is what UCSF is known for."
In characterizing homelessness as a puzzle to be solved by technocratic approaches, Benioff applies dangerous logic to an incredibly vast social issue. This framing treats the problem as though society occurs within a historical vacuum, ignoring the power dynamics of oppressor and oppressed. Homelessness, in this case, is understood as a corrupted file in need of a simple repair. It's no wonder, then, that Benioff dismisses the "philosophers": They're the ones most likely to declare that there's no hack to end homelessness, but rather, a need for a radical redistribution of wealth from which Benioff most definitely would not be spared. (A philosopher might also ask why the initiative is "about helping the scientists," rather than helping the people living without permanent shelter.)
In light of this, it would be naive not to view Benioff's move as a cynical profit-making maneuver. Considering his insistence that "this is about helping the scientists," it's all too easy to imagine those scientists logging their information on, say, Salesforce-hosted databases. In a pertinent example, UCSF professor Dr. Margot Kushel, who will be at the helm of the new organization, and Benioff plan to compile searchable digital libraries of local and national research so that, according to The Chronicle, "policy leaders and the public may better understand why people wind up on the street."
Such use of Salesforce for "good" parallels the faux-contrition of the tech titans who've glommed onto the "Techlash," responding to their complicity in engineering manipulative platforms like Facebook with "enlightened" companies and think tanks.
Benioff has stated that one goal in creating the institute is to "help the city determine how to spend the $300 million in annual homelessness funding generated by 2018's Proposition C," a measure Benioff supported that would marginally increase taxes on large San Francisco businesses to fund, allegedly, homelessness services and housing. (The measure's fate remains indeterminate: It's currently the subject of a legal battle.) While he hasn't publicly stated his plans, it's conceivable that Benioff—who proclaimed in an interview with tech writer Kara Swisher that "one of the great things in the United States is we're a capitalist society"—doesn't have the most just vision of public spending in mind.
All of this illustrates a fundamental problem inherent in depending on charity bestowed upon the poor by the rich rather than equitable, publicly governed redistribution of wealth. Donations such as Benioff's are arbitrary and self-serving: They're at once PR gambits, tax write-offs, and potential profit-making ventures that are entirely at the discretion of the wealthy. As authors Daniel Raventós and Julie Wark, among others, have observed, reliance on—and celebration of—charity perpetuates a system in which the poor and powerless exist at the mercy and whims of the rich and powerful, for whom there must always be an agenda-pushing incentive.
Homelessness isn't a game to be played with vain, "data-driven" experimentation, nor is it merely a notch on the belt of a power-hungry philanthro-capitalist. As long as media, universities, and other institutions give capitalists the power to claim they're the ones making things better, they'll preserve the status quo in housing and every other facet of public policy. In the meantime, all the Benioff Homelessness and Housing Initiative is likely to offer is an ironic reminder of why the injustice of homelessness exists in the first place.