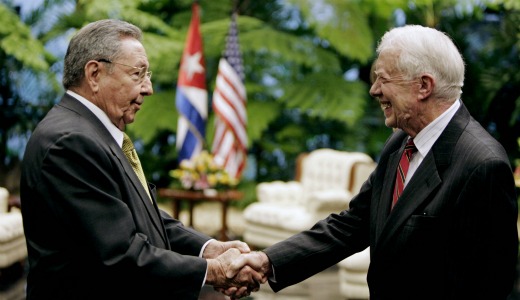 MIAMI – Former President Jimmy Carter, during a three-day visit to Cuba this week, called for a release of the Cuban Five and an end to the long-standing U.S. blockade against the island nation.
"I believe that the detention of the Cuban Five makes no sense," Carter said in a March 30 press conference in Havana, as reported by Granma, the newspaper of the Cuban Communist Party. "There have been doubts expressed in U.S. courts and by human rights organizations around the world. They have now been in prison 12 years and I hope that in the near future they will be freed to return to their homes."
The five Cubans were arrested in Miami in 1998, where they were sent to investigate possible terrorist activities sponsored by anti-communist Cuban exiles. After finding a potential plot, they reported to Havana, and Havana informed the U.S. government. But instead of acting on that information, U.S. authorities arrested the five and charged them with espionage and other criminal activities. They have since spent more than a decade in prison.
In his remarks Carter referred to the five men as "Cuban patriots."
Carter returned home yesterday after his whirlwind trip in which he met with everyone from dissidents to Cuban President Raúl Castro and former President Fidel Castro.
The purpose of Carter's trip, sponsored by his Carter Center foundation, was officially to discuss with the Cuban leadership plans for economic changes in their socialist economy, expected to be ratified at the upcoming Cuban Communist Party congress. However, many expected that Carter would address the case of U.S. contractor Alan Gross, sentenced to 15 years in a Cuban prison.
"I didn't come here with the idea of arranging any swap," Carter said in response to a question from an Associated Press reporter. "I think the two cases, that of Gross and that of the Five, are separate, different and shouldn't be interrelated. I think Alan Gross should be free because he is not guilty of a serious crime and I think the five Cubans should be freed because they have already been in prison for 12 years and the original circumstances around their original trial are considered questionable, even by the judges and the U.S. judicial system."
Cuba says Gross received funding from the U.S. Agency for International Development, which claims to be a democracy-building organization and which Havana fears is working for the overthrow of their government. Gross was arrested for delivering a satellite phone to dissidents.
An aide to Carter said that Gross told the former president that he didn't realize he was carrying U.S. government-financed equipment. Gross, the aide who traveled with Carter said, was not told about this by the company with which he was working, Development Alternatives, based in Bethesda, Md., and believed he was on the island to help Jewish groups gain Internet access.
While Carter repeatedly stated that he was in Cuba as part of a private trip on behalf of his organization, he said during the press conference that he spoke with Secretary of State Hillary Clinton before the trip and that he planned to do so again upon returning to the U.S.
The former U.S. president was given time on Cuban television to speak directly to viewers. He said that he was pleased to have met with "some Cuban citizens who are in disagreement with the government. We have been very encouraged in terms of the possibilities of the meeting that is going to take place in the [Cuban] Congress next month."
Separately, Carter said that his hope is for "complete freedom for all Cuban people, for speech and for assembly, for travel." He met with dissident bloggers and others, including leaders of the "Ladies in White" protest group.
What was said in the meetings between Carter and Raul Castro or Fidel Castro is not yet public information. Cuban President Raúl Castro apparently offered friendly relations with the U.S., provided they were based on respect for sovereignty, a sentiment with which Carter agreed. In his meeting with Fidel, Carter said the two ex-presidents chatted "like old friends."
During Carter's presidency, he removed travel restrictions on Americans going to Cuba. As for now, Carter stated his conviction that "we should immediately lift the trade embargo the United States has imposed against the people of Cuba," because "it impedes rather than assists in seeing further reforms made."
Image: Cuba's President Raul Castro, left, greets former President Jimmy Carter at Revolution Palace in Havana, Cuba, Tuesday March 29, 2011. Carter arrived Monday with his wife Rosalynn for a three-day stay on the island. Carter also visited Cuba in 2002, and is the only former U.S. president to do so since the 1959 revolution. (AP Photo/Javier Galeano, Pool)