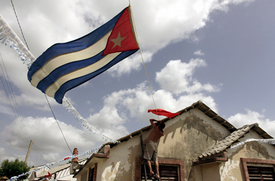 Original source:
Cuban President Raul Castro has said that the global economic crisis means tougher times ahead for Cuba, but the country has no-one to blame but itself for poor farm production.
In a speech marking Revolution Day, the Cuban president said that the island can't simply pin all its problems on Washington's 47-year-old trade embargo.
He implored Cubans to take better advantage of a government program initiated last year to turn unused state land over to individual farmers.
"The land is there, here are the Cubans," he said, pounding the podium. "Let's see if we get to work or not, if we produce or not, if we keep our word."
The 78-year-old Castro called agricultural production Cuba's top priority and a matter of national security.
"It is not a question of yelling 'Fatherland or death! Down with imperialism! The blockade hurts us'," he said.
"The land is there waiting for our efforts."
On the third anniversary of the last time his 82-year-old brother Fidel was seen in public, the younger Castro showed signs that he is getting more comfortable with national addresses.
He opened his speech with a joke about the stage's lack of shielding from the sun.
Tens of thousands of supporters, most wearing red T-shirts or caps, filled a grassy plaza dotted with red and black July 26 flags.
Revolution Day commemorates the date in 1953 when the Castros led an attack on the Moncada army barracks in the eastern city of Santiago.
Cubans consider it the beginning of the revolution that culminated with dictator Fulgencio Batista's ousting on New Year's Day 1959.
An eight-story tall banner on a building behind the crowd featured a picture of both Fidel and Raul thrusting their arms skyward under the words The Vigorous and Victorious Revolution Keeps Marching Forward.
Castro has asked Cubans to be patient as he implements "structural changes" to a struggling economy.
He also has said he'd be willing to meet U.S. leaders over any issue.
Officials from Cuba and the U.S. discussed immigration this month for the first time since 2003.
The Obama administration lifted restrictions on Cuban-Americans who want to travel or send money to the island.
But the U.S. has said it wants to see small political or economic reforms before going further.
In a related development, the U.S. has turned off a Times Square-style news ticker — a source of irritation for the Castro government — at its diplomatic mission in Havana that since 2006 streamed propaganda and news into the night, diplomatic sources told Reuters reporter Marc Frank.
"The measure is the latest in a series of initiatives by the Obama administration as it seeks to engage Cuba and to end 50 years of enmity viewed in Latin America and the Caribbean as a relic of the cold war," Frank wrote.
"It is a beginning — and it is encouraging. It has to do with the atmosphere. It suggests that we are moving toward a more normal diplomatic relationship," said Wayne Smith, who opened the U.S. mission's Interests Section under President Jimmy Carter.
It is believed the ticker was turned off late last month.
"The Cubans could have howled victory — but [they] said nothing, indicating they are serious about improving relations," a diplomatic source said.
The diplomat, who spoke on condition of anonymity, said some local contact may have resumed already. Easing of travel restrictions for U.S. and Cuban diplomats in each other's capitals was expected soon.
It appears the standoff about the U.S. mission is winding down. The Cuban government took the billboards down soon after Barack Obama took office. There have been no marches past the building since Raul Castro took over from his ailing brother Fidel in February last year.
The U.S. is the only country in the western hemisphere that does not have normal relations with Cuba.
Immigration talks, called off by the Bush administration, resumed this month. Cuba has expressed interest in broadening discussions to include drug trafficking, human smuggling and disaster preparedness.
"We're … seeing if, as we change some of the old approaches … we [see] movement on the Cuban government side,'' Obama told reporters.
Marc Frank of Reuters contributed to this article.